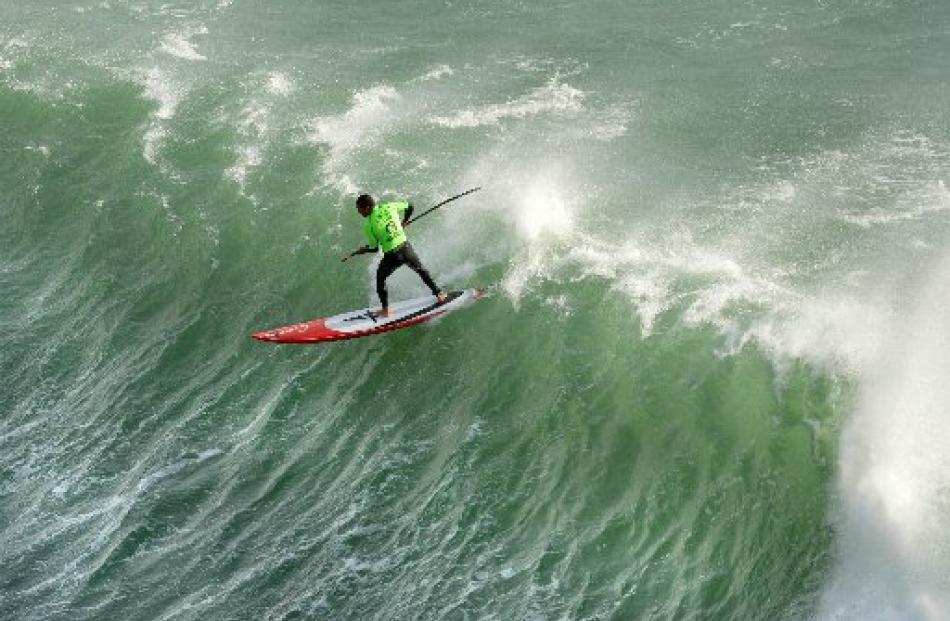 A surfer will go anywhere to get a good wave. Even on a chilly Dunedin day.
And along with the surfers came three helicopters, jet skis, hi-tech cameras and a thick wetsuit.
The Pinnacle surf break off Potato Point at Purakaunui came alive yesterday just after the crack of dawn.
The Ultimate Waterman event, a contest which has eight surfers from around the world contesting six events around New Zealand in a week, is hunting for good surf. The Pinnacle break was the port of call yesterday morning and the eight surfers, along with about 40 helpers and a film crew, descended on the water.
The tide was at its best just before 8am and co-organiser Ben Kennings said the 2m swell was assisted by the remnants of Cyclone Pam.
''That break doesn't always work and you have to have the right conditions, but it was great yesterday,'' Mr Kennings said.
''Sure it was cold; freezing really, but no-one seemed to mind.''
The eight contestants competed in the stand-up paddleboard surfing division yesterday and although the surf eased somewhat as the final began to start, Raglan surfer Daniel Kereopa nailed a ride to pick up a perfect score of 10.
He won ahead of Hawaiian surfer Kai Lenny, who leads the overall competition.
Watching was surfing royalty.
Titus Kinimaka is one of the instigators of big wave surfing and is an ambassador for the event.
The man from Hawaii, who turned 60 this year, has ridden waves in more than 20 countries.
He was in the water yesterday, enjoying what he has done nearly every day for the past 55 years.
''I never tire of it. It's always a big day when you go out on the water ... it has been a great journey and it is not over yet,'' he said.
''It blows me away how far surfing has come.''
Mr Kinimaka said it was so much different from when he first started surfing as a youngster.
''They used to call us bums, beach bums. Now, you can call us pros.''