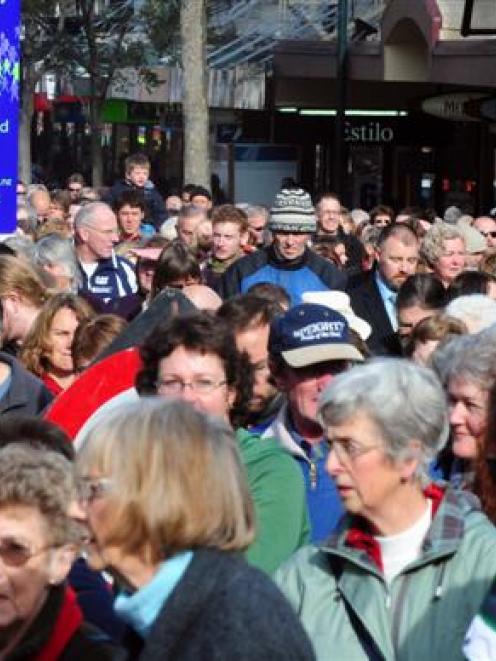 The Government would be "politically unwise" not to heed the voices of the thousands of protesters who turned out in Dunedin fighting to keep neurosurgery in the city, southern clinical health leader Richard Bunton says.
Mr Bunton, Dunedin Hospital's chief medical officer, said the Friday protest's huge turnout - estimated at between 8000 and 10,000 people - showed the campaign was gaining ground.
The South is up in arms about a proposal to base all six South Island neurosurgeons in Christchurch.
Mr Bunton said it would be "extremely difficult" for the Government to ignore the groundswell.
Dunedin Mayor Peter Chin, Invercargill Mayor Tim Shadbolt and Southern District Health Board member Richard Thomson echoed Mr Bunton's doubts that Wellington would - or could - ignore the voices of so many.
An Otago Daily Times staff member counted about 7000 street marchers from his post at the corner of Hanover and George Sts. They joined about 1000 more at the hospital.
Mr Chin put the number at about 10,000, and said he was amazed to see the Octagon still swelling with marchers when he turned from George St into Hanover St.
Both Mr Chin and Mr Shadbolt were elated after the march.
For Mr Chin, the march was "very moving", exemplifying the "feeling of togetherness" which characterised the neurosurgery struggle. The "depth of feeling" shown yesterday and throughout the campaign was something the Government could not afford to ignore, he said.
Mr Shadbolt, a leading light of New Zealand's protests in the 1960s and 1970s, had never seen a protest like it in the South Island.
Decision-makers would ignore the march and accompanying campaign "at their peril", he said.
He was confident Prime Minister John Key was taking notice, and that southern National Party MPs would be speaking to him and other senior members of the party about the issue.
A wide cross-section of the community had marched in a "resounding display" of southern unity.
The march was organised by the ODT, New Zealand Nurses Organisation, More FM and the "Keep Neurosurgery in Dunedin" Facebook page.
Hundreds of marchers added their signatures to a petition calling on Mr Ryall to retain neurosurgery services at Dunedin Hospital. Thousands have signed the petition since it was launched on Wednesday.
It will be available for signing at today's Ranfurly Shield match between Otago and Southland at Rugby Park in Invercargill. People can also sign it at ODT and Southland Times offices until August 13.
Mr Thomson, also a founder of the "Keep Neurosurgery in Dunedin" Facebook page, said the march built on indications this week that Wellington was listening.
Mr Ryall and Clutha Southland MP and Deputy Prime Minister Bill English appeared to have altered their stance on the issue, judging from their public statements.
Mr Thomson, who was "blown away" by the number of marchers, said if so many turned out to a protest at a threat, he would be intrigued to know how many would be roused if neurosurgery was actually removed.
Accompanied by stirring sound of bagpipes, marchers set off from the Octagon at 11.50am towards Dunedin Hospital, where they converged with other protesters to protectively encircle the hospital.
The dignified, determined protest march included school children, university students, concerned parents, first-time marchers, the elderly, union members and many who owed their lives to Dunedin neurosurgery services.
A cheer went up when the symbolic show of support was achieved by encircling the hospital with arms and hands, as the Otago Regional Rescue Helicopter hovered over the crowd, landing briefly on the hospital's roof.
At 12.35pm, protesters were asked to text Health Minister Tony Ryall en masse to alert him to the issue.
More than 2000 sent texts. They were captured by organisers, who sent them to Mr Ryall's office, managed so the minister was not inundated with them at once.
Dunedin North MP Pete Hodgson told marchers Mr Ryall "wavered" on the issue this week in Parliament and pressure needed to be stepped up.
It was "really, really silly" people had to get out and protest to keep an essential service.
Dunedin had had neurosurgery for longer than Mr Ryall "has been alive".
The Labour stalwart got the biggest cheer of the day when he declared: "There will be two sites [for neurosurgery]. Who took the decision? You did, by turning out today."
Banners on display included "Tony don't Ryall us", "You can take our stadium but not our neuro unit" and "Keep neurosurgery in Dunedin. They were there when we needed them".
Marching with his family yesterday was neuroscientist John Reynolds, wife Jane, and daughter Eva (2), who sported a badge saying "Protect my Brain". Mr Reynolds said the threat to neurosurgery was "ludicrous" and if it was removed, it would hurt his University of Otago research, which benefited from the input of neurosurgeons.
He was also concerned for his daughter, who like all toddlers, was at risk of a "banging her head" and needing surgery.
Graham Helm, leading a team of nine from FMR Risk insurance brokers, said none of his colleagues had taken part in a protest march before. For him, the matter had personal significance, as his wife had needed neurosurgery for a tumour.
Student Andrew Davies (21), of Dunedin, said he had been walking through the Octagon when he joined the crowd. He was grateful for Dunedin neurosurgery.
About two years ago he was in a car crash near Invercargill and was rushed to Dunedin Hospital, where he underwent neurosurgery, after which he was in a coma for 12 days. He was thankful he had not had to go to Christchurch, but was able to have treatment in his home city.
At Dunedin Hospital, as the march wound up, National List MP Michael Woodhouse expressed support for Mr Ryall, who had to let the decision process take its course.
Mr Hodgson was wrong suggesting Mr Ryall should rescue Dunedin neurosurgery like a "white knight", he said.
Mr Ryall would make the decision if he was called upon to do so. He said the march was "not a protest", but rather a sign of support for Dunedin neurosurgery.
When the Otago Daily Times suggested marchers were protesting against the suggestion of the service's removal, Mr Woodhouse said that because of previous threats to medical services, including neurosurgery in Otago in the 1990s, taking to the streets had become a "conditioned response".
Asked for comment last night on the rally, Mr Ryall's office advised he had issued a statement earlier in the day and would not be speaking further on the matter. His earlier statement outlined the background to the dispute.