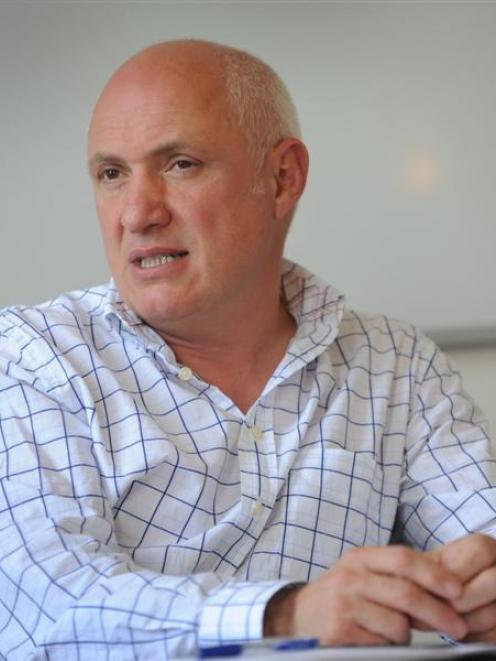 Few would argue Dunedin's Forsyth Barr Stadium is one of the city's most ambitious - and controversial - civic projects. But what about the man at the centre of it all? Reporters Chris Morris and David Loughrey talk to David Davies about his past and his plans to make the stadium work.
A few years ago, David Davies - the man tasked with making a success of Dunedin's Forsyth Barr Stadium - stood before a High Court judge in London.
He clutched a Bible and swore to tell the truth, the whole truth and nothing but the truth.
The then chief executive of English football club Queens Park Rangers explained why the proud old club should take an offer of a 10 million loan - a deal aimed at averting financial ruin.
At the time, mid-way through 2002, the club's finances were in a bad state.
The club was in financial administration, with a court-appointed administrator given one year to run the club while attempting to fix its affairs.
The loan offered was far from ideal - at 10% interest, it would cost 1 million each year and place a heavy burden on the club's shoulders for years to come.
However, the deal was also a last resort - the period of administration was coming to an end and, without it, the 127-year-old QPR faced the prospect of being unable to field a team the following season.
The judge, in robe and wig, approved the loan and Mr Davies left the courtroom for the steps of the court, to be grilled by English media.
Fast-forward to the present day, and Mr Davies (51) already looks at home in the boardroom of the Carisbrook Stadium Trust office in Dunedin.
It is an office he now occupies as the chief executive of Dunedin Venues Management Ltd, the company established by the Dunedin City Council to run Forsyth Barr Stadium and other council venues.
His appointment in October was heralded as "critical" by Dunedin Mayor Peter Chin, who cited Mr Davies' extensive management experience.
And his CV certainly is impressive - starting with a BA in sports studies, a masters in business administration and stints as a venues manager for the Leicestershire County Council and later Leicester City Council.
In 1993, he shifted to Ogden Entertainment, as a project manager and later managing director, overseeing the completion of the Manchester Arena - the largest indoor venue in Europe, with space for 21,000 people.
In 2000, he joined the QPR football club as chief executive, and from 2004 filled the same role for the London Wasps rugby club.
Most recently, he was managing director of DHP Group in Nottingham, an entertainment company running venues and ticketing, concert promotion and band management operations.
Now, following an international search and the swish of a pen, he has become the DCC's second highest-paid employee, with a salary of up to $250,000 a year.
However, it is his time at QPR that he credits with helping sharpen his skills.
In an interview with the Otago Daily Times, he talked candidly about his career, including his turbulent time with the club, and described his High Court appearance as "incredibly humbling".
He also talked about the challenges ahead, displaying an obvious eagerness to get stuck into them in his adopted city of Dunedin.
Eagerness or not, however, it seems the QPR loan he argued for all those years ago just will not go away.
Mr Davies credits the deal with helping save the club but in 2005, the club's new chairman, Bill Power, described it as "scandalous".
It was a view mirrored by some posting on the club's dedicated internet fan sites as well as some media, and now the claims are swirling again - this time in Dunedin.
An email sent to media and others by Dunedin woman Pat McCarty - a vocal opponent of the stadium and occasional cartoonist - questioned Mr Davies' abilities based on his links to the club's controversial loan.
Given the history, she asked: "Can Mr Davies deliver . . . or have the ratepayers been sold a `pig in a poke'?"Mr Davies, for his part, said he understood why the questions continued to follow him.
"I fully understand there will be people sitting on the sidelines saying `perhaps you shouldn't have done it'.
"You have to be pragmatic about it. You know people are going to ask questions. In reality, I'm very proud of my time there [at QPR]."
He insisted the club had, soon after his arrival as chief executive in 2000, found itself in a situation that left few options.
Within months, the club had been relegated to English football's third tier, the manager and chairman had resigned and sources of revenue - including money from television broadcasting - were drying up, he said.
Left behind was a top-heavy roster of 60 players expecting wages, and losses that in April 2000 reached 570,000 a month.
Entering administration in mid-2001 - a move recommended by Mr Davies - provided some breathing space for the club, he said.
The administrator, Ray Hocking, was appointed by the High Court, and QPR was just one of many clubs needing such services as financial pressures mounted, Mr Davies said.
However, by mid-2002 the club had failed to attract a wealthy new investor, and a bank loan was also out of the question, he said.
"Football at the time was not the flavour of the month on the High Street. Banks up and down the country wanted to foreclose on football clubs. Going to them and saying `can we take a mortgage?' was never going to be an attractive proposition."
With a sink-or-swim deadline approaching, the administrator recommended the 10 million loan to the club's remaining advisers, including Mr Davies, he said.
That was despite the 10% interest rate, which Mr Davies said was above the 7% going rate at the time but reflected "the difficulties of handling football clubs".
It was also without knowing the money came from a convicted criminal - something revealed by English media later.
The loan came from the ABC Corporation, a company registered in the tax haven of Panama.
In 2005, the Independent newspaper revealed the man behind the company's money was former Nissan UK managing director Michael Hunt.
Mr Hunt had been sentenced in 1993 to eight years in prison for his role in Britain's largest tax fraud, the Independent reported.
Mr Davies said he never met Mr Hunt and was unaware he was the source of the club's much-needed cash injection, knowing only the name of the company and its directors.
"We didn't know at the time the characters behind the directors. That came out later on," he said.
He was aware of the terms ABC offered, but insisted while the loan "wasn't great" it remained "the only game in town".
"Had we had other options we would have looked at them . . . [but] nobody would have thanked us for saying `no thank you'."
In 2005, club chairman Bill Power told Independent football journalist David Conn: "It is scandalous that we've been saddled with this debt, from a Panama corporation of all places, at such an outrageous interest rate."
However, others defended Mr Davies' role, including Conn himself, now writing for the Guardian newspaper.
Conn told the ODT by email he did not think Mr Davies was "generally held by QPR fans as responsible" for the club's woes.
"I think they regarded him as a decent and competent professional trying to steer the club out of a horrible financial situation.
"I must say that I have always found him good to deal with, very straight compared to most people in this field, and a man who seemed to be trying to do his best."
Dave Thomas, editor of the A Kick Up The R's QPR fanzine, which regularly interviewed the club's key figures, said he considered Mr Davies a "typical chief executive".
"A crook and a charlatan, by implication? I doubt it very much."
Mr Davies left the club in 2004 to become chief executive of the London Wasps rugby club, but said he left with "a clear conscience" after boardroom disagreements with an incoming wealthy investor.
"Ultimately we saved the club when we were faced with the Football League telling us a deal had to be done," he said.
Reflecting on his time at the club, Mr Davies said it was an "incredibly fast learning curve" but one that would help in his quest to make Forsyth Barr Stadium a success.
He tried to avoid surprises, had developed a hands-on but "human" management style, and looked forward to engaging with critics, he said.
"I think one thing I bring to every job I have had since has been developed out of a fairly hard school."