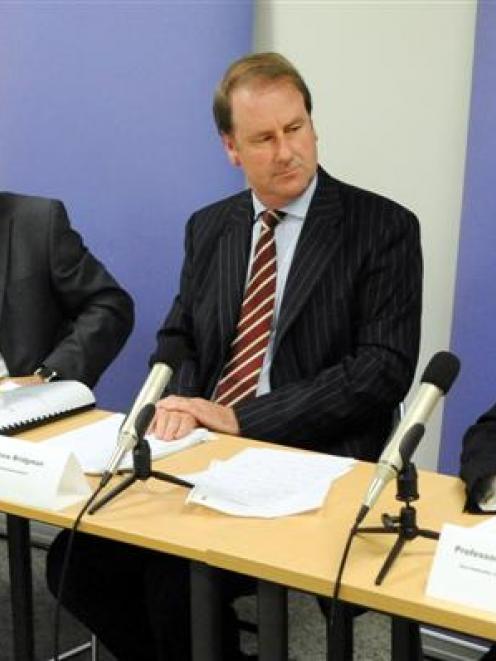 Acting Director-general of Health Andrew Bridgman says he is not expecting people to be "tossing toys out of the cot" over the radical changes announced yesterday to neurosurgery services in the South.
He does not want to see any time wasted, although it is expected it will take up to two years for the two-site service to be fully working as one service.
"Implementation starts today. That's the key message."
The first steps will be the University of Otago's recruitment of a neurosurgery professor and the setting up of the governance board by Melbourne neurosurgeon and academic Prof Andrew Kaye.
Mr Bridgman said he expected Prof Kaye, who returned to Australia shortly after the media conference in Wellington announcing the changes, would be back soon to work on forming the board and that by Christmas there would be "quite a bit of progress".
The changes were "a good solution for the people of the South Island and New Zealand," he said.
The issues involved were much bigger than those of any individual district health board or person.
Mr Bridgman indicated that since the South Island boards had asked him to intervene when they could not agree, he expected they would be co-operative about helping to implement the changes.
He said he would remain open and available to talk to the parties about the decision and the report and would be encouraging them to work with Prof Kaye.
He realised there was never going to be a decision with which everyone entirely agreed.
Talk of winners and losers was frowned on in Wellington yesterday as those driving the changes explained their implications for the service.
Chairwoman of the South Island Neurosurgical Service Expert Panel Anne Kolbe said the proposals, which incorporate University of Otago academic appointments, provided a "win-win" solution to the row over the future of neurosurgery.
Mr Bridgman said the proposals provided a way to take a struggling provincial model to a sustainable, world-class service, one New Zealanders could be proud of.
Under the new plans, instead of a maximum of six neurosurgeons in the South Island, there will be at least seven and eventually eight.
Dunedin is to have three of those, and two will have University of Otago posts one a professor of neurosurgery and the other a senior lecturer.
University of Otago vice-chancellor Prof Sir David Skegg praised the work of the panel, saying it had come up with a proposal that was "better than any of us envisaged".
The university would be carrying out an "urgent recruitment process" for the professor, but it was important to get the right person, he said.
He was keen to see academic involvement from Christchurch as well as Dunedin, as the university had a Canterbury clinical school.
The panel's vision and commitment to research could lead eventually to improvement in neurosurgery throughout New Zealand.
Mrs Kolbe, who served on the panel with Adelaide neurosurgeon Glenn McCulloch and consumer advocate David Russell, said the panel's recommendations in its 84-page report provided for a safe, high-quality and sustainable service for every South Islander.
---
Looking forward:
• The service to be overseen for three years at least by a governance board.
• "Prudent and integrated" development of subspecialisation on both sites.
• Development of a new funding model and outreach services.
• A review of patient recovery and related patient transport services across the South Island.
• Up to two years before full implementation as one service.
---