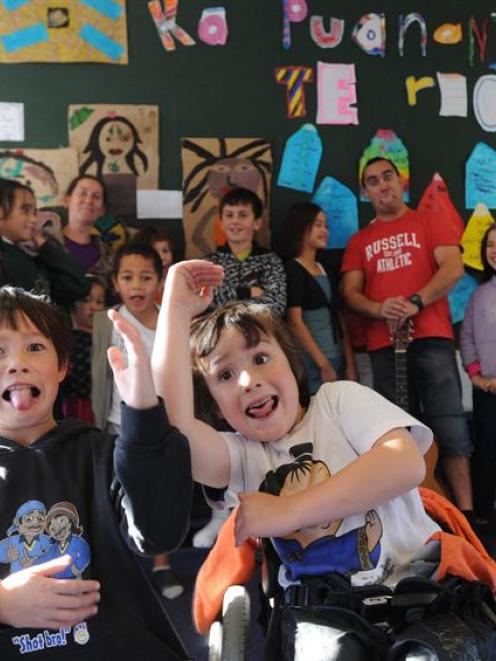 A Maori immersion class being piloted at Dunedin North Intermediate is establishing a generation of truly bilingual children.
The class - Ka Puanani o Te Reo - was launched at the beginning of the year and allows pupils from schools around Dunedin to attend a class where they are totally immersed in Maori language for one day a week.
University of Otago senior research analyst and Ka Puanani o Te Reo co-ordinator Dr Katharina Ruckstuhl said the class met on Tuesdays, with one teacher and a resource teacher of Maori.
"The children have to have a certain degree of Maori-language skill," she said.
"During the day, the class is mostly an immersion environment where the teachers speak Maori to the children, and the children do as much as they can.
"It's an integrated programme based around language development and extension.
"They do reading, writing, art activities and singing.
"The focus is on developing excellent language skills in Maori.
"These children will have real bilingualism."
Dr Ruckstuhl said the class had 12 pupils, ranging in age from new entrant to intermediate.
The class was deliberately kept small to ensure it met the diverse level of language skills among the children.
"This class gives parents choices.
"Most schools can't offer the expertise in Maori language like they can in English literacy.
"This is a way that children of families that speak Maori at home as a first language can be supported.
"It supports families and schools."
Work began on the pilot in 2009, and classes began this year in partnership with families, schools, Ngai Tahu runanga and the Ministry of Education, she said.
Later this year, the partnership would investigate expanding the classes, but there were no plans to roll out the pilot into other areas of New Zealand, she said.
The main focus was to make sure the programme was "robust and sustainable".
"We're seeing how it works to meet the needs of the Dunedin community.
"This is a programme to suit our local needs.
"Whether it will suit anyone else's community is unknown at this stage," she said.