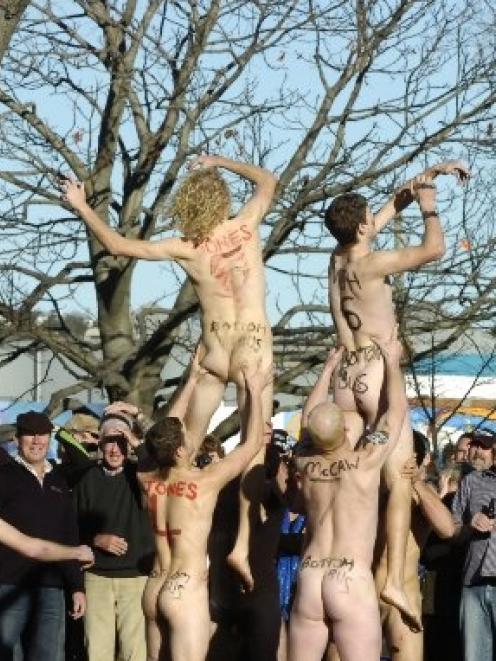 The Dunedin-based Nude Blacks have rejected a change of strip as they prepare for their biggest season yet.
While the Highlanders court controversy with their new green rugby jersey, the founder of the Nude Blacks has vowed his team will be keeping it simple for the large number of fans and media expected in Dunedin for the World Cup.
"We are keen to get the Nude Blacks out there to entertain the visiting public, and we see it as very good for the city," Ralph Davies, of Bottom Bus, said.
"But no uniform changes for us."
The undefeated team of largely University of Otago students is set to play up to three unofficial curtain raisers this year, including a "warm-up" match before the All Blacks v Fiji match at Carisbrook.
Nude matches between supporters of Argentina/England, and Ireland/Italy were also possible as part of the build-up before those countries met officially in the pool play of the tournament.
"We just want to be part of helping showcase the rugby culture of New Zealand and help make this tournament a success."
Mr Davies said there had been "phenomenal media interest" in the Nude Blacks, and the team was on the look out for sponsorship to capitalise on any international exposure.
Organisers had hoped to play a game in Bluff - dubbed "Buff in Bluff" - but had opted to remain in Dunedin, with a game on the West Coast, or a North Island fixture, a possibility.
For the past two years the team has played opposite the Forsyth Barr Stadium, but due to "clean zone" restrictions in place for the World Cup it may return to where it played its debut match in 2002 - St Kilda Beach.
Since the inaugural game against a fully clothed Irish team, the Nude Blacks had missed only 2006 and 2007, when no test matches were played at Carisbrook.
Mr Davies said what began as a bit of a "kick and giggle" touch game had evolved into a full-contact encounter.
"But we do bend the rules a bit and manufacture a line-out, say, in front of the TV cameras, or a scrum for the photographers."
Players came mostly from Selwyn College and University of Otago students, with the team sporting the odd female or two.
"I wouldn't say it is family entertainment but it is nothing to get prudish about. In the times we have held it we have only had one complaint.""It's not about the dangly bits; it's about having fun."