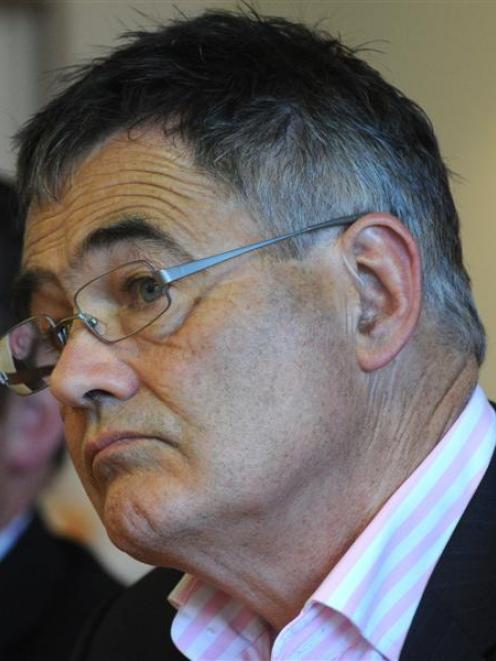 The Dunedin City Council has a fight on its hands to keep a lid on rates increases, with demands for new spending over the next few days likely to place pressure on a self-imposed rates cap.
Councillors will this morning gather for the first session of what promises to be an arduous three-day public hearing, with about 190 submitters expected to speak their minds on the council's draft annual and long-term plans.
At the heart of the council deliberations to follow next week will be a self-imposed cap set by councillors, restricting any rates increase to no more than 5% for the 2012-13 year.
The draft budget for the coming financial year included a draft rates increase of 4.9%, after many hours of work trimming council expenditure by council chief executive Paul Orders and his staff.
However, draft rates increases tended to creep up during budget hearings, and the same pressure was expected to emerge from today, with a procession of community groups to ask for more support.
Dunedin Mayor Dave Cull told the Otago Daily Times efforts to constrain spending would be a top priority at the hearings.
The key would be to make cuts or defer projects in an "even-handed" way, and hopefully without reducing council service levels, he believed.
However, pressed on how realistic that aim was, Mr Cull conceded the 5% rates cap could be under threat, and also left the door open to service level cuts to make ends meet.
"We don't want to be reducing services ... if it comes to it and we have to reduce services a bit, then we'll look at that.
"We're not there yet."
The 5% rates cap was "aspirational" and might also need to be lifted, if councillors were faced with impossible decisions about what to cut next, Mr Cull said.
"It's not the limit at any cost. If the next thing to go was an absolutely essential service ...
"clearly rates would have to be higher.
"If push comes to shove and we think that there are no other alternatives, then clearly we would have to consider a different limit."
The council had so far managed to stay within the "achievable" limit, but pressure to spend more was expected during the hearings beginning today, he said.
"I think there's a chance we can keep it under 5% and there's a chance there will be pressure to put it above 5%."
Council staff had been working since last year to reduce a looming 11.9% rates increase, fuelled in part by the shortfall in dividend payments from Dunedin City Holdings Ltd.
Cuts to council operating costs and revised capital spending plans had reduced that figure to 4.7%, but the figure crept up again, to 4.9%, following councillors' decisions during pre-draft budget meetings in January.
More pressure was likely to come on as the numbers were crunched again over the next few days, with council debt remaining at "unpalatable" levels despite forecasts it would eventually fall.
One proposal to be addressed over the next few days was whether to increase rates - or find money elsewhere - to reduce the stadium loan term from 40 years.
Reducing it to 23.5 years would require another $1 million a year to be found, while $1.9 million a year would be needed to return the loan term to 20 years.
A long list of projects - from a new Mosgiel swimming pool to 24-hour Octagon toilets - also remained unbudgeted, despite plans being drawn up, and if included would place more pressure on rates.
Councillors would already have absorbed the views in 1020 written submissions on the draft budgets - a record number for a council budget hearing - before hearing the first of this morning's speakers.
They would meet again from next Tuesday to deliberate, possibly until Friday, and were due to adopt the finalised plans at a full council meeting on June 18.
---
DCC budget hearings
• Public hearing begins today on council's draft annual plan for 2012-13 and long-term plan to 2021-22.
•1020 written submissions received; about 190 people expected to speak.
• Public hearings end Friday; councillors to deliberate in public next week.
• Popular submission topics include: Signal Hill car park extension; cycling improvements; Dunedin Public Art Gallery acquisitions budget; city libraries; Forsyth Barr Stadium and ORFU bail-out.
• Draft rates increase 4.9% for 2012-13; just below 5% self-imposed limit.
• Pressure for more spending could result in increase; service level cuts also not ruled out.
---