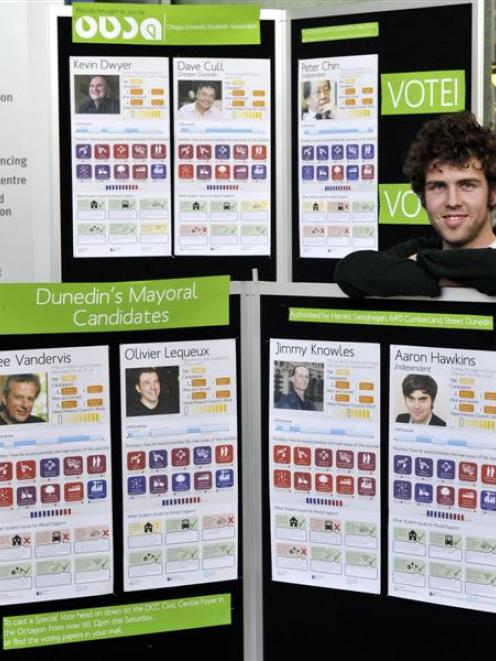 Dunedin student Niko Elsen might be fighting an uphill battle - trying to stimulate student interest in local government - but the third-year politics and design student has combined his talents to do just that.
As part of a design assignment, he has developed charts showing the background and priorities of the seven mayoral candidates, along with their thoughts on student issues, and displayed them at the University of Otago library.
The accessibly presented information has attracted up to eight students at a time to the display.
Mr Elsen (20), a third-year student and grandson of former Timaru mayor Wynne Raymond, has political aspirations himself.
This year he has studied what students expect from local politics.
"I decided to take it further through design studies," he said.
Mr Elsen interviewed all seven mayoral candidates, and attended mayoral forums.
In the past, he had found local politics boring - "and that's what most students think".
But, "if you get under the skin, there is a little colour among the grey."
The philosophy behind his design was presenting something "visually engaging" rather than just passing on political rhetoric.
He included all candidates' general profiles and professional history.
As well, through reading the Otago Daily Times and from his interviews, he identified each candidate's priorities.
The fourth aspect was to set out each one's thinking on student issues, which he summarised in 140 characters, the limit for Twitter posts.
A survey he had done showed students did not like reading political "blurbs".
"Only people who are really engaged [in local politics] will actually read one."
His design catered for students who wanted "simple, concise, strong, direct messages", Mr Elsen said.
The response, he said, had been "really positive", with 100% of respondents to his survey finding the display useful.
His view of the candidates on offer was that they were "diverse".
While not all would be up to the job of mayor, he said, some could make it as councillors.
And with 60 to 70 hours of work in the past couple of weeks, and his girlfriend describing the design as "the other woman", it was now up to his lecturers to provide the design with a vote of approval.