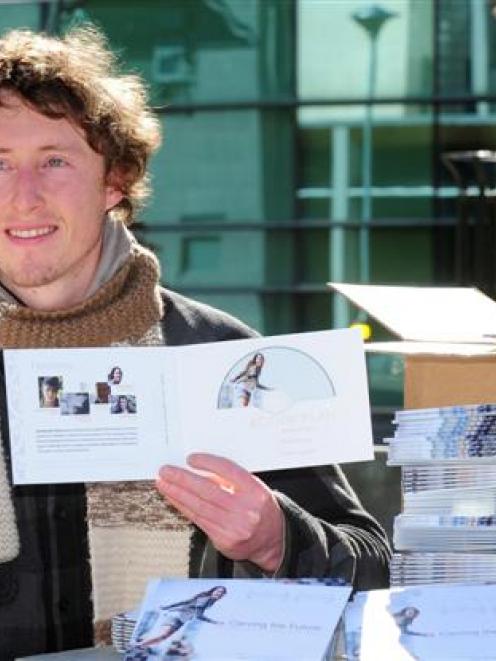 From modest beginnings, two young Dunedin film-makers are headed for the top, having just won the Platinum Best Film Award at the 2010 Colorado International Film Festival.
University of Otago graduates Guy Ryan and Nick Holmes produced the award-winning documentary Carving the Future last year, in the final year of their masters in science communication degree study.
The 25-minute film follows the journey of four young New Zealanders as they lead community-action projects to tackle climate change and environmental degradation.
Another Otago graduate, Jinty MacTavish (24), a regional co-ordinator for Enviroschools in Otago, is among those showcased in the film.
Messrs Ryan and Holmes, and three other Otago graduates, have formed the film-making company Splashroom Media, which is based at the university's Centre for Innovation.
Mr Ryan, who is managing director of Splashroom Media, said the award had come as a "total surprise" and provided "a huge confidence boost".
He aimed to produce films which were "powerful tools for social and environmental change".
A thousand copies of the film were recently pressed on to DVD, and were being distributed to schools and communities throughout New Zealand.
The film was runner-up Best New Zealand Film at the Reel Earth Film Festival at Palmerston North in May.
The documentary is also one of several shortlisted for the BBC's Best Newcomer Award category at Wildscreen, which is regarded as the world's most prestigious wildlife and environmental film festival.
This begins in Bristol, England, next month.
Further highlighting the strength of Dunedin film-making, Jane Adcroft and Carla Braun-Elwert, who also completed Otago science communication degrees last year, have also reached the BBC Award finalists with Love in Cold Blood, a film study of two elderly tuataras which was named Best NZ Film at the Reel Earth festival.
Mr Ryan flew to England yesterday and will attend the Bristol festival award ceremony on October 10.