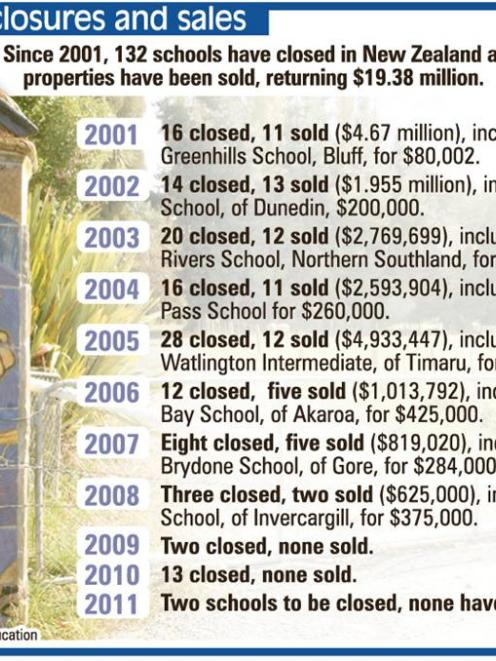 The Ministry of Education has chalked up nearly $20 million in sales of former schools in the past decade - with more earmarked to go on to the market.
Figured released under the Official Information Act by the Ministry of Education show 71 schools have been sold since 2001, realising $19.38 million.
During the same period, 134 schools have been closed, with Dunedin schools Tomahawk (rateable value $495,000), Corstorphine ($1.44 million) and Waldronville ($1.1 million) closing their doors this year.
Other Otago schools to close include Dunback School (closed 2001), which sold in 2005 for $154,223; Patearoa School (2005), sold in 2009 for an undisclosed sum; Cattle Creek School (2004), sold in 2010 for an undisclosed sum; Enfield School (2003), sold this year for an undisclosed sum; and Maia School (2002), which sold in 2004 for $200,000.
Of the remaining closed schools, the majority were used for other educational purposes, with the remainder yet to enter the disposal process for sale.
Taking the prize for most expensive former school site was Waiwhetu School, in Lower Hutt, which sold in 2009 for $3.2 million after it was closed in 2002 because of declining rolls.
The cheapest was Otapiri School in Southland, which was sold in 2004 for $15,000 after closing in 2002 at the request of its board of trustees.
Citing commercial sensitivity, the ministry declined to release current market valuations for schools in the disposal process or about to enter the process.
"This is because current market information is commercially sensitive and could impact on sale negotiations," Ministry of Education implementation acting senior manager Chris Harwood said.
All proceeds from the sale of schools were returned to the Government, helping to "offset the costs of the ministry's school property programme".
Mr Harwood said that until each school sold, which could take years to complete, the ministry was responsible for that property and was required by law to offer the school to parties, following a specified sequence.
That sequence included consultation with Government agencies and local authorities, then offering the property to former owners or their willed successors, to iwi, and for assessment by the Office of Treaty Settlements, before it went on sale on the open market.
Mr Harwood confirmed the ministry was undertaking a review of the condition and management of closed schools in New Zealand.