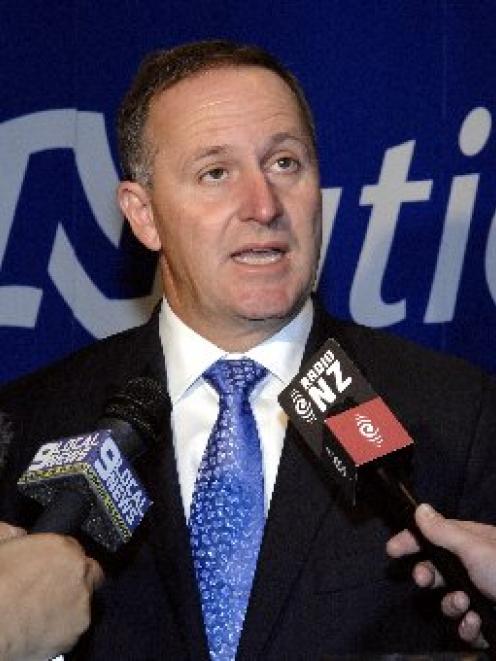 The South Island would benefit from visitors to the SkyCity Convention Centre, which could be linked to proposed convention centres in Queenstown and Christchurch, the Prime Minister says.
Following his speech at the National Party Mainland Region Conference, in Dunedin, yesterday, John Key said debate over the pokies-for-convention centre deal was not becoming a distraction for the Government.
A national convention centre, which would provide 200,000 extra visitor nights a year, 900 jobs to build it, and 800 jobs to run it, would help lift the tourism sector, he said.
Mr Key, when asked by the Otago Daily Times how the convention centre would benefit the South Island economy, said it would attract international conventions and put "the spotlight on New Zealand".
"This is a beautiful part of New Zealand.
"There is a lot going on here, both in Dunedin and the wider South Island, and so more people coming here will feed into the regions."
Rebuilding the Christchurch convention centre, and another proposed for Queenstown, could form "part of a national convention centre link", along with Auckland, he said.
He was quick to allay fears over the Auckland deal, saying Internal Affairs had advised pokies would decrease by an estimated 483 this year - and the SkyCity deal, if successful, "may well be well less than 483".
"So, New Zealand would certainly be no worse off and arguably better off, from a pokie machine perspective. And from a national convention centre and tourism perspective, we will be a lot better off.
Mr Key also confirmed he had received an assurance from embattled minister John Banks, "that he complied with the Local Government laws in relation to donations".
Labour leader David Shearer is calling for the Act New Zealand Party leader to be stood down from his ministerial duties, pending a police investigation over allegations he falsely declared $65,000 in campaign donations.
"I accept [Mr Banks] at his word. If they don't believe that, they are free to test that with the police," Mr Key said.
He referred questions concerning donations to the National Party to its president, Peter Goodfellow, who said declarations of those over $15,000 were expected to be released today.
Mr Goodfellow confirmed he had never met Megaupload founder Kim Dotcom, who says he split $50,000 into two anonymous donations for Mr Banks' 2010 Auckland mayoralty campaign.
"I have actually never met Kim DotCom, and certainly I am not aware of any direct donation from him, and certainly anonymous donations, I can only say they are truly anonymous."
"I don't disclose unless people have given them more than $15,000, at which point we are required to make disclosure at this time of year.
"We actually have to report in bands, so we have to keep a record of everyone who has donated so they fall within the dollar bands that will be disclosed."