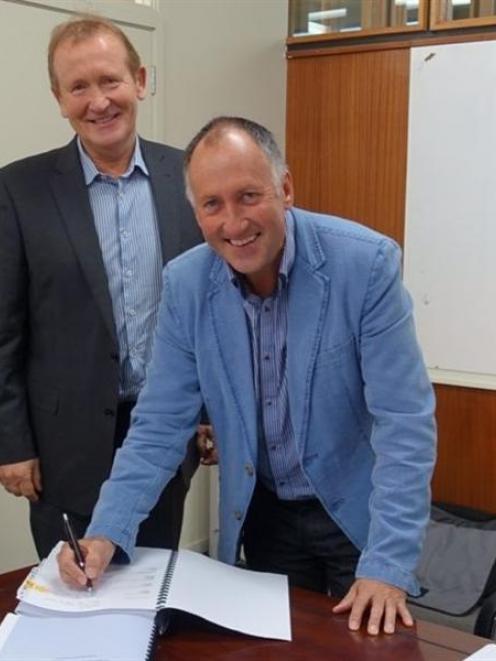 A $48 million contract has been signed to extend the North Otago irrigation scheme to another 10,000ha, with work to start this month and water expected to be flowing in September next year.
It is the major cost of the expansion, which is expected to total about $57 million once company and design costs are added.
The North Otago Irrigation Company (NOIC) and McConnell Dowell Constructors Ltd signed the infrastructure contract on Thursday after enough farmers had committed to the scheme in December for the expansion to the Kakanui Valley.
The first part of the work is on existing infrastructure, such as head ponds and pumps, to handle the extra water.
The laying of pipes to deliver the water will start in August.
McConnell Dowell managing director Roger McRae and NOIC chairman Leigh Hamilton put their signatures on the contract agreement which will see site mobilisation begin this month.
Mr McRae was delighted with reaching that milestone, the culmination of about 10 months' work for his construction team.
It also brought him back to North Otago where he attended Waitaki Boys' High School as a boarder ''quite some years ago''.
''The changes irrigation has brought to the region have been profound and we are delighted to be part of this exciting project that will continue to contribute to economic growth in the region,'' he said.
NOIC chief executive officer Robyn Wells said McConnell Dowell was chosen last September after a rigorous selection process.
''We have been extremely impressed with their professional, collaborative and innovative approach. We are confident we have picked the right partner along with our design and engineering partner Aecom, to ensure water will be available for new shareholders by September 2016.''
McConnell Dowell is no stranger to the South Canterbury-North Otago region, having recently completed the Waitaki bridges replacement project at Kurow and being in the final stages of a rail bridge replacement at St Andrews.
Mr Hamilton expressed his appreciation to the farmers for their confidence in the expansion.
''This has been a long time in the making and it is an exciting time with a few more hills in front of us before we fulfil the original founders' vision,'' he said.
The first 10,000ha stage of the NOIC's scheme was built in 2006, with enough water allocated in its resource consent and some infrastructure put in place for another stage of 10,000ha.
Last month, 5346 shares were sold out of almost 8000 on offer, enabling the company to start finalising designs to deliver water to those who wanted it.