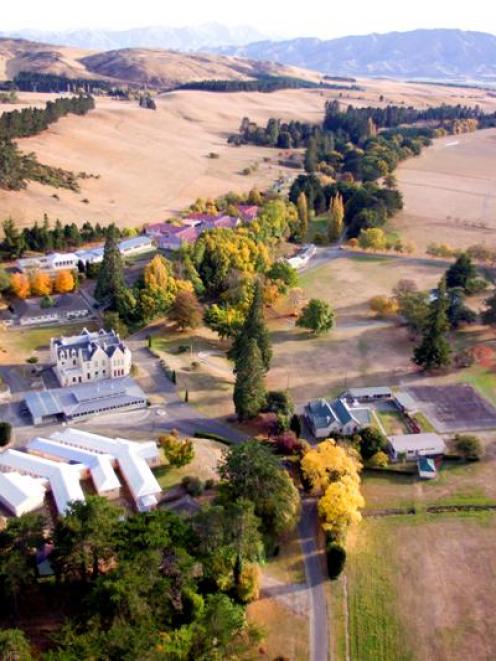 The historic Campbell Park Estate with its castle-like homestead and collection of houses and buildings in the Waitaki Valley is for sale.
The 231ha property is owned by a number of companies overseen by Charles Tompkins and his son Nathan, who bought it in 1988 after the Ministry of Education closed the special school for boys which was housed there.
The pair have had various plans for the property, including an international school, and have made a number of improvements.
The property has a rateable value with the Waitaki District Council of about $3.3 million.
Marketed internationally through real estate company CBRE by Mike Beresford and Warren Hutt, it is described as "a spectacular property that offers virtually limitless potential to the right buyer".
"One of the hardest things to do is to list all the features of this staggering property," Mr Beresford said yesterday.
Campbell Park could accommodate and cater to the every need of more than 300 people.
"Because it was used for 79 years as an educational centre, the site would be ideal as an educational campus of any form - secondary, tertiary or even adult education - as the property possesses all of the necessary accommodation and facilities," he said.
Interested parties included private schools in Australia and New Zealand, along with religious organisations, church camps and bible colleges.
"Maori and iwi groups may find this to be a great base, or outdoor adventure/pursuit groups and health retreats." It had its own runway which, along with its close proximity to popular New Zealand destinations, could even be used as an aeronautical facility.
The property is effectively divided into three main parts.
There is the historic estate and many period support buildings, in a spectacular park-like setting. This includes the oldest castle in New Zealand, historic stables, a large restored villa and an ancient "cave", where its first owner William Dansey lived.
Surrounding the homestead are a 200-seat restaurant complex, a 225-seat theatre and accommodation, including four dormitories capable of accommodating 300 people.
There are six classrooms, a library, arts and crafts rooms and technology centre, a well-equipped sports centre with a covered swimming pool, modern indoor gymnasium, tennis courts and sports fields, extensive equestrian facilities and a 1500m grass airstrip.
The second part is 32 homes in a village setting, including 10 three-bedroom villas, five 1940s hardwood three-bedroom homes, four Oamaru stone three-bedroom homes, 13 brick three and four-bedroom homes, as well as a 230sq m clubhouse.
The final part is 204.4 hectares of rolling farmland.
---
Campbell Park
• Property covers 231ha
• Includes historic Campbell Park homestead and 32 houses
• 220-seat restaurant and commercial kitchen
• Historic stables
• 225-seat theatre
• Four dormitories sleep up to 300
• Library, technology centre and gymnasium
• Equestrian facilities and vineyards
• 1500m airstrip