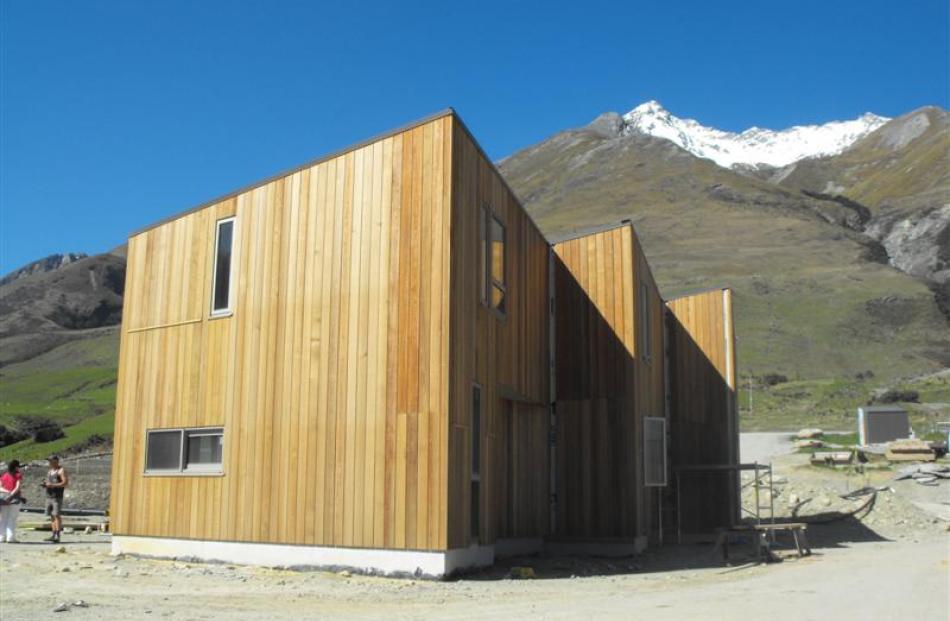 Construction of Queenstown's first retreat centre reached the halfway point last month, so Otago Daily Times reporter Olivia Caldwell took a tour of the site with one of the partners of the Aro Ha Centre.
For the past year American Damian Chaparro has lived as a "Kiwi".
He has kayaked the Kawarau River, been white-water rafting, hiking near Queenstown and even had seats at Eden Park for last year's All Blacks Rugby World Cup semifinal match against the Wallabies.
"It's a brutal game. I never knew."
While some would say Mr Chaparro's plans for the $17 million retreat centre near Glenorchy are untypically Kiwi, he says that it is what the country may be lacking.
"It's what New Zealanders want ... It's not a nuclear power plant."
He said the feedback about the Aro Ha Centre had been good so far and he has heard no negativity about his plans.
"I'm sure there are cynics - they just don't talk to me." Mr Chaparro was not always what New Zealanders would call a "health freak".
Now a yoga instructor for more than 16 years, he once worked as a software developer and admits it was an unhealthy way of living he would now rather forget.
After suffering mild depression, he moved to Los Angeles and took a course to become a yoga instructor and realised that although his pay took a cut, his life improved.
Working at United States-based Chrysalis Retreats as a wellness architect, he met his business partner Chris Madison, of Boston, who was a client and now funds the latest project in Glenorchy.
"He's the bank."
The Aro Ha wellness centre will not be a holiday in the park, he assures me. There will not be facials or manicures.
The idea behind Aro Ha is a "results oriented" experience for the customers who will pay about $6000 a week to be there.
Activities will include yoga classes, detoxification and a holistic health experience for a minimum of two days, or two-week programmes.
"This is not a luxury experience. The luxury will be the total experience. It's not somewhere you just come down and lie around and get a massage."
Aimed at couples, corporate groups, singles and those wanting to make a change in their life, the programme at the retreat centre will mean staying there for the entire time the customer has signed up for.
"For most programmes you don't just head in to town for a drink after the day is out, you stay here and you stick with it.
"It's quite strict."
His aim was to bring holistic health to New Zealand, which would include meditation, philosophy and massage, Mr Chaparro said. He would target locals, as well as international visitors.
The resort would be "flavoured by Eastern philosophy" and he has previously described it as a "school camp for adults".
Surrounding the retreat are a river, a vegetable patch, berry vines, a greenhouse, a glasshouse, a cellar "not for wine", a 32-person living room and a view guests will never grow tired of.
Those staying could live for an entire year here without wondering what their Queenstown neighbours were doing.
There is a main spiritual room for yoga and meditation that can contain up to 80 people at a time and a gap has been left for a giant glass panel to give clients a glimpse, through their downward-facing dog pose, of Pig and Pigeon Islands and up the Greenstone Valley.
Aro Ha sits on an 8.4ha site on the Wyuna Preserve, developed by local man John Darby and former Levi Strauss jeans company boss Tom Tusher, owner of Aro Ha's neighbouring land.
The centre's floor-space covers 2700sq m, it has four buildings for 32 guests, a staff accommodation block, a spa building and a large workshop that will be used for sculpture and other such activities.
It is eco-friendly too.
The hope is for the centre to generate its own energy and food through a micro-hydro scheme, which includes photovoltaic solar panels and lithium-ion batteries to allow it to produce its own power.
Log boilers will be fuelled by newly planted trees to heat all the buildings from the ground up.
Mr Chaparro admits he has "poor taste" and is in the process of employing an interior designer to give the centre the right look before its proposed opening in December 2013.
Whether it is what Queenstown wants or needs, it will be ready in a year, both "on time and on budget", he said.