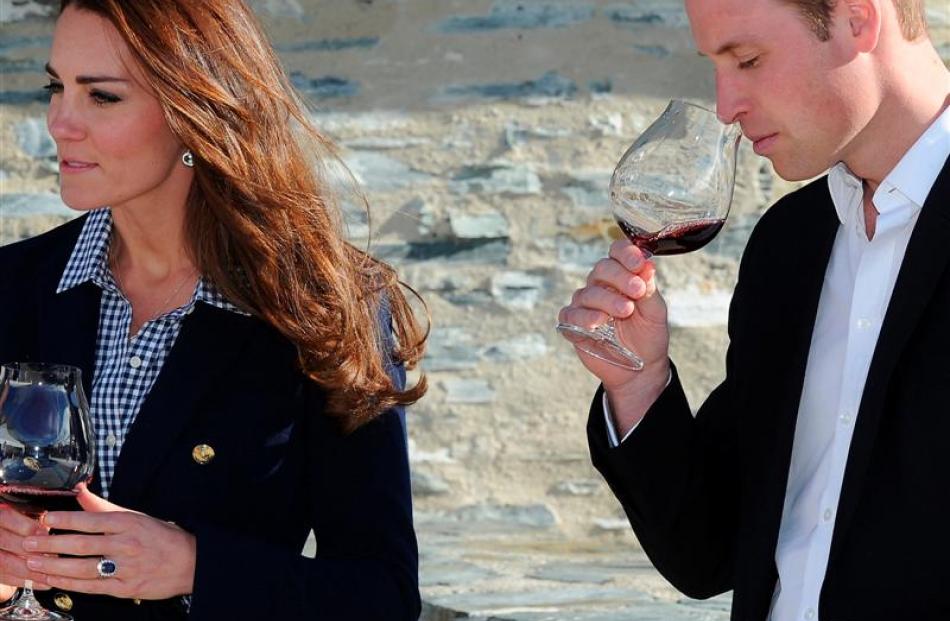 The Duke of Cambridge was as interested in sampling the delights of New Zealand famed Central Otago wine region as he was in hearing about it.
After a brief introduction yesterday afternoon to the area's relatively short 30-year winemaking history and some of the challenges of its cooler climate, the duke remarked to plenty of laughs: ''We should probably stop the talking and start the drinking.''
Time was short and a showcase of 29 different drops from wineries in Gibbston, Bannockburn and Cromwell was awaiting William and Catherine at Queenstown's Amisfield Winery.
They separately made their way around the various sampling stations, taking time to chat to the winemakers and vineyard marketers on hand.
Central Otago Pinot Noir Ltd chairwoman Lucie Lawrence, who escorted the duchess during the sampling, said she had ''six or seven'' tastes.
''She really enjoyed drinking the pinot noir.''
Gibbston wine region godfather Alan Brady had earlier given the Royal couple a brief overview before a tour of the vines by Amisfield co-owner John Darby and Central Otago Wine Growers' Association president James Dicey.
Mr Darby talked the duke and duchess through a tasting of Amisfield's Pinot Noir 2011, saying because of the potential for frosts just before the grape harvest, ''it's growing wine on the edge''.
The duchess asked if the 2011 they were sampling had been the best vintage, to which Mr Darby replied: ''It was a challenging vintage, this 2011 vintage, as we needed to use helicopters [above the vines] to stir up the air to avoid frost.''
The duke, well known for his work as a Search and Rescue helicopter pilot; offered to be of service: ''Oh, my goodness. Well if you ever need a spare pilot ...''
The couple also sampled Southern delicacies such as Bluff oysters, Stewart Island salmon, Fiordland venison, local cheeses and seasonal Central Otago fruit.
Amisfield chief executive Craig Erasmus said the visit ''was an incredible opportunity for everyone involved to showcase Central Otago wines, regional food and produce and was a brilliant platform for us to deliver an event of a world-class standard''.
Mr Darby said it was easy to be in the company of the Royal couple.
''They're a very natural and lovely couple and fit right in.
''They had a very real interest in the wine, too - the discussion was one of understanding the wine and region.
''Kate loved the idea of picking grapes. I explained how we pick by hand to manage the quality better, and how there's no shortage of people to pick, from locals to backpackers - and that it's not just a work occasion but a great social occasion as well.
''She was keen to come back and pick some some other time,'' Mr Darby said.
''They took some wine away, which they will enjoy when they have some time to sample it in a relaxed way. I suspect it'll be this evening.
''It's a great honour for Central Otago. It's lovely to share the story. [The duke] wished us well in the industry and said he thought we had a bright future.''
William and Catherine took three bottles of pinot noir wine away as a gift - an Amisfield 2011 from Gibbston, a Ceres 2010 from Cromwell and an Aurum 2007 from Pisa Flats near Cromwell.
By Ryan Keen.