Wanaka residents described a potentially disastrous vegetation fire early yesterday as "absolutely terrifying" and "frighteningly close" after up to 50 firefighters from the district's combined fire brigades saved several homes from the blaze.
The nearby Mt Iron reserve on Mt Iron was also saved.
The first fire alarm was given at 4.15am and the Wanaka Volunteer Fire Brigade responded promptly, followed quickly by the Luggate and Lake Hawea volunteer brigades and the Department of Conservation and the Queenstown Lakes District Council rural fire fighting teams.
The blaze is believed to have started in a paddock on the north side of a gully in the Mt Iron subdivision.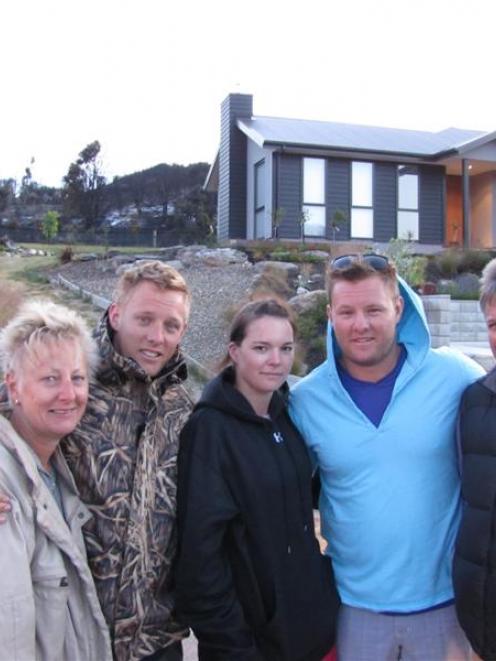 It was not known yesterday what caused it.
It was blown by strong north-west winds over a rise and down towards houses on Bevan and Islington Sts.
The fire also rose up the gully towards Zita and Lynden Cleugh's house, above Rob Roy Lane, and some residents held fears for the Cleughs' lives.
Mrs Cleugh said neighbours pounded on their door about 4.20am, waking them from their sleep and telling them to leave.
The fire brigade arrived in the nick of time, as flames licked around their home of seven years.
"The neighbours were great and woke us up. The fire brigade was here very quickly. I suspect in another minute it would have been gone," Mr Cleugh said.
Elsewhere in the Mt Iron subdivision, residents were evacuating their homes, turning on hoses and beating the fire along their fences.
Helicopters were on stand-by with monsoon buckets and water arrived in tankers.
Mr Cleugh's family have lived and farmed at Mt Iron for more than 50 years and in recent years, much of the area has been subdivided for housing.
The Department of Conservation, which has legislative responsibility for fires within 1km of a Doc reserve, took control of the fire scene from about 6am.
Wanaka Doc area manager Paul Hellebrekers believed it could take several days for the fire's origins to be pinpointed.
"We have an investigator coming through this morning and he should be able to help determine the cause of the fire," he said.
The fire is the fourth and most serious blaze in four days in the tinder dry Upper Clutha district.
A prohibited fire season begins from midnight tonight.
Wanaka Volunteer Fire Brigade chief fire officer Bruno Galloway said the brigade's first focus was on the Cleughs' house.
"It was not until the crews from Luggate and Hawea got here that we could start fighting the fire," Mr Galloway said.
There had been a suggestion the fire could have started near an abandoned vehicle and rubbish on a vacant section but Mr Galloway did not know what caused it.
Lake Hawea Fire Brigade chief fire officer Doug Brenssell said the residents were lucky.
"It burned into a paddock. But it could've burned into fences ... It had the potential to be very, very disastrous." Some residents shed tears of relief as they were allowed back into their homes about 6.30am.
Those spoken to by the Otago Daily Times said they got out of their houses when they realised the urgency of the situation.
Neighbours knocked on each others doors to raise the alarm and friends from other parts of town came around to help.
Many grabbed pets, photographs and passports, while others turned on their garden sprinklers or hosed down firewood piles.
Gaylene McCarroll, of Hong Kong, said the flames came "frighteningly close" to their holiday home.
It was particularly concerning when the wind "whipped the flames around". She noticed the fire when she went to the bathroom about 4am and rang 111.
The family grabbed passports, and her son Daniel, who starts work as a dancer with Black Grace in Auckland next week, managed to get all his possessions out.
"We are so grateful our house is still there," Mrs McCarroll said.
Bevan St resident Mary-Lou Roulston said the fire was "absolutely terrifying".
"When you are at your kitchen window and see flames leaping over the fence, all you can think of is those poor people in Australia. You start to look around the house at things you want to take and you have no idea. I have got the computer and the photos ... It is just immense panic," Mrs Roulston said.
First-year design student Megan McPhail (17) said she took her new camera with her when she evacuated from her family home in Islington St and took photographs.
Her sister Laura (20), a law and psychology student, videoed the fire.
Some residents reported their cats had run away from home.
St John Ambulance and police also attended the blaze. No major injuries or accidents were reported.