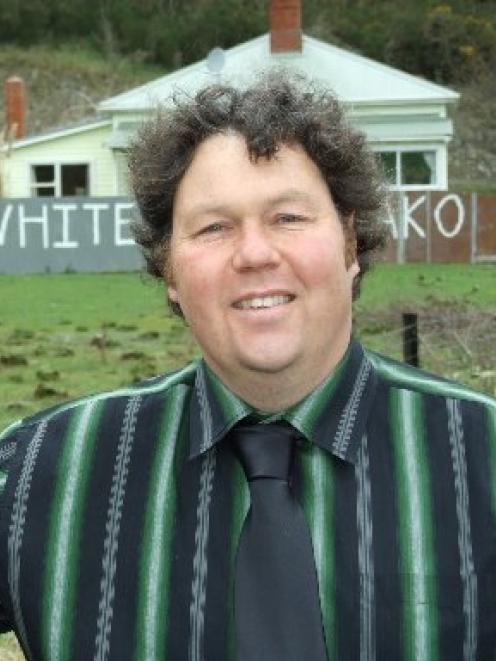 He's not your typical politician, and he's running an unconventional election campaign. He has no council experience and no money to fund his bid to be mayor. He doesn't even have a phone. Rachel Taylor quizzes Clutha District mayoral hopeful Barry Keith.
While he is lean on experience and campaign resources, Barry Keith has some clear ideas on how the Clutha District should be run and says he has the energy to carry them out.
He is campaigning on the district living within its means, which is something he is expert at.
You will not have seen "Vote Barry Keith for mayor" signs around the place.
He cannot afford to have them professionally made and he's been busy creating his own signs.
He is hoping to get them out before the election.
He has been hitchhiking around the district to meet the public - in a shirt that cost $4 from the Salvation Army (And it's a nice shirt).
"My approach to myself will be my approach to the district. I have to budget and organise ... I have to be practical [and] think outside the square."
His campaign is focusing on three main points: population decline, the doctor shortage and getting rid of poker machines.
"If we can increase the population it lowers the costs of rates. The doctor shortage is tied in to the population decline, because people are going: 'I can't really live here if I can't get a doctor'.
"Gambling machines are not good for families, and we want to be a district of families.
"That is how the Clutha District became strong in the past ... by families.
"There is no room for gambling machines if we want to grow good families and communities."
You are unemployed and have no council experience. Why do you think you can be mayor?
If experience is what's required, why haven't we achieved where we should be? The thing about experience is it is just a cliche word really.
What is needed it energy, efficiency, simple, smart thinking.
Why are you standing?
Because I'm not happy with the direction the district is taking us, and things need to change.
Which direction do you think is the district going in?
The district is going into decline.
We are looking to take fancy things like signs and put flash things around them.
 My major concern is we are becoming a master of illusion rather than a centre of excellence.
What do you mean by master of illusion?
Well, you have just got to look at the cost of the entrance signs into the town, what benefit did that do to the community?
What was the cost?
They were astronomical. You will have to check that ... but it was just an incredible amount of money, I think over quarter of a million for all the signs.
Why do you think the district's population is declining, and what are you going to do to change it?
Basically our youth have no work opportunities, so they have to go and leave the district.
There used to be work in this community for people, now we are not able to supply it.
We've got to stop relying on the other districts like Dunedin, Central Otago and Southland to help us supply our basic needs.
Electricians, builders, plumbers - our town is no longer suppling those people.
There is far too many trucks from outside the district coming in to service us.
What I'm going to do as mayor is start promoting our own businesses to get out there and get work.
We've got to start setting up networks and start going outwards.
What other issues do you think the district is facing?
We can't continue on with our doctor shortage. It's a major concern. My solution is very clear, very simple.
We take the brightest people from our district, from our secondary schools, and we help them on their way to becoming doctors ... by giving them a bit of money through a scholarship.
All that we ask in return is that they do two to three years return here.
And we don't do this one-off. We do this forever ... it is the long-term solution to our doctor shortage.
How much would you propose the district gives them?
I believe a [medical degree] is between $100,000 and $150,000, it's six or seven years, so we are maybe going to have to look at their accommodation - it could be up to $10,000 a year.
What do you think about the main street upgrade?
Basically, I think we have jumped the gun.
We don't know what the [New Zealand Transport Agency] is doing.
We don't know when the bridge is being replaced.
We don't know which roads they're funding, and our council has gone and prepared a seven-part programme to decide where the future roading is going, when we don't know what the actual body is doing, so we have just jumped the gun.
What about the Recreation Centre?
Great idea. Why did it take so long to make a very simple decision? The recreation centre is certainly going to be an asset to our community.
What do you think the biggest achievements have been on council recently?
Probably Lawrence's 150th [anniversary] main street improvement is a major one, apart from that, not a great deal else.
Where is our strategic plan for where the district is going to be in five or 10 years? I'm not talking about the resource plan and the long-term plan, I'm actually talking about where we are going to be.
Not as buildings and structures and roads, as people, because it is the people that live in the district that count.
I think the best thing our town can do is improve our sports.
You get the social value out of that and also the district can get a financial return.
Let's become the capital for secondary [school] winter sports.
So we get rugby, netball, soccer, golf.
It's only a week's tournament, but it's extra money in to the town.
The young people have a great time here ... the word spreads.
Very soon, Clutha District gets well known, and it's just got to be a good thing.
What sort of things would you like to improve on?
Population increase. No longer having a doctor shortage in our district.
And ... the removal of pokie machines.
I can't see how they got in to our district in the first place.
I can't see the good that they do, because for every dollar that goes in, only 23c goes back to the community.
Gambling machines promote dishonesty, crime, theft.
They are soul-sucking destroying machines that are no good for our community.
I'm very passionate on that one.
Why do you think you would be a good mayor?
I've got the energy, the enthusiasm, and the practicality behind me.
I haven't earned much money. Does that make me a failure or a success? I've managed to live within my means.
I think the district needs to start living within its means.
• The postal voting period is September 17 to October 9 (closing, noon).
• Tomorrow: Tony Lepper (Central Otago).
---
Barry Keith
Age: 43
Marital status: Single
Occupation: Unemployed
Council Experience: Nil
Describe yourself in three words: I'll just use one, energetic.