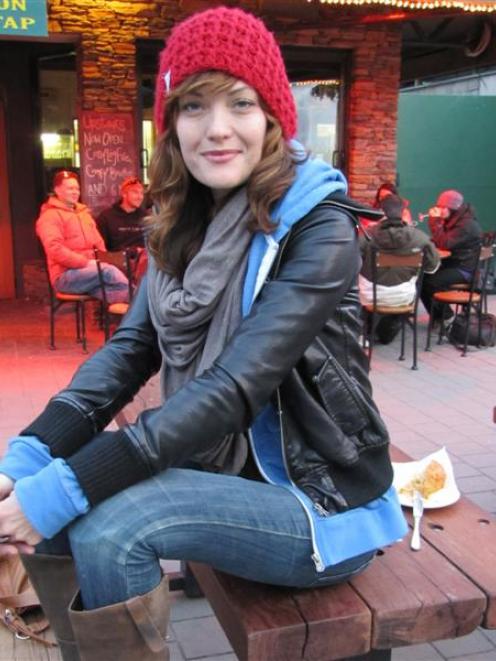 Adaptive snowboarder Amy Purdy (31) has been undressed by Madonna and hung from the ceiling by Motley Crue's Nikki Sixx, but all she really wants to do is compete at the 2014 Paralympics.
The pathway to snowboarding glory has brought Purdy, a gold-medal world cup athlete, model, actress, fashion designer, charity worker and double amputee, to Wanaka for the Winter Games and the World Snowboard Federation's para snowboard world cup snowboard cross at Cardrona Alpine Resort tomorrow.
Purdy, who was born in Las Vegas but now lives in San Diego, has been snowboarding since she was 15. She began adaptive snowboarding 11 years ago after she had both legs amputated below the knee following a form of bacterial meningitis.
She won a gold medal at this year's WSF para snowboard world cup in France and a bronze medal from last year's world cup in Canada.
Being selected to perform in Madonna's American Life music video in 2003 and to pose recently for Sixx's photographs in his book This is Gonna Hurt have been highlights in her off-snow career as an advocate for non-profit organisations, including the Challenged Athletes Foundation and her own non-profit organisation, Adaptive Action Sports.
In 2003, she "got the call" from Madonna's manager. She believes the Challenged Athletes Foundation made the referral.
She was surprised to be asked to come to Los Angeles for a runway trial.
When she turned up, she shuffled out in a long dress and with her long hair in braids.
Assuming she was there to show off her legs, she lifted her dress and did some robotic moves, prompting Madonna to ask, "Do you mind if I sex you up?"
"I said, 'You're Madonna. You can do whatever you like to me.' So she undressed me and put me in little shorts, did my hair crazy, oiled me up ... ," Purdy said.
When then president George W. Bush declared war on Iraq the same day as Madonna's intended release, the video was shelved - a decision prompted, Purdy believes, by a belief that the use of models with prosthetics would be inappropriate in the circumstances.
Madonna later produced a different video.
"It's a bummer because it was such a great story, but it comes back to, 'Oh, it never aired'." Purdy said.
She was similarly stunned when Sixx approached her to model for photographs in his memoir This is Gonna Hurt, published in April.
She was clad in custom-made legs, a corset and wig, then suspended from the ceiling.
"He made my legs look like steel ice picks . . . So Motley Crue fans are now my fans. I would never have thought I would be sharing that," she said.
Purdy is excited about being in Wanaka this week, as Russian officials from the 2014 Winter Olympics and Paralympics are also there.
She hopes to convince them her sport deserves to be on the Paralympic schedule.
"I am starting to be more confident [about being at the 2014 games], especially when I am around people working with the Paralympics committee who are confident about it.
"I lost my legs in 1999 and I was a snowboarder before I lost my legs and I remember thinking if snowboarding ever gets to the Paralympics I will work my butt off to be there."
Purdy believes when people see more adaptive snow sports at Paralympic level, "it will really open up people's minds a little bit as to who is abled and who is not abled".
Just a handful of females at present compete in adaptive snowboard cross at world cup level.
Nicole Roundy (23) and Cristina Albert (25), both of the United States, will also race at Cardrona tomorrow and there may not be much more than a 10th of a second between all three.
Purdy believes the snowboard cross course would be similar to the fast track she won world cup gold on in France.
Racing with prosthetics was hard work and the challenge was often in just completing it, but Cardrona's course should provide a race for everyone, she said.
• In adaptive snowboard cross, athletes complete three single time trials. The result is assessed on a combination of best time and athlete classification.