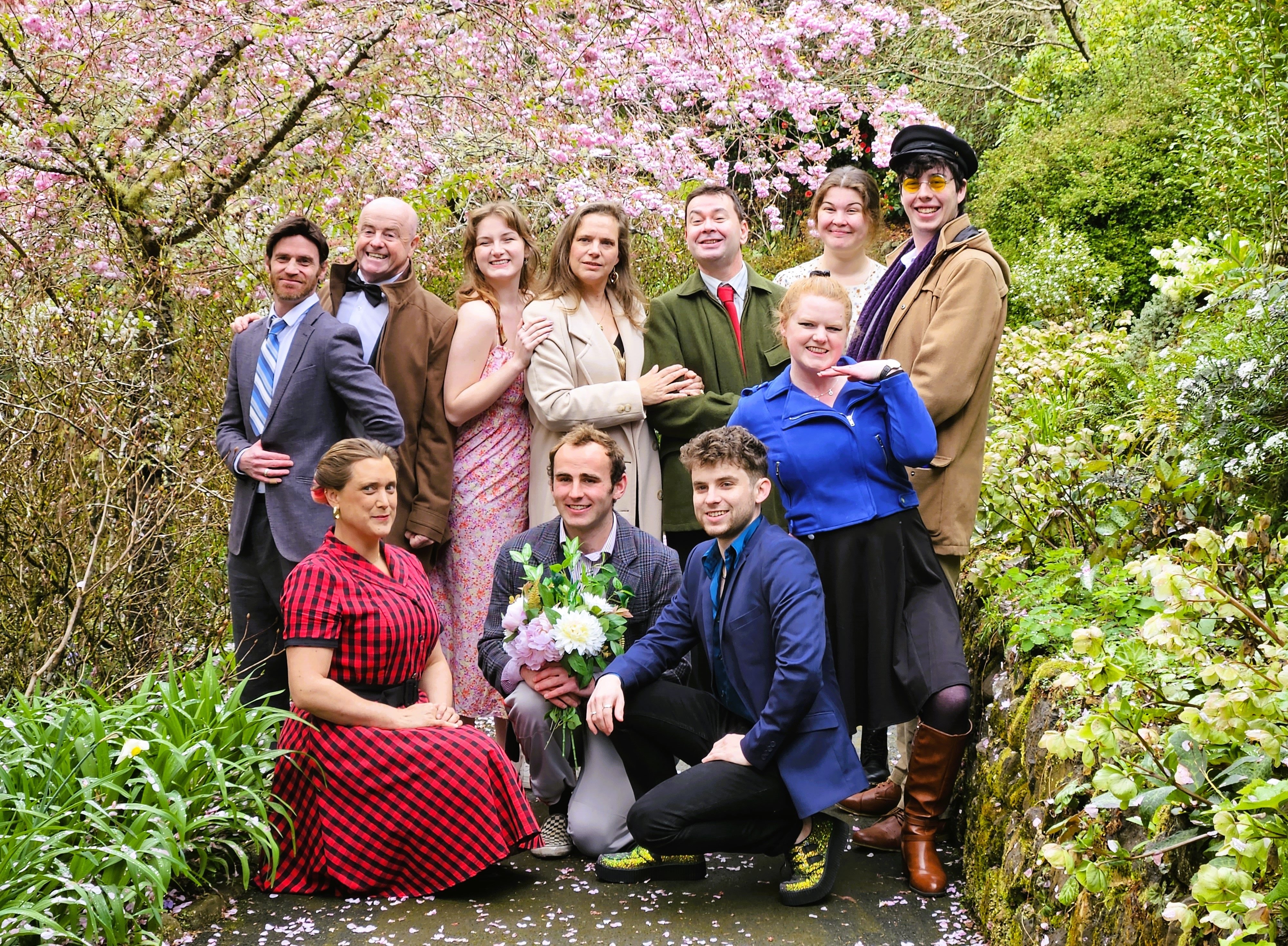 Sahara BreeZe (SBZ) Productions presents The Cherry Orchard, by Anton Chekhov
Review by BRENDA HARWOOD

A modern re-imagining of Chekhov's classic play The Cherry Orchard by Dunedin's Sahara BreeZe (SBZ) Productions brings spectacular physical performance, original music, and multi-media together in an absorbing, entertaining production.

The Cherry Orchard is a tragi-comedy exploring the downfall of the aristocratic Russian Ranevsky family who, having fallen on hard times, return to their old estate with its wonderful cherry orchard.
Despite their economic hardship, the family are incapable of cutting their spending or finding the money to pay their mortgage, so it must be auctioned off.

Directed by Blaise Barham, in an adaptation from a translation by Professor Stuart Young, this production of The Cherry Orchard features a large and committed cast, aerial performers, circus tricks, and live music.

The core telling of the tale is tackled with energy and heart by a strong cast in a true ensemble, led by Sarah Barham as the artistocratic landowner Lyubov Andreyevna Ranevskaya and Cheyne Jenksinon as son-of-serfs businessman Yermolay Alekseyevich Lopakhin who grows increasingly frustrated as 
his attempts to help her fall on deaf ears.

Surrounding them are competing forces of family — played by Becky Hodson, Aimee Freeman and Matthew Brennan; friends — played by Brent Caldwell and Josh Black; and servants — played by Sofie Welvaert, Daniel McClymont, Bronson Togill, and Imogen Duncan.

All work together with local musician Sam Meikle and singer Clare Lewis, to create a sense of heightened emotion, the lure of memory, hysteria and denial, as the family embark on foolish schemes and parties while their fate hangs in the balance.

Aerial artists Rochelle Brophy and Dylan Woods add to the spectacle of the show with gymnastic displays of artistry on the silks, perhaps representing the spirit of the cherry orchard and the family's flights of fancy.

Clever used of audio visual projections, close-ups of the actors' faces in moments of tenderness and despair, and film clips of life in the estate and its grounds, all add to the immersive feel of this imaginative adaptation of The Cherry Orchard .

A simple, yet adaptive set by Peter King, evocative modern costumes by Linda Brewster, lighting by Tabitha Littlejohn, and a busy back stage crew led by stage manager Christine Ward all make a valuable contribution to the production's overall success.

All in all, SBZ Productions' adaptation of The Cherry Orchard is an impressive achievement, with visual and emotional impact to enhance a tale that remains relevant in today's straitened economic times.
-Further performances are at the Mayfair Theatre from November 17 to 19 and November 23 to 25.