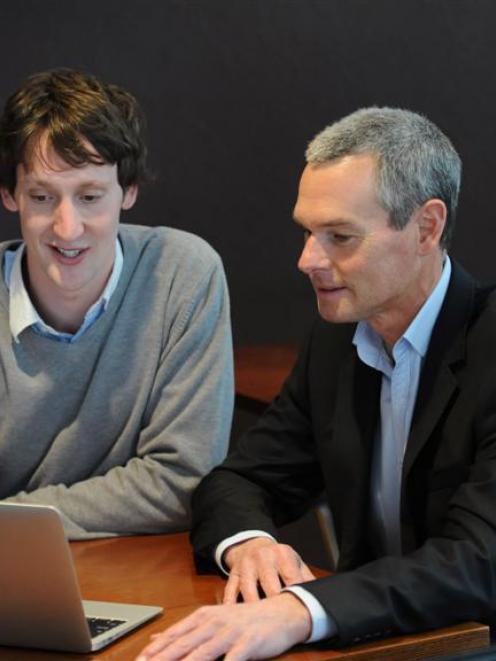 Otago Boys' High School teacher David Cameron has much riding on the results of NCEA this year.
Mr Cameron (25) is deeply involved in helping his own pupils reach achievement levels in the national qualifications, but this year there is a twist. His LearnCoach online learning platform is being used by 500 pupils both at Otago Boys' and nationwide.
Mr Cameron is the winner of the Altus Financial Services 2012 scholarship, receiving $5000 to go towards further development of his LearnCoach program.
Altus business and sales manager Jerry Pearse-Smith said out of the 74 applications for the scholarship, Mr Cameron's idea appealed because of the wider community good it provided.
"We were looking for people with a particular goal or objective that could benefit a whole lot of other people."
Mr Cameron's project drove value into the community, would help with employment prospects for school leavers, and would raise the profile of Dunedin while improving education levels, Mr Pearse-Smith said.
The learning tool is aimed at simplifying study techniques for pupils of all abilities, helping them achieve the best qualifications they can.
Mr Cameron would have liked longer to introduce his new online tool than just a few weeks out from NCEA exams, but he remains confident that when school ends, the pupils already registered on www.learncoach.co.nz will benefit from the study techniques he and some others in the education field have developed.
Asked about the motivation for developing the online study tool, Mr Cameron said he was appalled by the expectation 22,000 New Zealand school pupils would fail NCEA.
"It is bizarre so many are expected to fail. I believe it is important to provide students with a strategy that can help them succeed. Making it available online increases the potential number of users."
Looking back at his own experience, Mr Cameron said he was a mediocre student in the fifth form. He realised he did not want to fail, so developed his own study techniques which resulted in him achieving scholarship level at high school, and then tertiary degrees.
He saw the need to share his techniques, and completed a master of entrepreneurship degree to understand better how to do it.
An approach of "one size fits all" for learning had its failings, he believed. Bright pupils were bored by that approach and often less talented pupils struggled to keep up.
LearnCoach was designed for pupils to learn at their own speed and still achieve.
When school finished, those registered on LearnCoach could ask questions which would be answered by tutors.
Incentives such as free access to the program next year would be offered to people using LearnCoach this year to encourage feedback when NCEA results were released, he said.
That feedback would be used to further develop the program.
Mr Cameron had big plans for the money received from the Altus scholarship. School did not suit everybody, he said, so he wanted to work with the New Zealand Qualifications Authority and employers to develop a learning tool for people to use when passing qualifications while working.