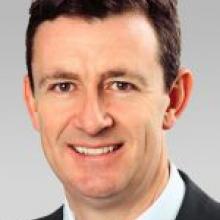 Forsyth Barr managing director Neil Paviour-Smith has been reflecting carefully on events of the past few days and believes some lessons have been learned from the Credit Sails agreement announced on Tuesday.
The sharebroking firm and Credit Agricole CIB have paid $60 million which will be held in a trust account from which payments will be made to eligible investors. Those investors will receive about 85% of their original investment back.
Credit Sails was sold as fixed-income securities at $1 each with the prospect of 8.5% interest income and capital protection. They had a principal-only rating of AA from Standard & Poor's. Interest was paid for two years but in the wake of the global financial crisis, the securities fell in value, ceased paying interest and were now nearly worthless.
In an interview, Mr Paviour-Smith said Forsyth Barr found itself in the same position as other brokers - both in New Zealand and globally - as the GFC took hold.
''We aren't seeing these types of offerings in the market any more. People have changed.
''From my point of view, the issue I see we need to be addressing is the requirement to be seen doing something versus that we know we are doing something.''
Mr Paviour-Smith said Forsyth Barr had been actively working on a resolution since the collapse of Credit Sails and how it could work best for investors. Asked why he had not made that public during several interviews with the Otago Daily Times in the past, he said the firm was bound by a confidentiality clause that prevented public comment.
The firm could not obtain the answers it needed from the questions it had asked so put the matter in the hands of the trustee - a body which had the power to obtain the answers, he said.
The trustee managed the process for a year before the Commerce Commission came along.
''It was in nobody's interest if we ran a public campaign. We decided the best way to investigate was through the trustee. There were lots of questions that needed answers.''
The main question Mr Paviour-Smith wanted answered was why the product had failed. Before 2006, nobody was saying not to invest in products like Credit Sails, he said. Investors were looking for high-yielding investments and the AA credit rating was a key component.
Investors had become more circumspect regarding credit ratings but everybody still agreed on the need to have a high credit rating. Even the Government was conscious of its credit ratings, he said.
''We have reflected very carefully on what we expect from this. We struggled a great deal, as investors did.''
Investors needed a diversified portfolio and should carefully consider their investments. Some people invested too much into one product (Credit Sails) but they were receiving much of their investment back, he said.
Forsyth Barr staff had ''enjoyed'' phoning clients and telling them the good news. There was another side to all the angry complaints that had appeared in the media, Mr Paviour-Smith said.
As an investor, he could understand the anger and frustration, but the other side was Forsyth Barr had been working hard to get an outcome.
The firm would be ''very reluctant'' to put itself in a position in the future where to get a mandate as an issuer of a product it had to put itself under a ''cloak of confidentiality'', he said.