It has been an intense week for Dunedin City Council chief executive Sandy Graham as lead detected in water supplies put communities on edge. Grant Miller reports.
"Determined" is how Dunedin City Council chief executive Sandy Graham labels her mindset at the end of a trying working week.
Her council was catapulted into a maelstrom of water worries, community concern, missteps from her own organisation, communication clangers and media scrutiny.
At the end of it, the source of lead-contaminated water supplies at Waikouaiti and Karitane remains a mystery, although more frequent sampling of the areas is expected to help officials work out why there have been intermittent spikes in lead levels.
In the meantime, residents are being offered blood tests of lead levels from Tuesday, which will help authorities establish whether lead contamination has been a long-term problem that has only surfaced lately.
Ms Graham said people should have confidence in the council.
She understood why they would be unsettled, especially given the possible health implications and cumulative impact associated with people absorbing significant levels of lead.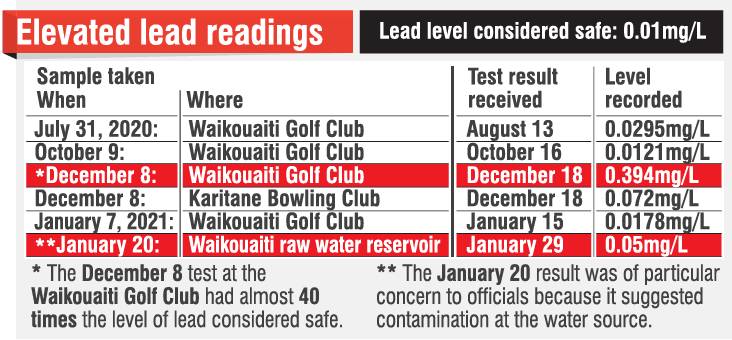 Ms Graham said it was important to remember high lead levels in the water had not been sustained over long periods.
Also, the results of water samples taken at six sites — three at the Waikouaiti treatment plant and three elsewhere on the network in Waikouaiti and Karitane on Monday — had shown extremely low or undetectable levels of lead in the water, underscoring the intermittent nature of the problem.
Staff had been working hard to get to the bottom of the mystery and respond to challenging circumstances.
They were focused on gathering information, which could help them pinpoint where the trouble lay, she said.
The council had its first indications of a problem in August 2020.
It had been testing water pipes to assess how corroded they had become. This was not expected to have serious implications for drinking water, but it should have been evident to the council before the end of the year that something was not right.
On January 7, a council staff member who had been on leave opened an email that revealed one lead level reading 40 times the acceptable limit.
Remarkably, Ms Graham was not brought into the loop at that point.
"I would have expected to have been briefed," she said.
Eventually, a test result from the Waikouaiti raw water reservoir received by the council on January 29 prompted authorities to advise Waikouaiti and Karitane residents not to drink the water.
Ms Graham first knew of elevated lead levels on Monday afternoon and the order was issued the next day.
The council has had a series of blunders through the week.
DCC 3 Waters group manager Tom Dyer provided incorrect information in a radio interview, but Ms Graham said the council moved to correct that.
A December 8 sample was 40 times above the limit for lead — not four.
"No-one comes to work wanting to make a mistake," Ms Graham said.
"I have been genuinely heartened by the response of the organisation."
The council had strived to be transparent through the week, she said.
"There's been no attempt to hide anything."
It was not readily apparent from initial council information, however, that the first indication of a problem went back to August. And despite a very high reading noticed by council staff on January 7, alarm bells seemed not to ring.
Ms Graham would not say how highly within the organisation the December 8 test information was initially escalated.
"Not as high as me," she said.
Ms Graham said the correct data had always been passed on to Public Health South and a drinking water assessor.
Whether that data has always been interpreted correctly is less certain. Southern District Health Board medical officer of health Susan Jack has conceded the full extent of the December 8 breach was not grasped until this week.
Ms Graham said she was advised of elevated lead levels from two sites early this week.
The council went on to disclose six samples of 90 taken at Karitane and Waikouaiti since July had exceeded the allowable average.
Asked if heads should roll, Ms Graham said she rejected the suggestion, but the council had to be accountable.
After a trying week, she hoped the community would be reassured everything possible was being done to resolve the situation.