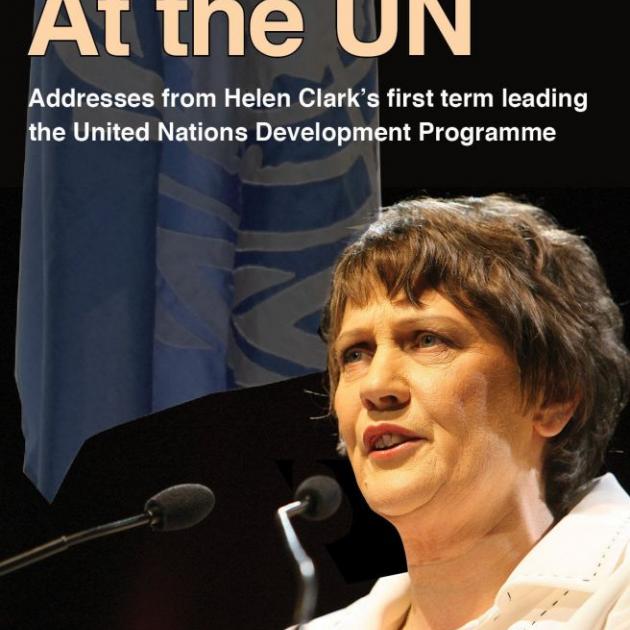 Winning three general elections on the trot - 1999, 2002 and 2005 - made Helen Clark the most successful intellectual politician New Zealand has yet produced.
But she did not have ''the gift of the gab'' of her other successful contemporaries such as David Lange, Jim Bolger and John Key, so did not seek public office in New Zealand again.
When she lost the 2008 general election she cast around for something else to do. For the past four years she has led the United Nations Development Programme, based in New York. The job ranks No 3 in the UN hierarchy.
This book is a collection of addresses since she got the job. It is a measure of the satisfaction she has given that there does not seem to have been any hesitation at the UN in reappointing her for another four-year term.
These are not entertaining speeches. They are not designed to wow voters. They are serious and intellectual, even academic. So they are not to be embarked upon lightly by the general reader.
But even a general reader will find a lot of gold as there is much that is worth reading. For example, she has a long track record of interest in conservation, in ecosystems and their degradation. When she asserts that ''progress towards a new global climate agreement has been painfully slow'' she speaks from the heart and with authority.
She says climate change can stall and reverse development, and shows how, with its effects on agriculture and food production, impacts on water stress and water insecurity, rising sea levels and more frequent climate disasters, it can massively change global ecological systems with consequent impacts on human health.
She asks why the world is not moving faster on tackling climate change? She does not refer to ''indifference'' and ''ignorance'' among world leaders, but these are the unspoken subtext to what she is saying.
There is a good deal that is acutely depressing in what she says. Her accounts of visiting child poverty centres in Mali, for example, understate what can only be described as ''frightful''. But there is hope, as well.
Another African country - Malawi - which had been a real basket case, is lifting itself out of the mire. Her message to international charities and individual donors is ''do not despair''. These addresses are cutting-edge reading.
- Oliver Riddell is a retired journalist.