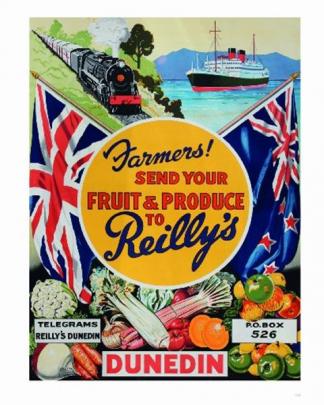 This glamorous production has an attractive cover of a bare-shouldered Maoriland maiden sitting by a pool with snow-covered mountains behind, and she is selling ... apples?
How on earth did we get from there to here? The incongruity just goes to show the power of advertising.
A quick flick through the large plates and posters from years gone by reveals familiar images, of fruit and vegetable Bombs for Bertie. Here is Glaxo, Maltexo, Texaco, Medico, Rinso, Philco. Petone, Kaiapoi (oh those travel rugs), Tekau, knitwear, Tiki bacon and Taniwha soap. Home is where the art is. And there are so many adverts for Dunedin products and company headquarters here. But it is the olden days after all.
Saatchi and Saatchi chief Kevin Roberts writes a succinct and clever foreword. More contributors' words catch the eye: essays on the Edmonds (Sure to Rise) imagery, Railways' pulling power and its big advertising department and other pioneering graphic art groups. Aspirational. It appears we were the Empire's star turn, Britain's farm, and even with hydro-electricity its industrial future.
University of Otago design lecturer Noel Waite contributes a section on the international exhibition movement which shows the prominent role of Dunedin. Modelled on the 1851 Great Exhibition of Industry in London, Dunedin's first was held in 1865, the second the New Zealand and South Seas Exhibition, celebrating 50 years as a colony in 1889, and another in 1925 of the same name. More than three million people attended this last exhibition here at a time when the country's population was 1.3 million. Dunedin then also had pulling power.
The story of philanthropist and Dominion Breweries general manager Sir Henry Joseph Kelliher illustrates a nation making its cultural way. With his 1956 to 1991 competitions, he sought to ''encourage artists to paint the essential character of the New Zealand scene and the ways and life of its people and thereby to develop a livelier appreciation of the fine arts and the infinitely varied aspects of our land'' . Artist Dick Frizzell has more recently mined and saluted this endeavour with his landscapes.
And in 4-Square-Man Frizzell's contribution to this book, he amuses us with tales of his own ad-hoc advertising career. The artist validated. Colin McCahon and Ralph Hotere were also slogan painters. Rita Angus is implicated with her flat planes of colour. Is nothing sacrosanct from the taint of commerce?
- Peter Goodwin is an ODT subeditor.