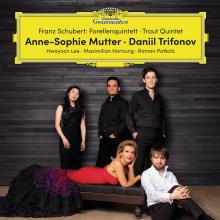 Schubert: Piano Quintet in A major, 'The Trout', etc. AnneSophie Mutter (violin), Daniil Trifonov (piano), etc. Deutsche Grammophon CD.
German label Deutsche Grammophon features Mutter and Trifonov, two of its instrumental stars, in this quintet but few will know the names of the musicians in smaller type. They are Hwayoon Lee (viola), Maximilian Hornung (cello) and Roman Patkolo (double bass). The trio is barely mentioned in the album's booklet, but all have been assisted by Anne-Sophie Mutters Foundation for young talent. I understand that Patkolo is a professor in Basle who has previously played with Mutter. They all provide a passionate and energetic performance of The Trout's five movements in this live recording made in Baden-Baden last June. Some may find it a little too rapid at times.
The Trout, composed when Franz Schubert was 22, is one of the most popular works in the chamber music repertoire. It was commissioned by a wealthy music lover who wanted a work for the unusual combination of instruments including double bass, instead of piano and string quartet (two violins, viola and cello), so copying the instrumentation of Hummel's Piano Quintet Op.87. It gets its popular name because the fourth movement is a set of variations on a song that Schubert had previously written.
The CD contains other Schubert delights: the trio Notturno  for piano, violin and cello, and two arrangements of his songs Standchen and Ave Maria for violin and piano. The cover art is unfortunately forced, portraying Mutter lying down and Trifonov in the foreground in an open-necked shirt, while the other three musicians dressed in black form the background.
Opinion: Schubert favourites brilliantly played.