For those who like it hard fast and heavy, the seventh annual Onslaught gig is coming to the Starters Bar, Frederick St.
Organiser Mark Tyler says the multi-band format suits the genres of music involved.
"The previous shows have been building in support and momentum, and I am confident this will be the best one yet," he says.
This year's Onslaught has a line-up of nine bands:
Generic Hole are playing their third gig.
Infinite Justice are old-school stalwarts now entering their 10th year of entertaining Dunedin crowds. Christchurch band Scabies are described as a "full-frontal aural assault".
Suicide Bombers are another in the old-school punk or "oi!" vein. They have had a busy first year and are chiefly responsible for a punk rock revival in Invercargill.
Bazooka are described as "sludgy, stomping rock, with a general sense of malaise".
Death Throes are billed as an "incredibly overwhelming barrage of brutality" - sheer power as an art form, while Conniption are a long-time Dunedin act that have a dedicated support crew and have "held their own with bands all over the country, representing the South with aplomb".
Foe, according to the organisers, "just seem to get better and better and have a reputation for leaving listeners stunned in mute disbelief".
The final act in the line-up, Tsarcoma, are Waihola death-merchants who will round out the evening with a "juggernaut of ear-splitting ferocity" that is not for the faint-hearted.
•
Chap shtick
Dunedin band the Chaps have been following their own musical path for nearly 20 years, influenced by bluegrass, rock, jazz, swing, calypso and a variety of folk music. It is not your typical Dunedin sound.
They're best known to followers of folk and roots music, and have appeared at every major NZ folk festival, as well as festivals in Europe.
In recent years, the Chaps' concerts have become rare and precious - recently they've focused their energies on recording their third CD, which is called Don't Worry 'Bout Your Age.
Recorded at the University of Otago's Albany St Studio, and produced by John Egenes, the new album is a collection mainly of original songs with a few obscure gems by other writers.
• Oi, you
On November 3 the Dunedin Musician's Club will reverberate to some of the classiest old-school "oi!" punk when UK band The Business play.
The band, which formed in London in 1979, has gone through numerous line-ups and splits but is still led by vocalist Micky Fitz.
The band was part of the the Oi! movement within British punk rock, and their 1983 album Suburban Rebels an important part of the the sub-genre.
The band had one of its biggest hits with the single Harry May and courted controversy with another, Drinking and Driving.
The Business last toured New Zealand in 2009.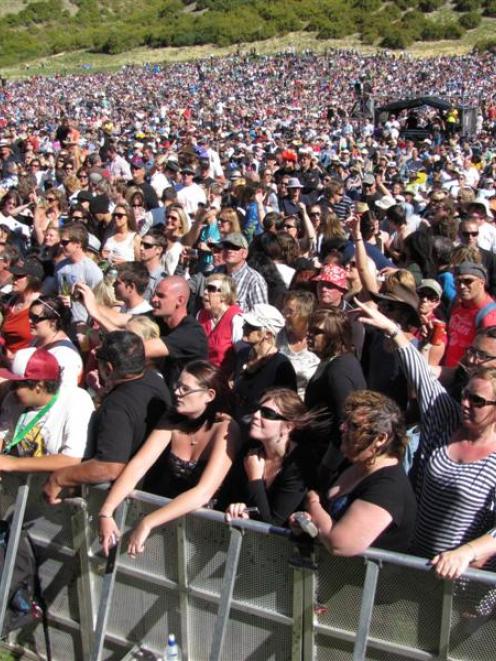 •
Gibbston groove
Music festival EarthTonz will pitch its tent in the Gibbston Valley in time for New Year's Eve next year, in what is planned to be an annual event.
Featival organisers say it will focus on electronica, techno, drum 'n' bass, dub step, progressive house and hip-hop at the Gibbston Valley Winery venue.
EarthTonz is a collaboration between a New Zealand and a US promoter, American promoter Dan Allen said in a statement this week.
The full line-up for the festival will be announced on Thursday. A total of 10,000 tickets will be available.
More information is available on the website www.earthtonz.com.
• Slice of the capital
Wellington band the Nudge embark on the Big Nudge Pie tour this August and September, playing Dunedin, Oamaru and Queenstown.
The band describes its sound as "many fingers in many pies", mixing blues and rock with other influences.
Dates are at 12 Below, Dunedin, on August 20; Oamaru's Penguin Club on August 21; The Good Oil, in Dunedin, on August 23; and Revolver, in Queenstown, on August 27.