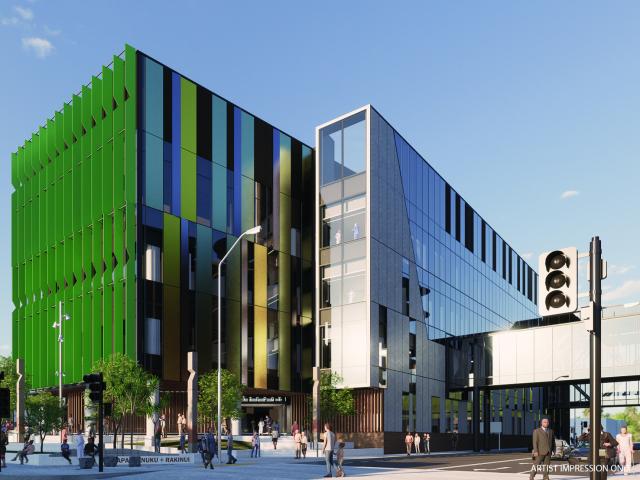 The New Dunedin Hospital is being designed with sustainability in mind. Sustainability is a strong focus of the mana whenua engagement through rūnaka-based consultancy service Aukaha, and the new hospital is targeting 5 Star Green Star accreditation, recognised as 'New Zealand Excellence' in sustainable building.
Green Star is an international sustainability rating system. It aims to transform the way commercial buildings are designed and built, to reduce carbon emissions and improve the health and wellbeing of our communities.
To date, 13,818 tonnes of concrete from the old Cadbury factory has been crushed and pulverised onsite and made available for recycling. The crushed concrete will likely be used as fill on other construction projects.
Scrap reinforcing has been crunched into balls, and 939 tonnes of steel has been sent to recyclers to be melted down and remade into steel goods. A further 32 tonnes of salvage items such as electrical hardware has also been sent to recycling.
Recycling is just one part of achieving Green Star accreditation – water use, building materials, energy use and indoor environment quality are some of the other factors that will be considered during the design and build of the new hospital.
Check out these other Better Health South stories:
Board Update
National Bowel Screening team up with Ritchies Transport
Seamless transition for Alexandra-based Primary Birthing Unit
Fund to support mental wellbeing in COVID-affected communities welcomed
COVID vaccine rollout progressing at pace