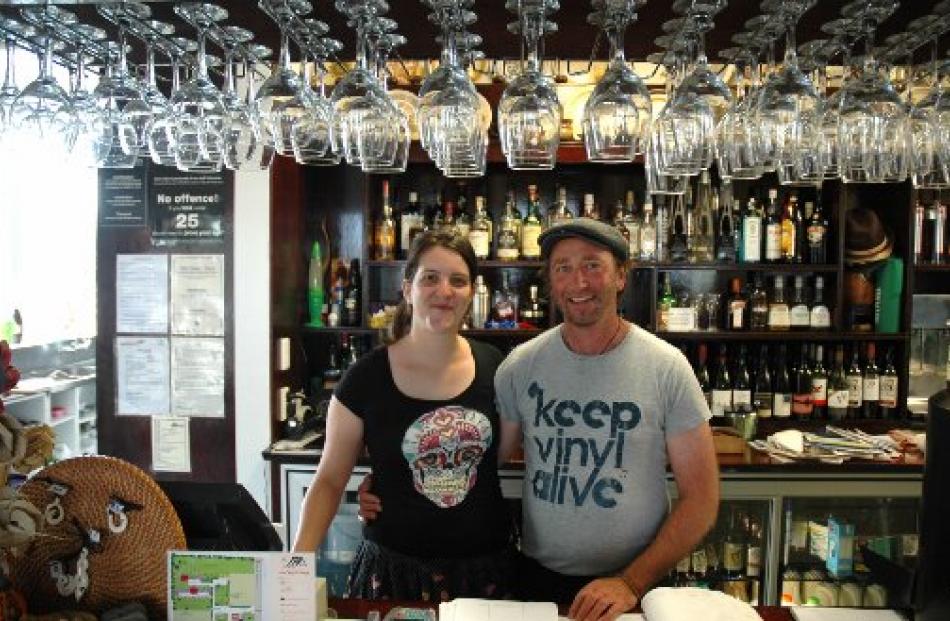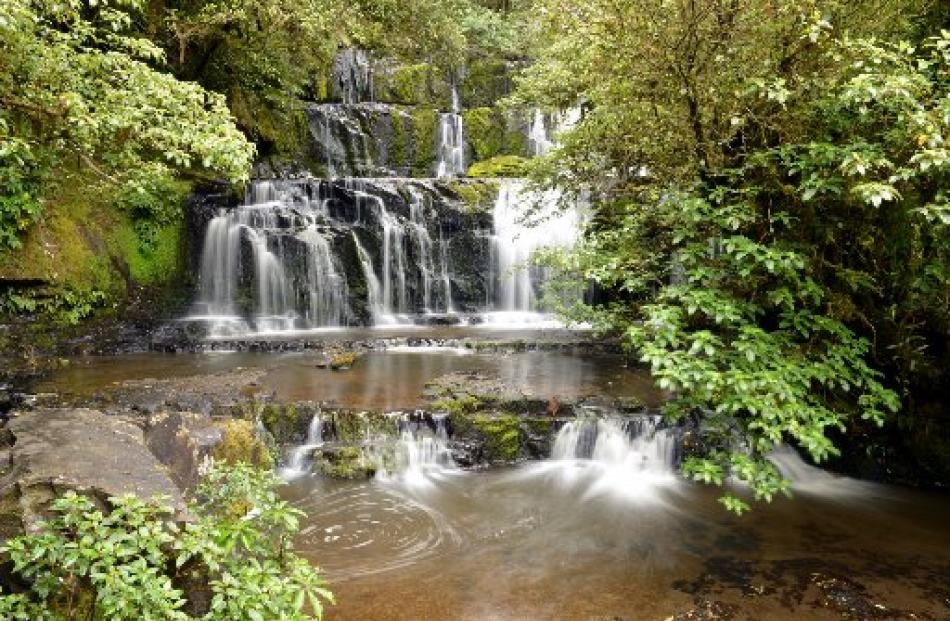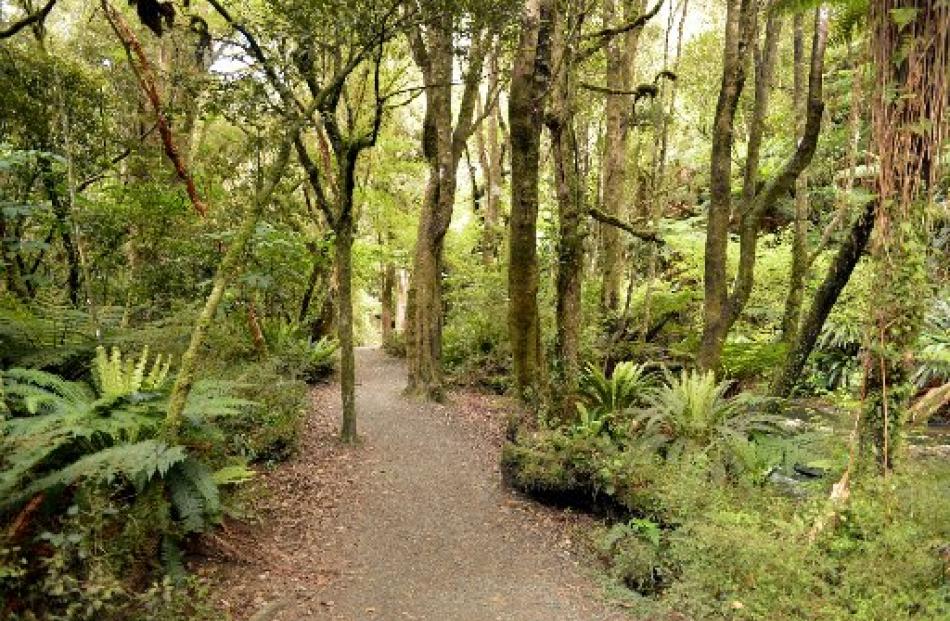 Inspired by that advertising tourism campaign of the 1980s, ''Don't leave town 'til you've seen the country'', Shane Gilchrist takes a trip along the Southern Scenic Route and meets a few of the locals, including a couple of dogs, a fat cat and some whistling frogs ...
It's 8.30pm on a Monday in Riverton. Or, to put it another way, it's really quiet.
A black dog does a lap of the children's playground at Taramea Bay. Perhaps hoping for something spilt from small hands earlier in the day, it presses its nose to the grass near a bandstand and recreation ground where, in the post-Christmas holiday hubbub, axemen send splinters flying.
The pressure valve of school exams released, teenage boys wander along the beach, their quiet laughter mingling with the sound of small waves stirring pebbles as, in the distance, shards of light play against the sands of Oreti Beach.
Tonight, even the gulls seem calm.
It's the same the next morning. Out the back of Howell's Point, where southern swells often brood and lurch along Foveaux Strait, there is barely a breeze to stir the deep waters.
Still, if Gollum were to prefer the sea to a dark underground pool, then this would likely be the place.
Riverton sits, roughly, at the halfway point of the Southern Scenic Route, which last month turned 25 with a ceremony in the western Southland town of Tuatapere, where the idea to connect various scenic drives was first conceived in 1985 and became official in November 1988.
Back then, the route ran from Tuatapere to Owaka. Now, it stretches in a rough half-circle from Queenstown to Dunedin, or vice versa, encompassing Te Anau (and Milford Sound), Manapouri, Tuatapere, Invercargill, the Catlins, Taieri Mouth and many places in between and off to the side.
According to Venture Southland statistics (based on a combination of traffic road counts, estimates made in the University of Otago's Catlins Tourism Strategy 2003, Department of Conservation track counts as well as anecdotal comments), the Southern Scenic Route attracts about 120,000-150,000 visitors to the Catlins each year.
All sorts of visitors ...
In a wood-panelled room redolent with maritime vibe at Te Hikoi Southern Journey, aka the museum at Riverton, a 15-minute film tells other tales of travel, in particular how Maori then Europeans came to the area. So, too, did Chinese.
More than 500 of them, in fact. They arrived in search of gold in the 1880s, living at Round Hill, or Long Hilly (''Long Hee-lee''), where a walking track now offers visitors some insight into an extensive network of water races and sluicings.
''They had their own town called Canton, complete with joss houses and gambling dens,'' Te Hikoi manager Carole Power explains.
''The Chinese market is increasing on the Scenic Route so we are about to embark on a huge change. We are going to recreate that village within Te Hikoi. And we are doing it because of the Southern Scenic Route.
''Since the route was continued through to Queenstown (the resort town became part of the Southern Scenic Route in 2011), we are getting more travellers, many of whom are educated and interested in taking their time,'' she says.
''You always assume that those travelling on the route are mainly in campervans. But people are now travelling in cars more. They are prepared to use motels and backpackers.
"Of course, the Southern Scenic Route doesn't have the big busloads, such as between Queenstown and Te Anau, but people do know about it.
''We wouldn't be viable without the route. But you also have to have places where people want to stop.''
A gem of a place ...
One such place is Gemstone Beach, near Orepuki, where a scattering of campervans and cars have pulled up, as has a quad-bike laden with equipment that gives an indication as to the pastime of at least one older gentleman who lives in the area.
Gemstone Beach, home to jasper (blood red), hydrogrossular (waxy greenish white-yellow), epidote (apple green) and rare sapphires (blue), sits roughly halfway between Riverton and Tuatapere but, more significantly (in geological terms), is less than 200km from where the Australian and Pacific plates grind together.
About 20 million years ago, the Australian Plate began to dive beneath the Pacific Plate, a process that has resulted in volcanic eruptions (including 150,000 years ago at Solander Island, or Hautere, 70km to the southwest) and, more recently, a 7.8 magnitude earthquake on July 15, 2009, on the boundary in Fiordland.
Yet the fossicking is no longer limited to the beaches in the area: with assistance from the Institute of Geological and Nuclear Sciences, Te Hikoi is soon to open an interactive geology programme.
''The only other museum in New Zealand working with GNS is Te Papa,'' Carole says with a measure of pride.
Pavlova, pikelets and vinyl platters ...
The record player at Tuatapere's Yesteryears Museum Cafe is spinning Jim Reeves' I Love You Because, just one song on the many dozens of albums stacked alongside an assortment of memorabilia amassed by generations of residents in the area.
A Chinese family and other visitors sit in an addition to the original building, once the town's bakery. Some are served Devonshire tea, another a plate bearing pavlova, the idea of proprietor Helen McKay, who opened the business eight years ago.
''We had all this stuff at home, taking up space in a bedroom, which we needed to use, so we decided to buy this place, then move the stuff into it and decide what to do with it.
"It has been really popular,'' Helen says, pointing to an old clock, cast-iron pots, fine china and an 1870 coal range, on which she occasionally demonstrates her pikelet-making skills to customers.
Helen says the inclusion in 2011 of Queenstown on the route helped boost visitor numbers, particularly Asian tourists and ''an awful lot of baby-boomers''.
''It tapered right off at the start of the recession, which is not helping. There was a 50% drop-off in Brits, a 25% drop in Australian visitors. It is slowly coming back.''
A foodie, a Frenchwoman and a feline ...
Drive a few hundred metres along the road at Tuatapere, over the Waiau River and past the butchery sign boasting of ''world-famous'' sausages, and there is the Last Light Lodge, where a rather large, rather fluffy, black and white cat reclines in the afternoon sun.
Its languid meows are occasionally drowned out by the rumble of a stock truck, a reminder this town services the needs of farmers as well as those from further afield.
Last Light owner Craig Rutland had an idea, arguably counterintuitive, that the recession might help boost the number of New Zealand visitors to the area, the belt-tightening perhaps reviving echoes of that tourism campaign of the 1980s, ''Don't leave town 'til you've seen the country''.
Having spent 26 years cooking meals in various establishments in Timaru, he bought a camping ground and buildings on the edge of the Western Southland town.
''I hadn't heard of Tuatapere, but went down one weekend and saw this place on the road between Te Anau and Invercargill, with beautiful bush, coastlines, walking tracks, lakes and rivers. I put an offer in and they accepted.
''But I hadn't figured on the cost of fixing the place up, which was a killer. I almost went broke after the first 12 months.
"Eventually, I began to crawl my way back,'' Craig says of his business, which includes a café/restaurant, a lodge and backpackers as well as sites for campervans and tents.
''It's very seasonal. And that was a drawcard for me. If I had a café in Dunedin or Timaru, I'd still be busy in winter.
"But here, it's very farming dependent; in September, when it's calving or lambing season, it's absolutely dead so I can sit in the kitchen and cruise. In summer, I work hard.
''Supposedly, 300 tourist vehicles travel past this corner every day in summer. A lot of people are coming through here from Te Anau to Invercargill.
"We need to capture the imagination of the general public to want to stay here. There is a lot for them to see and do.
''I was thinking backpacker or motor-camp style would have a revival. But this season that has gone the other way. The places I've heard doing well are higher-end bed and breakfasts catering to international travellers.
''So it hasn't worked out exactly as I imagined it, but we are ticking over. I thought, `it's got to happen sometime'.''
Other things have, however. A couple of years ago, Craig met a ''lovely French girl'', Violaine, who was on holiday. She is still there.
Whistling winds, whistling frogs ...
Even on an overcast day, the cemetery at Waikawa, towards the bottom of the Catlins, offers a pretty view out over the sheltered bay.
It's an altogether different mood from the wild stretch of coast just around the corner where, past the tiny township's museum and information centre (well worth a visit), the Pacific Ocean threatens to erase the Jurassic-era fossils at Curio Bay.
Further down, at Slope Point, the southernmost place in the South Island, the best evidence of prevailing wind can be found not out to sea - nearly 50 ships have been wrecked off the wild Catlins coastline since 1840 - but in the occasional stands of macrocarpa and old man pine trees, the limbs of which have been blasted into various twisted angles.
Head into the damp native bush of the Catlins, however, and the breeze dissipates, the combined burble of birdsong and waterfalls offering a gentler, perhaps more meditative, experience.
A few kilometres from McLean Falls, at the Whistling Frog Café and Bar, another animal is stealing the show. Sonic, a small white dog, struts up to a couple of guests who, having entered the premises bearing what they believe to be a child's toy, are informed the item is, in fact, one of several owned (and often discarded) by a canine whose cocksure attitude belies his size.
Named after the amphibians that inhabit the area (the brown tree frog, Litoria ewingii, sometimes referred to as the whistling frog, is an introduced species), the Whistling Frog is a family affair, involving proprietors Lynn and Paul Bridson, daughters Michelle and Nicole and her partner, Tom Peake, who has been largely responsible for ''adding a bit of flair'' to the food.
Prompted by a 2003 University of Otago report on the viability of tourism in the Catlins, Lynn and Paul decided to expand their existing accommodation business, McLean Falls Motels and Holiday Park.
They set up the café, now in its seventh year, and purchased and renovated a range of buildings, including the former Borland Lodge, the top floor of the Luxmore Hotel and the shower block from the Karitane Motor Camp, as well as building higher-end chalets.
''A huge amount of energy went into doing it, but we are on the happy side now,'' Lynn reflects.
The couple, who also own a 350ha farm, 100ha of which is in native bush, say all those plans would probably have been put on hold had a 23km gravel section of the Southern Scenic Route south of Papatowai not been sealed in 2006.
''A lot of tourists weren't allowed here by rental car companies,'' Paul says.
''When it was announced in 2005 they would seal the road ... well, the comparison is like night and day.
"The secret is to slow people down enough so they will actually stay a few days.''
Nicole chips in: ''For the first time, Tom and I kept the café open over winter and it went really well, although some days we would do just one coffee and the next we'd have 50 people in.''
A passion for the past... 
There are some decidedly non-human sounds emanating from the confines of the men's toilets at the Owaka Museum.
They are, in fact, the melodies of various birds; replayed through discreetly placed speakers. It sure beats elevator muzak.
Certainly, there's nothing mundane about this facility, which reflects both a passion for the past and a strong community spirit.
The complex, which includes the Catlins Information Centre, the Owaka Library as well as a community gallery and museum shop, is a ''big deal'' to both those who live in the town and others, says museum director Kaaren Mitcalfe, who moved from Hawkes Bay to take up the position when the facility opened in October 2007.
''It is very much a community museum, reliant on volunteers and run on the smell of an oily rag.
There are actually six museums in the Clutha district, which has a population of about 16,000 people.
Heritage is a big passion for each community.
''It's been a great journey to come in and work with a group of people who are so community-minded.
They are so passionate about history. And a lot of that history is in their heads, has been passed down through generations.
We are doing a project filming oral histories. We are conscious we are racing against time.
''We want to encourage all visitors who come in the door to visit the museum as well and go away enriched about this part of New Zealand.''
Enriched. It's a good word.