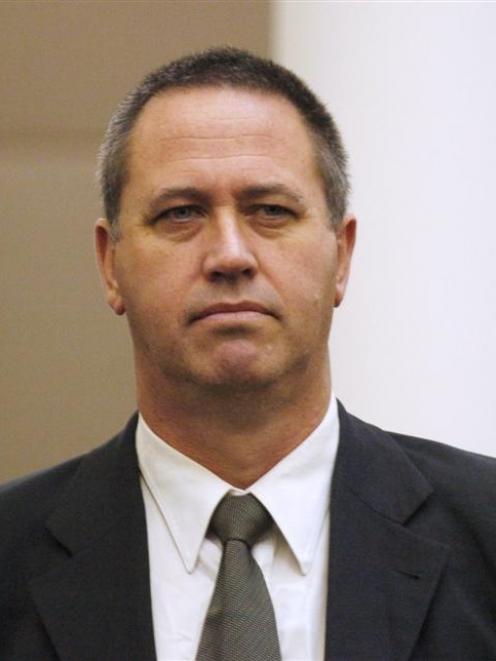 Fraud on a massive scale has been in the headlines, from Michael Swann's $17 million efforts at the Otago District Health Board, to US financier Bernard Madoff's Ponzi-scheme billions But fraud is often much more everyday than that, as Kim Dungey and Shane Gilchrist report.
In three years tracking CV fraud, Craig Gubbins has heard it all - from the man convicted 30 times for falsely claiming to be a chiropractor to the Auckland employment agency representatives who bought fake degrees from the United States.
There was the unqualified Qantas engineer who signed off on the safety of more than 1000 international flights without having a licence to do so, and the former Australian federal court judge who not only perjured himself over a $77 speeding ticket - claiming he'd lent his car to a friend who was dead - but who also bought bogus degrees.
But Mr Gubbins' personal favourite is the taxi driver in England who bought a PhD and posed as a psychiatrist, earning more than 1.5 million treating patients and often appearing in court as an expert witness.
A former SIS officer and manager of the Government's security vetting programme, Mr Gubbins now runs Personal Verification Ltd, an Auckland company that specialises in background recruitment checks.
He estimates a third of job applicants lie, embellish or omit important information when writing their CVs.
And he expects this will increase as the economic recession bites and there is more competition for jobs.
CV cheats omit criminal convictions, overstate salaries and change dates to cover employment gaps. Some people inflate their former job titles, so the assistant to the managing director (otherwise known as a secretary) suddenly becomes the assistant managing director.
Online "universities" selling fake qualifications often have a telephone verification service with people to confirm that the candidate does indeed have a degree from them.
There are also websites that tell how to create false references and how to lie at a job interview. As one such site, fakeresume.com, says: "Everyone else is doing it. Why shouldn't you?".
Many employers either don't do checks or rely on recruitment companies who receive a commission when placing candidates and therefore have a vested interest in the outcome, Mr Gubbins says.
When you consider the sums involved in theft by employees, which is even more significant financially for companies than CV fraud, those checks look like time well spent.
"If you look at our news archive on New Zealand cases of theft as a servant, you will see that in the last 12 months alone, we have reported on employee theft involving losses of more than $27.5 million . . . None of the companies used a pre-employment screening company to verify the background of their candidate before employing them."
Certainly no CV check was made on ODHB fraudster Michael Swann.
Detective Neville Aiken, of the Dunedin police, says fraudsters are not hardened criminals who would mug someone in the Octagon on a Saturday night but clever, calculating people who live otherwise normal, decent lives.
And that allows some to get away with offending every week for 18 months before raising suspicions.
"They're not covered in tattoos and unemployed. These are the 'pillars of society' and for greed or gambling or whatever reason, they find a way to obtain funds dishonestly."
One Dunedin salesman netted more than $40,000 by falsely claiming customers had returned goods and been given refunds. In fact, he used his own credit card to transfer the refunds into his account.
Other dishonest workers take money from the cash register to spend during their lunch hour playing the pokies or use the boss' online banking system to pay their mortgage.
Another common scenario is an employee suddenly leaving a job in which they have been performing well, worried that their offending is about to be detected, Mr Aiken says.
"I had one across my desk last week. He had every qualification you could think of and no previous convictions. He got a job at a very secure place, working in electronic money transactions. He worked out the system and netted himself a nice $13,000 before resigning and disappearing into the hills."
A total of 604 frauds were recorded by Otago police last year (compared with 392 in 2007, 629 in 2006 and 597 in 2005), but the incidence is probably higher as the police is only one of the agencies dealing with the offence.
They also say the figures can be significantly influenced by one person facing a large number of charges.
Nationally, police dealt with 13,494 fraud offences, up from 11,350 in 2007.
Mr Aiken says electronic banking has made fraud easier and the Dunedin crime lab is "used all the time" to analyse computer software. There are new charges, such as accessing a computer for a dishonest purpose, he says.
In 2004, he dealt with a problem gambler who stole about $500,000 from her employers, but most Dunedin cases involve around $50,000.
Inevitably, the offender has absorbed the proceeds into their lifestyle or mortgage, is remorseful when caught and makes an effort to pay the money back.
"One person told me it was just so easy to do, that they couldn't stop."
Prof Steven Grover says while people do lie out of greed, many of the lies we tell in our everyday interactions at work are the result of pressure. There might be conflict between the demands placed upon us or between the amount of work we have to do and our ability to do it, says Grover, who has studied the issue for years.
But the American who moved here seven years ago and is now deputy dean at the University of Otago School of Business, says New Zealanders are generally honest.
Nevertheless, a recent survey by KPMG shows fraud is costing New Zealand firms millions of dollars, only a fraction of which is ever recovered.
The two-yearly survey shows that New Zealand and Australian respondents who suffered fraud lost, on average, more than $1.5 million.
About $300 million worth of fraud was reported in total, including about $17 million in New Zealand.
KPMG's head of forensics in New Zealand, Mark Leishman, says the figures are consistent with court-reported fraud but probably "just the tip of the iceberg".
And he expects to see increases in several areas in the current economic climate as people face financial hardship - more fraud being discovered as businesses look closely at costs and more fraud in companies' financial statements as they try to maintain shareholder value.
While the survey shows gambling is the most common motive for fraud, other reasons such as greed and personal financial pressure were more common in New Zealand.
The typical fraudster was a 38-year-old male non-management employee who had been with the organisation for six years, was acting alone and had no known history of dishonesty.
Mr Leishman says New Zealand has a lot of small to medium businesses, which are especially reliant on the honesty of their employees and who are at high risk of being wiped out if defrauded - especially as only 2% of the proceeds of fraud are recovered.
New Zealanders might like to think of themselves as honest but we are "no better or no worse than anywhere else". Almost half of the New Zealand respondents in the study had experienced at least one fraud and the New Zealand rate was higher than the survey average for three consecutive surveys.
Serious or complex fraud is dealt with by the Serious Fraud Office, which has investigated a wide range of cases, from corrupt lawyers and elaborate financial scams to tax frauds, secret commissions and bribery in recent years.
Director Grant Liddell says his office investigates about 45 new complaints a year and that people tend to engage in forms of dishonesty regardless of the economic climate.
However, tighter economic conditions may mean activities that have been going on under the radar for some time are exposed. Fraudsters may no longer be able to maintain a cover or the agencies they deal with may become more vigilant.
The SFO will deal with cases under half a million dollars if they are particularly complex but in many cases the amount involved is far more.
Eight collapsed finance companies are under investigation and Mr Liddell says those cases have increased.
"But there are many mortgage frauds and many thefts by employees and by people in trust relationships - solicitors, accountants, church ministers and so on. That's a standard part of our business."
Nor is fraud restricted to the private sector.
As the government department responsible for the benefit system in New Zealand, the Ministry of Social Development (MSD) is wary of the potential for fraud. And so it should be: it has an annual expenditure of $15 billion.
Deputy chief executive Hilary Reynolds says most people who commit benefit fraud start off by applying for something they are entitled to and don't tell the department when their circumstances change.
"For instance, someone applies for a benefit then gets a job, say part-time or casual, but keeps taking the benefit. Benefit fraud steals from all New Zealanders who are paying tax and it makes it harder to get help for those who are genuinely entitled."
Most instances (80%) of benefit fraud involve overpayments of less than $10,000; 19% are between $10,000 and $100,000; and 1% are greater than $100,000.
"Prevention and early detection is why we do the background checking," Reynolds says. "Most of the overpayments we substantiate are less than $10,000, because we get in there early. We don't want people to be getting it wrong."
The ministry has a 94% success rate against fraudsters, completing 1028 prosecutions in 2007-2008 (compared to 905 in 2006-2007).
For substantiated fraud, where a person's intent to defraud can be proved, the ministry will seek criminal prosecution, imprisonment, and the seizure of assets; for the establishment of overpayments (where people have received money they were not entitled to but intent to defraud cannot be proved) the ministry can impose penalties of up to 300% on overpayments, up to a maximum of $5000.
An Office of the Auditor General report last year found that the ministry currently has "strong and robust systems, policies and procedures in place to prevent, detect and investigate fraud".
However, in late 2006 it took a tip-off from a Kiwibank worker to snare New Zealand's worst benefit fraudster, Wayne Patterson, who had used 123 false identities to claim $3.4 million in benefit payments over three years. Patterson was sentenced to serve at least five years of an eight-year jail term.
The ministry subsequently increased by 47% the number of records checked since 2003-2004. A key component in this regime is the use of data-matching. The MSD accesses information from six government agencies: Corrections (daily), Inland Revenue (two-monthly, though students are checked monthly), Internal Affairs (deaths/marriages), ACC, Customs, Housing NZ (weekly).
According to the ministry, 96% of clients are repaying the money they owe and 79% of former clients are either currently repaying or have repaid their balance owed.
When it comes to insurance claims, Terry Jordan is well-acquainted with all the usual scams.
There are the happy holidayers who lose their luggage (leather, of course), the labels of which are, apparently, "Louis Vuitton". Likewise, lost, stolen or damaged sunglasses are rarely from the $2 Shop. Actually, Mr Jordan can recall a fellow airline passenger boasting about an annual ritual aimed at extracting money from his insurer.
"He said, 'Insurance? That's just a rip-off: you pay all your money and you don't get anything'. He said he put his sunglasses under the wheel of his car every now and again to get something back for his money."
Securities and regulation manager of the Insurance Council of New Zealand, Mr Jordan says there's a widespread - and wrong - belief that insurance fraud is a victimless crime.
"I guess the general perception is that insurers are rich, international conglomerates that have huge buildings and have huge wads of cash in basements. But insurance is a community concept: people group together by choosing an insurance company; they pour money into a bucket; the insurer then pays money out to those who have suffered losses. But if there's not enough money in the bucket, the people who have contributed have to pay more. It's not a victimless crime."
Internationally, fraud surveys indicate about 10% of gross written premium is lost to fraudulent claims and in New Zealand the amount is conservatively estimated at about $150 million a year.
However, insurers have ways of protecting themselves. There are a host of "red flags" that highlight a potential fraud.
"It might be someone who has never had insurance before the age of 35. Why are they just taking out vehicle insurance at 35? Have they just got their licence? Perhaps an insurer will search the insurance claims register and find that person has had three claims in six months and they haven't disclosed that when they've moved to a new insurer.
''That's called non-discloser fraud. That doesn't mean they will be refused insurance but the insurance might be priced differently, so they won't get their full no-claims bonus."
Special investigators and a claims register in which information is shared among insurance companies are used.
There is also a memorandum of understanding between insurers and police.
"The insurers do a lot of preparation of the claims prosecution files and the police take it through the courts; that's one way we have of speeding up the prosecutions," he says.
"Not all prosecutions are successful, because the threshold for proof is high, but there are plenty of people around who do dumb things."

Scam busters
More than 20,000 New Zealanders have been scammed in the past year.
That is according to government estimates, which put the average loss at about $2500 each, or $487 million in total.
Consumer Affairs Minister Heather Roy says most of us know of someone who has been tricked into relinquishing their money or their personal details, but don't think it will happen to us.
Here are just six of the dozens of scams listed on the Ministry of Consumer Affairs' Scamwatch website:
You receive an email from what appears to be a bank, giving some reason why you need to confirm your account details. Or you are told your account has been cancelled because of criminal activity and the bank needs your password so it can "investigate".
You click on a link in a spam email or download music or video files from the internet, activating a hidden program that allows scammers to monitor what you are doing. For instance, a "keystroke-logger" is an item of software that can record every key stroke you make - including your banking password.
Spam emails or pop-up windows offer free products or downloads. But to claim your free stuff, you need to provide your credit card or bank account details - then they have you.
A scammer sends you a cheque but they have paid too much. They ask for a refund of the difference, which they hope you will pay before discovering their cheque is worthless.
An email or letter offers you the key to a large amount of "locked" money. To unlock the money, you must send money upfront, for legal, administration or processing fees. The letter may purport to be from a west African nation that wants to use your bank account to get funds out of their country, from an estate company in the UK claiming to be trying to track down the beneficiaries of a will or from lottery organisers saying you have won a prize. You will never see your money again.
You receive an email offering you an amazing job - you will receive payments on behalf of a company and transfer money to them using your own bank account, keeping a commission on each transaction you send. You end up a "money mule" - an unwitting participant in an illegal money-laundering scheme - and have your own bank account cleaned out.

Scamwatch says if an offer seems too good to be true it probably is, and gives the following advice to avoid being stung:
Protect your computer
• Install security software and an internet barrier called a "firewall".
• Never open or respond to unsolicited emails.
• Be wary of pop-up boxes - following the links may install harmful programs on your computer without you knowing.
• Avoid doing your Internet banking on public computers (at libraries or internet cafés) which may not be secure.
• Don't use software that completes online forms automatically as it can give scammers easy access to your details.
• Use long, random passwords that are difficult to guess.
Protect your money
• Never respond to an email asking for your PINs, passwords or account details, even if it appears to come from a bank.
• Never send money to someone you don't know or trust.
• Always seek independent advice before investing.
• Keep your credit and ATM cards safe.
• Do not share your PIN with anyone or keep a written copy of it with the card.
• Never visit your bank's website by clicking on a link.
• Type in the address yourself.
Source: - www.consumeraffairs.govt.nz/scamwatch