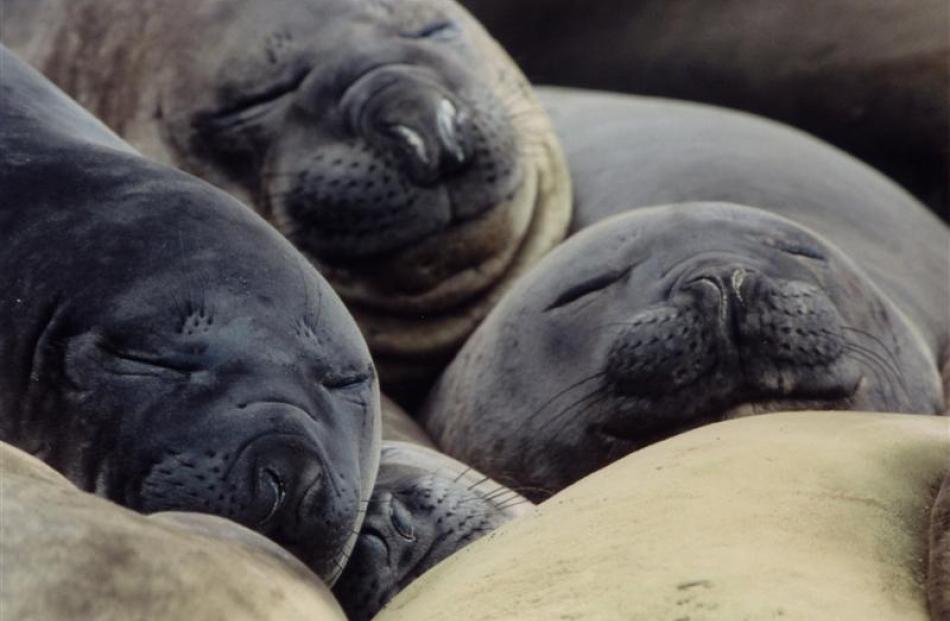 From amazing animals to peculiar plants, the Otago Wildlife Photography Competition has attracted a range of stunning images in the past 10 years. Kim Dungey reports.
Otago's natural beauty and abundant wildlife have proved a great source of inspiration for people entering the Otago Wildlife Photography Competition in the past decade.
The amateur photography competition was born from the belief that an exhibition of wildlife photos by Otago people could be just as popular as an international wildlife photography competition, held regularly at Otago Museum from the late 1990s.
In 2000, the inaugural Otago Wildlife Photography Competition was given a trial alongside the international one, and within a few years the local one was proving the more popular.
Visitor programmfes co-ordinator Emma Burns says the competition has become one of the region's most popular photography contests and the quality of the images is "fantastic".
Entries have grown from 367 the first year to more than 800 in the past few years and a record 1100 two years ago.
Of the three subject categories - animals, plants, and human impact on the environment - the first is by far the biggest, perhaps because people are drawn to animals and because Otago has such an "amazing array" of wildlife, Miss Burns says.
However, the competition has also shown that Otago people are widely travelled: "This year we've got some awesome photos of Madagascar and of New Zealand ferns growing in Edinburgh".
Some category winners have gone on to have other successes, she says. Dmitry Sharomov is a photographer for Greenpeace while Shanna Verhoef (13) was recently awarded a cultural scholarship to Bayfield High School based on her photography portfolio, and won the primary/intermediate category in a national photography competition run by Habitat for Humanity.
The past decade has been an interesting period in photography, with a large number of entries received in 2007, as many people changed from film to digital cameras, she adds.
Digital cameras mean people can be their own critics, reviewing their images immediately instead of waiting for films to be developed, and making improvements if necessary.
This year there is more than usual at stake, with the 2009 winner also earning the chance to vie with previous winners to be named the amateur Otago Wildlife Photographer of the Decade. In the first two years, the competition included a professional category but those winners are not eligible for the title.
Winners will be announced on Wednesday night, with the best photos from both this year and the past decade being exhibited in the museum's 1877 Gallery until late November.
---
Bird business (2006)... Crawling along on his stomach while keeping a wary eye out for sea lions helped Craig McKenzie capture this image of a bar-tailed godwit.
The photo was taken on a bleak day at Papanui Inlet on Otago Peninsula.
The 51-year-old Dunedin man had tried to photograph the birds several times before but this time the tide was pushing them towards him, which meant they were facing him.
"It was a matter of working out a way of getting close enough. Getting on your belly and crawling towards them gets you a certain distance," he says, adding there were fortunately no sea lions around that day.
"Also I had the advantage of the tide coming in . . ."
The photo was shot on a digital Nikon D70 SLR camera, with a 300mm lens with a 2x converter. The shutter speed was 1/350s at f/8.
Mr McKenzie, who began taking photos as a way of recording tramping trips, says photographing birds has become a "bit of an addiction" in the past six years.
The computer software engineer recalls a television reporter asking him after his win if he would turn professional.
"I don't think a wildlife photographer in this country would make any money," he says, laughing. "Forest and Bird and Doc have used a few of my photos but I'd rather donate them and let the conservation cause carry on."
---
Mean moray (2007)... A mosaic moray eel flashes its needle-sharp teeth at Callum Bruce, who was only 18 when this photo won him the Otago Wildlife Photography Competition.
The eels, which are long and strong, have camouflage patterning even inside their mouths and throats.
Mr Bruce says they generally present an aggressive appearance towards shiny objects such as camera lenses.
The Dunedin man took the photo while scuba diving at Middle Arch in the Poor Knights Islands off the Whangarei coast, using a Canon A75 camera in an underwater housing and the inbuilt flash.
Now aged 20 and in the third year of a BSc (Hons) in geology at the University of Otago, Mr Bruce takes mainly macro wildlife and landscapes images.
---
Luminous lupins (2000)... Brett Black's shot of blue lupins on the Lake Tekapo foreshore was the inaugural winner of the Otago Wildlife Photography Competition.
Mr Black says he did not even know about the competition when he took the photo in December 1999.
At the time, he was doing a master's in geology at the University of Otago and studying river and lake sediments associated with the uplift of the Southern Alps.
"I was doing some geology field work and staying at Tekapo. It was a nice night so I wandered down to the lakefront . . . and there just happened to be a great sunset."
The 36-year-old had his Canon camera on a tripod, loaded with Fuji Velvia slide film, and used fill-in flash to light the lupins, giving them a luminescent quality.
Mr Black entered the competition once or twice more before moving to Queenstown about six years ago.
He has just returned there after working for the past nine months on an $800 million motorway project in Brisbane.
He says he nicknamed his winning photo Blue Lupins, after Jackson Pollock's famous Blue Poles painting but adds the thing that is not conveyed by the image is the smell of the flowers.
"It was just overwhelming."
---
---
Magnificent mollymawks... Nathan McNally's stunning shot of a black-browed albatross and a juvenile Buller's albatross was taken from a Korean trawler.

Mr McNally took the photo on a Nikon F50 camera with a 70-300mm lens, using Fuji Provia 100 slide film.

Aged 36, he worked as a DOC ranger on Pitt Island for two and-a-half years. He is now based in Dunedin but leaves soon for three months on the Auckland Islands as part of a New Zealand sea lion research team.

This photo was judged the best from the first five years of the contest.
---
Sunset steeds (2008)... "It was a bit of a fluke," Gillean Booth says of the photo of three horses at sunset that won her the 2008 Otago Wildlife Photography Competition.
"One of the horses moved directly into the sun and it was only there a second before moving off. I think they were sick of me being in the paddock. But everything just came together."
The photo was taken near Lake Onslow after the Millers Flat rodeo horses had been moved down from high hills on to a tussock block.
Using a Nikon F80 film camera (with a 200mm vibration-reduction lens), Mrs Booth could not be immediately sure her photo was a good one.
"You see it through the lens and you hope like hell. But it's only when you see it in print, that you know you've got it," she says, adding she has since bought a digital camera but still uses black-and-white film.
The 49-year-old Ettrick housewife has given copies of the photo to a few people who wanted it but is not interested in turning professional. She likes to head out with her camera about one day a month and particularly enjoys taking candid shots of people. "It's my time out from my kids and my husband. It's a hobby, not a burgeoning career."
Her winning photo was described by judges as a wonderful execution of a Central Otago scene with golden light and golden colour.
"We're so blessed with the scenery here and the light's magnificent," she says. "You couldn't ask for anything better."
---
Forest fungi (2002)... Avoiding camera shake and getting light in behind the subject were the main challenges facing Gary Speer when he photographed these mycena fungi in the darkness of Herbert Forest.
Mr Speer used a tripod and a delayed release on the shutter so the photo would be taken after any vibration in the camera had died down. In the meantime, he was reflecting light back in behind the subject with two ordinary shaving mirrors that he always carries with him.
The Oamaru man, who was head of maths at St Kevins College until retirement, started photographing New Zealand fungi 30 years ago after being inspired by slides of flowers and berries that he saw on a science course.
"This one was one of hundreds I've taken over the years," he says, adding he might publish a book one day.
Mr Speer used a Canon T90 camera and a 50mm macro lens, with Fuji Velvia 50 ASA slide film. He only recently bought a digital camera.
"To me, there was a lot more skill involved in getting a good photo on film than on a digital [camera]," he says.
"You can blast away with a digital until you get it right, checking all the time, and finally walk away knowing you've got a really good photo. Using film, you're never absolutely sure ..."
"And it was a much more involved process using film. You had to be far more deliberate about what you were doing because otherwise it would cost you a lot of money."
---
---
Slumbering seals (2003)... Photographing elephant seals is easy but getting the composition right is difficult because they are so big, says Dr Melanie Massaro.
"Elephant seals are not the most elegant animal. They're big, huge blobs that are like 4 to 6m long and weigh over a ton."
The sleeping southern elephant seals were photographed on Macquarie Island, a three-day sail south of Tasmania, during the moulting period when they try to avoid going into the water: "They're all bunched up and don't really do much except sleep and make funny noises," she says.
Dr Massaro had her Canon EOS 3 camera on a tripod and used a 300mm lens so was not particularly close to the seals but says they did not care that she was there anyway because, given the size difference, she was not a threat.
The 36-year-old took "thousands" of photos while working as a guide for Christchurch-based Heritage Expeditions on trips to New Zealand's subantarctic Islands.
At the time, she was doing her PhD at the University of Otago, studying brood reduction mechanisms in penguins. It was the abundance of seabirds in the southern hemisphere which had brought her to New Zealand.
While completing a master's of science degree in seabird ecology in Canada, she did cruises to the Antarctic and "fell in love" with the continent and the Southern Ocean.
"The southern hemisphere is seabird heaven. There are many more species down here and so many species that we know hardly anything about."
These days, the Canterbury University lecturer still does "some Antarctic stuff" but is also studying the life history of New Zealand's native song birds and the consequences of "population bottlenecks" and reduced genetic variation on the long-term survival of the black robin, work which schoolchildren can follow on www.learnz.org.nz.
---
Creative kelp (2005)... Gary Speer was running a photography workshop for people who wanted to learn to take good photos when he captured this image of bull kelp on Katiki Beach, just north of Shag Point.
"I was wandering around on the rocks at low tide and spotted the sun shining through a clump of bull kelp," the 65-year-old retired schoolteacher recalls.
"It's quite difficult to put an artistic interpretation on a subject like that but that was what I was trying to do with the curves in it."
The Oamaru man, who always works with a tripod, was using a Canon 300D camera, the first digital SLR he owned.
---
Feeding frenzy (2004)... Darren Scott had to work quickly to capture his award-winning image of pelicans feeding outside the fish markets in Sydney harbour.
"It was fortuitous. Some friends and I had just had some fish and chips from the market and I had been taking photos of the cheeky gulls on the tables," he says, recalling how a man from the market then began feeding the pelicans with the remains of fish.
"The bucket of fish wasn't that big so I had to work quickly and try a whole bunch of techniques to get this shot. The action was all over in about five minutes."
The photo was taken with a Nikon 801s camera and Sigma 105mm macro lens, at th second shutter speed at f8 on Fuji Velvia 50 slide film.
Now a "house dad", furniture maker and photographer in Invercargill, the 39-year-old still enjoys photographing wildlife and landscapes.
---