The Dunedin-based Neurological Foundation is a partnership between the University of Otago and the Southern District Health Board, which aims to build connections between academic research and clinical expertise.
For University of Otago vice-chancellor Prof Harlene Hayne, the establishment of a neurosurgery professorship, or university chair, within the division of health sciences, will enable the pursuit of a range of new research pathways and opportunities involving an array of academic disciplines.
While the search for the neurosurgery chair was in its infancy, the eventual appointment would bring a welcome addition to the university's Brain Health Research Centre, Prof Hayne said.
The centre has more than 35 research teams drawn from a wide range of the university's departments, including the anatomy, biochemistry, medicine, physiology and psychology departments, to name a few, and the School of Physical Education and School of Pharmacy.
The Otago health sciences division has a reach spreading around New Zealand, encompassing three campuses, four iwi and 28 student placements in towns and cities across both islands.
Whoever was appointed to the neurosurgery chair would bring their own skills, interests and expertise to this research community, Prof Hayne said.
An approach that combined practical clinical skills at the hospital bedside with laboratory-based academic studies was vital for whoever was appointed to the Neurological Foundation Chair, Prof Hayne said.
"This is one of the lessons that we've learned in New Zealand when it comes to health science of any kind.
"The most exciting research and the best treatment comes when we integrate the package of a highly skilled clinician and a master researcher, because that person understands the practicality of what is required at the bedside but also has the academic expertise to push the boundaries into new areas."
As well as the $3 million the Neurological Foundation aims to garner in a public campaign, to fund the appointment in perpetuity, the university will provide funds to cover the academic and research aspects of the clinical professor's role.
While Prof Hayne was confident the amount would prove enough to fund the professorial chair, she acknowledged the university's funding for research was "to a certain extent" influenced by the performance of its investments portfolio and reliant on international equity markets.
A shortlist of candidates to join the chair's first appointed neurosurgeon, senior lecturer Reuben Johnson, was being drawn up for consideration by a professorial selection panel, which will be chaired by Prof Hayne and include health sciences pro-vice-chancellor Prof Peter Crampton.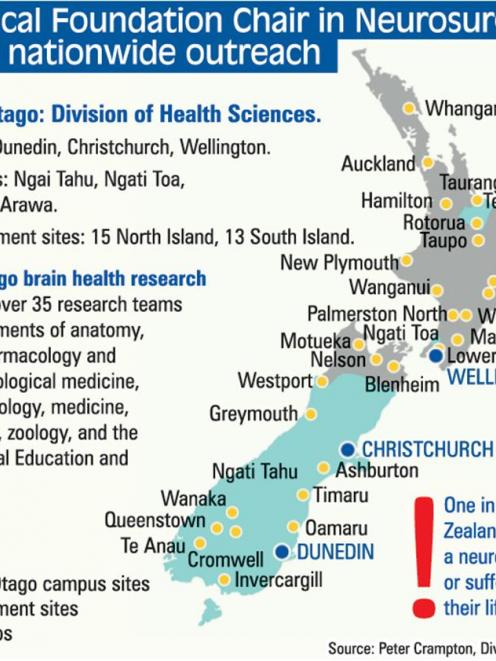 Drawing up a shortlist for the position of neurosurgery professor had been a novel process, Prof Hayne said.
"For the first time, in my experience at least, we are asking very specific questions about the clinical expertise of potential candidates."
Numbers of surgeries, the types of surgery and hours spent in theatre were not usually matters discussed with prospective professors, she said.
The Neurological Foundation has been outspoken about its desire to appoint an internationally recognised clinician and researcher in the field of neurosurgery.
Asked if attracting an internationally recognised neurosurgeon to Dunedin was a challenge, Prof Hayne was candid in her response.
"It could have been. But I'm cautiously optimistic about the shortlist we are assembling and I think we have a really, really good field," Prof Hayne said.
"The people on that list are outstandingly qualified ... Fingers crossed it's a beautiful day in Dunedin when they visit."
Academics who chose to work at the university and make the city their home were an "interesting breed of people", who combined their aspirations with lifestyle choices, she said.
"We attract people who are incredibly ambitious with their careers, but also want a lovely place to live and a nice place to raise their families. That is certainly what we offer here."