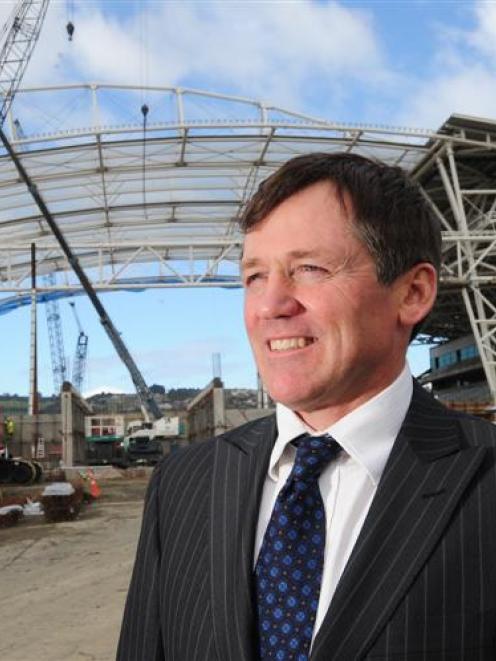 New Zealand could be a winner on and off the pitch at the 2011 Rugby World Cup, former All Black captain David Kirk says.
And he should know.
Mr Kirk, the only All Black captain to have held aloft the coveted Webb Ellis trophy, addressed a Dunedin business luncheon yesterday on business opportunities the tournament presented, and the topic on everyone's minds - who would win.
The former University of Otago medical student said he was pleased to be back in a city where "I grew up", and returned regularly from his Sydney home to visit his sister.
"I left [Dunedin] six years later a medical doctor, an All Black and socially a bit more capable."
Mr Kirk, whose CV includes an MBE, a Rhodes Scholarship and stints as a parliamentary adviser and chief executive, said he was surprised he was still the only New Zealand captain to have held the World Cup.
"Twenty years later, not to have won another one, is, to me, bizarre."
He said the 2011 tournament represented a once-in-a-generation opportunity for New Zealand and people should be asking about its long-term benefit, rather than just the event itself.
"That should be worrying people from the Prime Minister down."
The tournament represented an opportunity to drive economic growth, and a chance to highlight New Zealand as an ideal place to do business.
Mr Kirk has been chosen as an ambassador for the NZ 2011 Business Club, which aims to match overseas businesses with like-minded local companies.
"It is about shamelessly using the Rugby World Cup to sell our business."
But the tournament was also about rugby.
Discounting England, Wales, Scotland and Ireland due to form and poor records in New Zealand, the tournament was likely to be decided between France, South Africa, Australia and the host country, he said.
France would be the major northern hemisphere threat, but despite being the All Blacks' bogey team of other World Cups it would need to string together several top-notch performances to make the final.
While South African rugby appeared to be declining, it would still be dangerous if wholesale changes were made to its ageing squad, as "they have a whole lot of talent".
Australia required a front row, locks and more power at the breakdown if it planned on winning the trophy, but would be "very competitive".
"They have very good backs."
Mr Kirk said he was enthusiastic about New Zealand's chance but acknowledged that in previous tournaments the All Blacks "beat themselves".
To win, the All Blacks needed young players to "step up", rather than just rely on its world-class players such as Dan Carter and captain Richie McCaw.
He singled out Tom Donnelly, Jerome Kaino, Israel Dagg, and the Franks brothers, Owen and Ben, as young players who could help New Zealand win.
And Sonny Bill Williams?
"I think he will be in the World Cup squad if everything goes right."
Mr Kirk said he was a big supporter of the Forsyth Barr Stadium and was likely to watch some of the matches at the venue.
"It is looking fantastic."