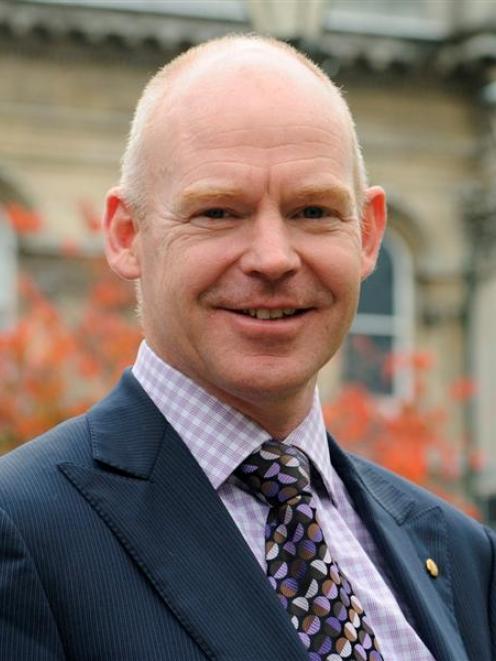 Dunedin is being urged to make every effort possible to ensure Shell New Zealand makes the city its logistics base when drilling for gas starts off the coast of Otago in 2016.
Otago Chamber of Commerce past-president Peter McIntyre said Shell, and its joint venture partners OMV New Zealand and Mitsui E&P Australia, needed to know what they were getting before they got here.
''We don't want people saying we will provide this or that when they arrive. They need to know we can supply a port, access to a hospital and a helicopter pad. They need to know exactly what they will get,'' he said.
Shell country manager Rob Jager told the Otago Daily Times no decision had been made on where the company would base its shore operations, but it was between Dunedin and Invercargill. The company needed access to a port and somewhere to land a helicopter.
Mr McIntyre said Southland would surely be ''putting its best foot forward'' and Dunedin should waste no time showing it could host Shell.
Shell, OMV and Mitsui announced yesterday it would drill an exploration well in the northeast part of its Great South Basin licensed area probably in early summer in 2016.
The JV partners needed to make a decision on drilling by Friday as part of their licence conditions.
Otago Regional Council chairman Stephen Woodhead welcomed the news and echoed Mr McIntyre's comments the city needed to make the best of the opportunity to show it could provide the required infrastructure.
''Port Otago has been in communication with Shell and its partners over the years. Again, there is a long lead-in period to this, so we are not getting overexcited.
"But we have the mix of a safe deepwater port and an engineering base in Dunedin. The mix of infrastructure and expertise in and around Dunedin would make the city the logical choice.''
Mr Jager said in an interview the next two years would require much hard work before drilling started.
That included getting together the organisations needed to support the $100 million to $200 million project.
The initial drilling programme would last for three months, but would be extended if hydrocarbons, or gas, was found.
If gas was found, other wells would be needed to ascertain how extensive the gas find was and a decision made on whether to commit to development of the field, he said.
''You need to think 10 years before we are up and running after a discovery. It's a long-term activity. One well is just that. It will give up more information and help concentrate data from our seismic information.''
Shell announced in December it was spending tens of millions of dollars on a two-dimensional seismic survey starting this month.
Dunedin was then being considered as a base for crew changeovers and supplies being taken out to the survey vessel.
Shell NZ was fortunate it was part of a huge global organisation and it could tap into global expertise. However, drilling rigs had to be booked years in advance, Mr Jager said.
Only a few rigs capable of drilling in the Great South Basin were available and Shell would be looking for other opportunities in the next 12-24 months to keep the drill in the South.
That could include working with Anadarko, which had a licence in the Canterbury Basin, or other companies with licences in the area.
Ocean conditions were a challenge in the Great South Basin, but conditions in Taranaki were also a challenge, Mr Jager said.
''There is not a lot of land between there [Otago] and the Antarctic and big waves come through. We are exposed to seismic activity but we know that.
"Globally, Shell has developed deep water operations in the north North Sea and the Gulf of Mexico. We have got a lot better at grappling with the elements.
''We are very grateful to the communities of Otago and Southland for the way in which they have engaged with us so far. We will ensure that open and honest engagement with all interested parties continues as the project matures towards the drilling campaign.''
Shell was aware of the community issues around drilling and safety was one of the key areas it would undertake during the next 12-24 months.
''We want our people to go home safely at night and have a minimum impact on the environment. That's why it takes two years of planning.''
While Shell expected to find gas during drilling, it was not a ''slam dunk'', he said.
''The prize is finding enough gas to be able to convert it into lng [liquid natural gas] and develop an export opportunity.''
Drilling in the 1970s and 1980s by Hunt Petroleum made a couple of discoveries but none was found to be viable, Mr Jager said.
Petroleum Exploration and Production Association chief executive David Robinson said unlocking the petroleum potential in the Great South Basin could provide benefits not only to local communities but the country as a whole.
''We just need to look towards the impact the oil and gas industry has had on Taranaki to know the economic benefits of growing the industry are significant.''
The expansion of the oil and gas industry in Taranaki had seen the local economy grow by nearly 50% over four years, he said.
Shell's announcement sparked a warning from the Greens.
Its oceans spokesman, Gareth Hughes, said his party opposed all deep sea drilling, as it was too risky.
''This is a particularly risky environment - it's between the roaring forties and the furious fifties. We saw one of the world's largest oil companies Exxon Mobil pull out in 2010 because they said the conditions weretoo harsh and the location remote. Those conditions still exist for Shell.''
Labour MP Grant Robertson said while Labour was ''not opposed in principle'' to oil exploration, ''we do not believe that there is currently an adequate regulatory regime or response capability in place''.
He also called on Shell to engage with the local community on its plans.
''With an issue such as this, it is vital that the local community's voice is heard. We would call on Shell to listen to the concerns of the people of Otago. - Additional reporting The New Zealand Herald