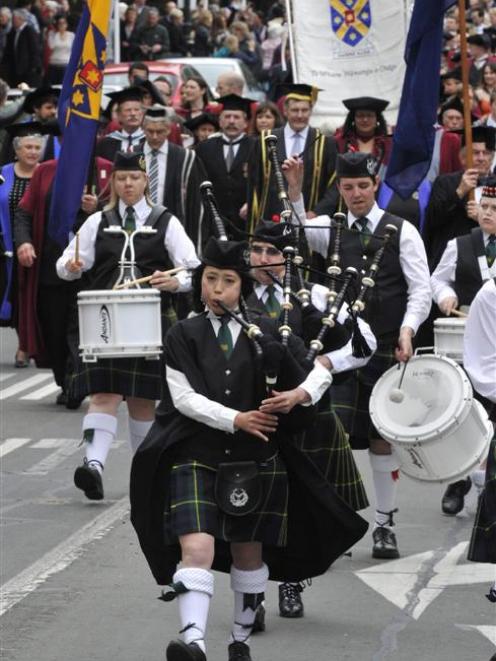 After rousing Scottish spirits for decades, the anthem Scotland the Brave inspired Kaho Sakakura to delve into a foreign culture while living on foreign soil.
The Japanese national moved to Dunedin in 2005 to study at the University of Otago and, while watching a graduation parade, heard the stirring song.
"I love the tune and I thought 'I want to play that'. I like the atmosphere and the music is awesome," she said.
About five years ago, she approached the Otago School of Piping and Drumming and began learning the bagpipes.
She joined the City of Dunedin Scotia band and after playing in several graduation parades and competing in solo piping events, she piped herself to her own graduation ceremony on Saturday.
"I was very proud," she said.
Her mother, who flew from Japan for the occasion, loved the music, but thought the playing was "not very feminine because of the puffing".
While Miss Sakakura admitted her playing the bagpipes was "odd", she unashamedly admitted being "crazy" about anything Scottish.
With dreams of visiting Scotland, especially to see the Royal Edinburgh Military Tattoo, she now owned her own bagpipes and kilt and has begun to learn Highland dancing.
With piping not common in Japan, she hoped to remain in New Zealand and possibly attend teachers' college.
"If I go back to Japan, there is no way I can do bagpiping, so I'd like to stay longer."
Her former tutor, Gordon Watson, said it was unusual for an international student to learn the pipes, but Miss Sakakura was now a "core member" of her band.