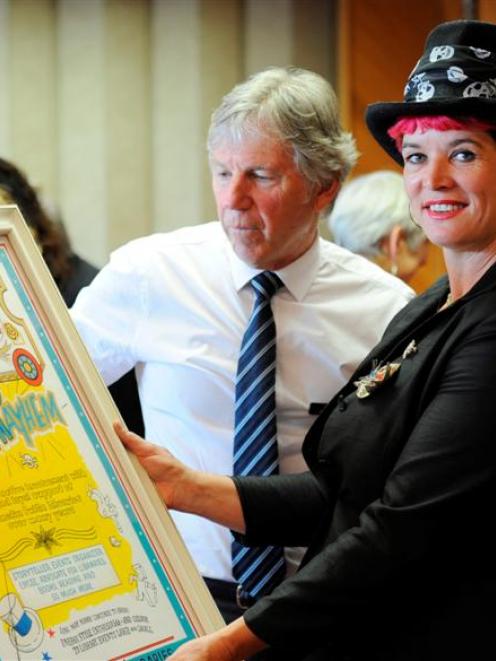 Library volunteer Amanda Morrison, better known as ''Mandy Mayhem'', admires her 2012 Dunedin Public Libraries Citation with head of customer services Mike Collett in the Dunningham Room yesterday.
The colourful storyteller and library advocate was celebrated for her decades of service to Dunedin libraries.
''I wondered why they were so insistent that I came along this morning. I didn't expect this,'' a visibly stunned Ms Morrison (40), of Waitati, said after the presentation.
She recalled spending her teenage years helping out in the Blueskin Bay library, before getting involved as a storyteller, event organiser and advocate for libraries.
About 100 people attended the annual ceremony and morning tea, which is held to thank supporters and volunteers for their assistance during the year.
The library choir also presented a series of Christmas carols. A film about the library bookbus, by University of Otago department of sociology students, What is This Thing called the Bookbus?, also had its first public screening.