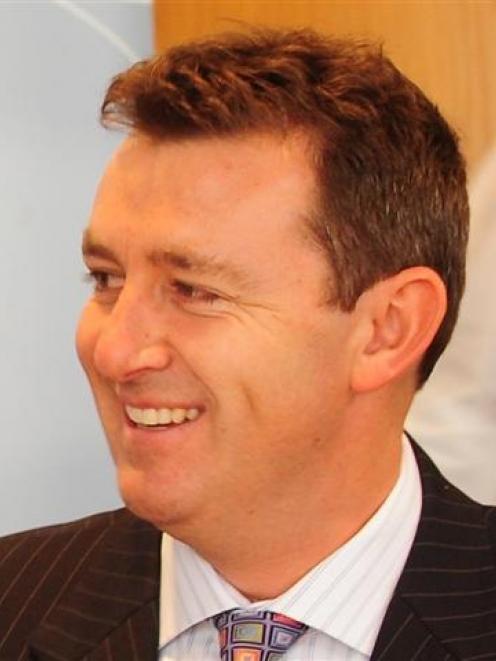 Sponsors backing Dunedin's Forsyth Barr Stadium have reacted to news of the Otago Rugby Football Union's looming liquidation with a mixture of caution and optimism.
Some spoken to indicated they might need to review existing sponsorship of the stadium if, as expected, the union is placed in liquidation on Friday.
That was because the loss of the Otago ITM Cup team would mean fewer games at the venue and, therefore, less exposure of sponsors' brands to stadium crowds and television viewers.
Some were taking a wait-and-see approach until the fate of the union and team was confirmed, while others said they would be sticking with the stadium.
Forsyth Barr managing director Neil Paviour-Smith, of Wellington, told the Otago Daily Times the loss of ITM Cup matches at the venue, if confirmed, would have only a "marginal" impact on his company's investment as stadium naming-rights sponsor.
The company had no plans to review its support, with any loss of exposure resulting from lost ITM Cup matches expected to have only a minor impact, he said.
"The big things are obviously the big drawcard events ... The ITM Cup was not at that level.
"In a worst-case scenario, if there's not [ITM Cup matches], there's plenty of other things that will carry on occurring at the stadium," he said.
Instead, Mr Paviour-Smith predicted a new union could emerge from the liquidation of the ORFU, supported by the New Zealand Rugby Union, sponsors and Otago rugby clubs, and believed there was still time for it to be organised and compete in this year's ITM Cup.
That would be "bad news" for existing ORFU creditors, including Dunedin businesses and the Dunedin City Council, but would allow a new union to operate without being saddled by old debts, he believed.
"Everyone's known Otago's in real strife ... in some ways this kind of dark cloud that's been overhanging has all come to fruition, but maybe a new union that starts afresh and isn't saddled with past debts can get on and develop the game locally and get the students back involved and be a lot more optimistic and positive.
Other stadium sponsors spoken to were more circumspect, with Mitre 10 Mega store manager Lindsay Aitcheson, of Dunedin, saying it was "really too early to tell" what impact the liquidation of the Otago union would have.
However, his company's sponsorship was a long-term investment in the community and the venue, and he doubted that would be affected despite the ORFU's "dilemma".
"Obviously, the loss of the ITM Cup games there would make a bit of a difference, but I don't think it would make too much difference to our sponsorship.
"It's a long-term type thing and it was done more as a community thing than anything else, to support the stadium."
Scenic Hotels staff declined to comment, while Silver Fern Farms chief executive Keith Cooper said it would remain "business as usual" for the company's sponsorship of the stadium, with no plans for change.
"Our relationship is more than just rugby."
Allied Press, owner of the Otago Daily Times, group advertising manager Paul Dwyer also said it was too soon to say what impact any liquidation of the union and loss of ITM Cup games would have on existing arrangements.
The company was the naming rights sponsor for the stadium's Otago Daily Times stand.
Sponsorship was based on a minimum number of games and exposure to crowds and television audiences, and "obviously now that will reduce" if the ORFU was liquidated, he said.
"Obviously, there will be a process, but we're far too early in that process to make any judgements on that."
Dunedin Venues Management Ltd chief executive David Davies said all sponsors, partners and members had been contacted to warn them of the union's difficulties, even though they had been "well sign-posted".
It was possible DVML staff would meet sponsors to discuss existing arrangements, depending on what followed after Friday, but Mr Davies would not speculate on any changes.