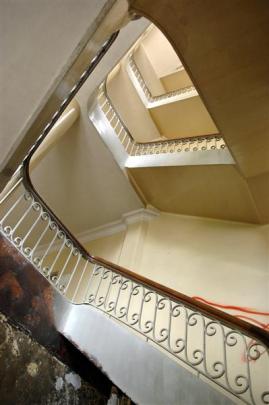 Work has begun on converting the former Dunedin chief post office into a luxury hotel, with the multimillion-dollar project set to rejuvenate the area, its owner says.
The first priority of Distinction Hotel Group owner Geoff Thomson is to replace the ageing roof of the 1930s building. And it is easy to see why.
Rain drips through the glass atrium and on to the ground floor below, as Mr Thomson discussed his plans to convert the derelict granite-clad building into a 4.5-star hotel.
"It is a magnificent building."
But first things first for the Invercargill-based hotelier - the roof. Consent to replace the roof has been granted by the Dunedin City Council, which he said had been easy to work with, and local contractors were already at work on the building.
Years of neglect, including spray-painted walls, smashed windows, the odd decaying pigeon, and the sheer size of the building meant this was not a job for the faint-hearted, but it was a challenge he was looking forward to, he said.
"Watch out for the holes," he said, as we made our way up the stairs of the seven-storey building.
Until final internal fit-out plans for the multimillion-dollar project were finalised, he would not be drawn into an opening date.
"We just need to get the roof on first."
The company's website lists the Dunedin Distinction hotel as "opening late 2011". The 4.5 star-hotel will include 180 rooms and suites, restaurants, bars, conference facilities, a business centre, gym and lap pool. In addition, a car park could be built at the rear of the building, he said.
The development is the second time around for Mr Thomson, who bought the building in 2004 before selling it three years later for a reported $3 million profit. However, on May 14 last year, he bought back the building for $4.4 million, confirming he planned to turn it into the "Distinction Dunedin" hotel.
He said the building was "close to compliant" with current codes, but how last month's earthquake in Christchurch would affect standards remained to be seen.
Mr Thomson, who also owns hotels in Te Anau, Luxmore, Fox Glacier and Rotorua, said the Christchurch earthquake was likely to impact on tourism numbers to the South Island, but this "was likely to be short-lived".
Dunedin had great potential as a tourism destination, and had a shortage of accommodation, he said.
The Princes St development would provide a boost to the Exchange-Princes St area, as "business generates business".