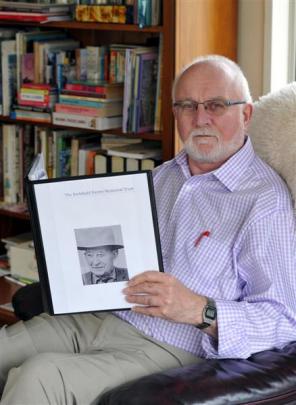 World War 1 centenary celebrations start in 2014. A Dunedin-based group is determined pacifist Archibald Baxter and other conscientious objectors are not forgotten. Eileen Goodwin spoke to those involved.
Beaten, starved, and hung on poles, Archibald Baxter felt the might of the force he resisted by refusing to fight in World War 1.
Mr Baxter and three other New Zealanders endured Field Punishment No1, colloquially known as crucifixion, in France in 1917.
The Archibald Baxter Memorial Trust has been set up ahead of the centenary years to honour Mr Baxter and other conscientious objectors.
Vividly described in the account of his wartime experience, We Will Not Cease, the punishment involved being tightly bound to poles and left in the open in all conditions.
He was taken to the trenches, beaten, and starved, as commanders tried to wear down the objectors.
Only Mr Baxter and socialist conscientious objector Mark Briggs held out to the very end.
Diagnosed with mental weakness and confusional insanity, Mr Baxter was taken to a hospital in Britain, before being sent home in August 1918.
He and 13 other objectors - including two of his brothers - were taken to France by force from Trentham Military Camp where they had been among a larger group of incarcerated objectors.
Six of the seven Baxter brothers were incarcerated.
He returned to Dunedin after the war and picked up labouring jobs around Brighton. He married Millicent Macmillan Brown in 1921, with whom he had two sons. The younger was the poet James K. Baxter.
The older son, 91-year-old Terence, has agreed to be the trust's patron. An annual lecture in Mr Baxter's name, and an annual essay competition will be launched in 2014, probably to coincide with the anniversary of the start of the war in August.
The trust plans commissioning a memorial in Dunedin in his honour. It will be the first such memorial in New Zealand to honour pacifism. The trust hopes it will be unveiled to mark the Passchendaele centenary in 2017.
Up to $100,000 will be needed. The trust intends to raise funds from the public, and apply for war commemoration funding.
Trust chairman Prof Kevin Clements, of the University of Otago National Centre for Peace and Conflict Studies, said conscientious objectors should be recognised for defending personal freedom in a time of national crisis.
Their stories countered the myth New Zealand's national identity was forged in battle on the other side of the world. As it faded from memory, the war risked being idealised as a story of national identity with the military perspective swamping others.
The centenary years could become imbued with ''xenophobic nationalism'', Prof Clements believed. The point was not to diminish the bravery and sacrifice of those who did fight.
Objectors were not just anti-war, he emphasises, but standing up for personal freedom by ''protecting the libertarian space''.
Unlike World War 2, the first world war created appalling carnage without political gain.
''The second world war is a big challenge for pacifists,'' said Prof Clements, whose father was an objector in World War 2.
The concept of conscription was new in World War 1, but objectors still faced huge opprobrium and the stigma lingered over Mr Baxter his entire life.
Notable conscientious objector Peter Fraser helped form the first Labour Government about 20 years later, although as a wartime prime minister, he opposed World War 2 objectors.
A Christian socialist and humanitarian, Mr Baxter opposed New Zealand joining an ''imperial adventure'', and convinced five of his brothers to oppose it too.
The driver for the trust was retired teacher Alan Jackson (69), whose interest was piqued by a lecture he attended a few years ago about the influence of poet Robert Burns on James K. Baxter.
Given by Penny Griffith, who is now a trust board member, it revealed the father seeded his son's interest in the Scottish poet.
This prompted a discussion of the elder Baxter's pacifism. Mr Jackson, who taught for many years at Waitaki Boys' High School and retired to Dunedin, assumed Mr Baxter must have had a dedicated memorial somewhere, but found there was nothing of the kind.
Mr Baxter was derided as a coward, despite enduring horrific punishment to stand up for his beliefs. It took more courage to oppose the war machine than to go along with it, Mr Jackson said. He acknowledged the need to be sensitive to those who fought and died, but there were organisations dedicated to honouring them.
''If you omitted the celebration of a group of people who stood for peace in the middle of war, then you couldn't honestly say that you had a complete record.''
Mr Jackson, the secretary of the trust, said it was applying for a share of the funding available for centenary activities, and there was interest from local people wanting to contribute. The Dunedin Botanic Garden might be the memorial's natural home, but nothing had been decided. The site would be a focus for reflection and meditation on the role of Mr Baxter and others in rejecting warfare.
By promoting non-violence, it was relevant to social problems today, particularly violence towards women and children.
He admired the fact Mr Baxter, while Christian, did not rely on his faith to save him by seeking protection from a particular denomination.
''He just said: 'This is where I stand as a man'.''
The question of the role played by religion in Mr Baxter's pacifism will be explored in a book whose planned title was In Defiance! The Baxters' War Against War. Its author is Ms Griffith, whose lecture spurred Mr Jackson's initial interest.
Ms Griffith is certain religion did not play a key role.
He did not belong to a church until much later in life. He had contemplated joining the army at the time of the Boer War, but around that time heard a talk by a local MP, Alfred Barclay, that ''overnight'' turned the nascent socialist into a lifelong pacifist.
His interest in socialism was fed by prolific reading. The Baxters were an ''intelligent bunch'', and Archibald was their leader.
Archibald McColl Learmond Baxter was born in 1881 at Saddle Hill, one of eight children of farm labourer John Baxter and wife Mary McColl, Te Ara encyclopedia of New Zealand says in its online biography.
The family was poor, and he left school at 12, eventually becoming head ploughman at Gladbrook station. He also carted coal and worked as a roading contractor.
Conscription was introduced in late 1916, and Mr Baxter was soon after balloted and arrested. He ended up in Trentham Military Camp, before Colonel H.R. Potter decided to relieve overcrowding by sending 14 of them, including brothers Archibald, Alexander and John, on the troop ship Waitemata to the front line.
Of the field punishment, Ms Griffith noted it would have been given to anyone who refused to fight or fulfil an auxiliary role. It did not reflect their politics, or the fact they were conscientious objectors, which she felt needed to be understood.
For the book, which would be published in 2014 or the year after, she interviewed about 80 people. It was both a biography of the Baxter family, and an examination of Mr Baxter's pacifism.
He was now a little-known figure, especially outside Dunedin, she said. It would tell the ''extraordinary love story'' of his relationship with Millicent, a young woman from a prestigious academic family.
The physical and psychological effects from his wartime experience were immense, and despite living a full and satisfying life, he never fully recovered.
He died in 1970.
---
In his own words
Excerpt from We Will Not Cease, by Archibald Baxter, published in 1939.
''[The sergeant] took me over to the poles, which were willow stumps, six to eight inches in diameter and twice the height of a man, and placed me against one of them. It was inclined forward out of perpendicular. Almost always afterwards he picked the same one for me.
''I stood with my back to it and he tied me to it by the ankles, knees and wrists. He was an expert at the job, and he knew how to pull and strain at the ropes till they cut into the flesh and completely stopped the circulation.
''When I was taken off my hands were always black with congested blood.
''My hands were taken round behind the pole, tied together and pulled well up it, straining and cramping the muscles and forcing them into an unnatural position. Most knots will slacken a little after a time. His never did.
''The slope of the post brought me into a hanging position, causing a large part of my weight to come on my arms, and I could get no proper grip with my feet on the ground, as it was worn away round the pole and my toes were consequently much lower than my heels. I was strained so tightly up against the post that I was unable to move body or limbs a fraction of an inch.
''Earlier in the war, men undergoing this form of punishment were tied with their arms outstretched [on a wagon wheel]. Hence the name of crucifixion. Later, they were more often tied to a single upright, probably to avoid the likeness to a cross. But the name stuck.
''A few minutes after the sergeant had left me, I began to think of the length of my sentence and it rose up before me like a mountain. The pain grew steadily worse until by the end of half-an-hour it seemed absolutely unendurable. Between my set teeth I said: 'Oh God, this is too much. I can't bear it.'
''But I could not allow myself the relief of groaning as I did not want to give the guards the satisfaction of hearing me. The mental effect was almost as frightful as the physical. I felt I was going mad.''
REF: 1/2-037732-F ALEXANDER TURNBULL LIBRARY
---