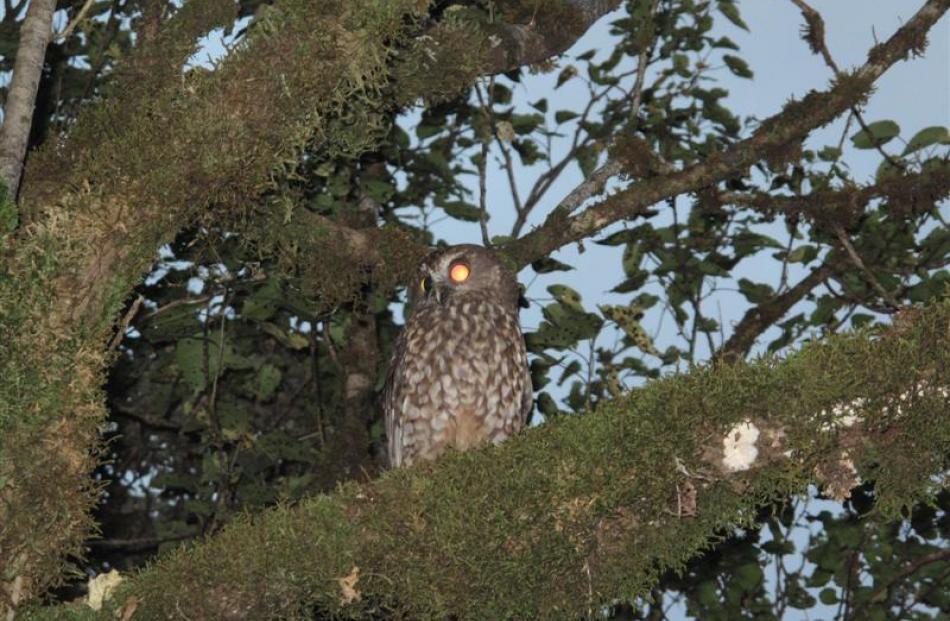 A Milford Track "brain walk" last week raised $112,000 for the chair in neurosurgery at the University Of Otago. Eileen Goodwin was one of 55 walkers taking part.
Yvonne Bannerman once feared she might not walk again because of complications arising from a head injury, for which she needed emergency neurosurgery to remove a compressed disc in her neck.
So walking the Milford Track to raise money for the chair in neurosurgery in Dunedin was an extra special milestone for the 53-year-old from Gore.
Mrs Bannerman was one of 55 walkers on last week's guided Brain Week Walk, which raised $112,000 for the endowed chair at the University of Otago.
Unusually, the group, which ranged in ages from 23 to 75, was nearly all from Otago and Southland.
Unlike Mrs Bannerman, most had had little personal contact with neurosurgery, but wanted to help a good local cause while walking the 53.6km track, mostly for the first time.
"I absolutely loved it. It's all about keeping it local. It's all here at our back doorstep," Mrs Bannerman said.
It was nice to show Otago and Southland people their "own backyard", head guide Imelda McMillan says. Most Milford Track walkers were from overseas, with New Zealanders accounting for about a fifth, so the group from Otago and Southland was highly unusual.
Last Saturday, the last and longest walking day, covering 21km, the track was deluged with what the guides called "proper Fiordland rain" - 81mm - creating a dramatic finish. Sheets of water cascaded over cliffs as guides assisted walkers crossing flooded streams. Soaked to the skin, walkers arrived at Sandfly Point after what was a "pretty unusual" day, Ms McMillan said.
For Emeritus Prof Gil Barbezat, a semi-retired gastroenterologist, the last walking day was "pretty miserable", but if not for the rain "we wouldn't have been regaled by amazing waterfalls".
Born in Switzerland and raised in South Africa, Prof Barbezat said the isolation and lack of development made New Zealand's wilderness areas unusual. In Europe even mountains were dotted with villages. The money, to be used partly for research, would keep Dunedin's neurosurgeons "happy" and allow the city to build on its strengths of neuro-anatomy research and radiosurgery (targeted radiotherapy on the head).
Prof Barbezat, who is chairman of the gastrointestinal diseases centre of excellence establishment board, joked that gastrointestinal diseases had an "image problem" when it came to raising funds that the head (neurosurgery) and the heart (cardiology) did not.
For Dunedin Hospital anaesthetist Dr Geoff Laney, tramping and the outdoors were usually wife Shirley's domain.
"It's not one of my passions ..."
The threat to neurosurgery at his work prompted him to book for them both.
Without neurosurgery the hospital would not be able to provide neurosurgical anaesthetics training, part of what was essential for a tertiary-level teaching hospital.
He said the experience might prompt another foray into the outdoors, but it "won't be in two weeks' time".
For Cushla McMillan (73), walking the Milford was top of her "bucket list", and she enjoyed the mountainous Mackinnon Pass section - although the downhill part was "frightening".
Alpine plants were her special interest, and she had found an "indescribable" variety of mosses, lichens, and ferns to photograph.
A former teacher and keen tramper in her youth, she said the Milford Track was different from what she had thought, with more rugged terrain.
She was not fazed by the last and wettest day, describing it as a "12-mile paddle" to the finish.
While not as wet as the final day, the weather had closed in on Mackinnon Pass on Friday, eliminating hopes of a view from the top.
However for Dunedin couple Les and Jane Wilson, the Mackinnon Pass was definitely the high point, as it was at the top they received news their first grandson had been born in London. Guide Moon Kang, stationed in Pass Hut to greet walkers for lunch, received the news by mountain radio, passing it on to the excited grandparents.
Mrs Wilson said she initially had second thoughts about the charity walk when she realised the dates clashed with her grandson's due date, but it had been a "done deal" because her husband had booked it. She joked they might as well have been on a mountain, given New Zealand's distance from London.
The Wilsons' friends, Graeme and Christine Steel, who divide their time between Auckland and Queenstown, have a great-nephew, aged 4, in Dunedin, with an as-yet "unknown" neurological condition. The condition was thought to be serious, so an impetus for their tramp was assisting a service the boy might need.
Leigh Overton, of Wanaka, a Queenstown Lakes District councillor, said while he usually welcomed overseas tourists, the cause was "about us", so it was fitting everyone was local, or had close links with the South.
Those in the South understood it was a "hell of a long way" to Christchurch, and for those in Central Otago the issue of the "golden hour" was especially pertinent.
The youngest tramper, Richard Aspinall (23), admitted he was not excited about the trip when Dunedin couple Dr Jill McIlraith and Associate Prof Graeme Hammond-Tooke bought him a ticket.
"My first reaction was not great - I was apprehensive, I thought why not just donate ..."
However the Dunedin computer science student said he was enjoying it more than he expected, particularly the camaraderie between walkers.
He was taken by the "freaky" sight of eels and trout swimming together in the clear waters of the Clinton River, of which trampers had a good view on the Hirere Falls lunch stop.
He walked the track with Dunedin friend Matt Fuller (28), a personal trainer, whose ticket was also donated by the Dunedin doctors.
The oldest walker, 75-year-old Dirk Hovius, came to New Zealand in 1959 from the Netherlands and lives in Dunedin. He had never been tramping before, but was moved to sign up having marched in 2010 in Dunedin to protest the possible loss of neurosurgery from the city.
On their second day, trampers in Pompolona Lodge for the night were surprised by a visit in a helicopter from campaign fundraising chairman Dr Brian McMahon and representatives from Ultimate Hikes, including director Mike Davies. Ultimate Hikes has given the proceeds of the walk to the campaign.
An additional $2000 brought the total to $112,000, the extra because an Australian provided payment but did not wish to take part.
---
The walk
Day one: Cruise to the head of Lake Te Anau, walk 1.2km to Glade House.
Day two: Walk 16km from Glade House to Pompolona Lodge.
Day three: Walk 15km from Pompolona Lodge to Quintin Lodge, the steepest part of the track. Additional 1.5-hour walk to New Zealand's highest waterfall, Sutherland Falls (580m).
Day four: Walk 21km, from Quintin Lodge to Sandfly Point, then take a 15-minute ferry ride to Milford.
Day five: No walking; trampers take Milford Sound cruise on the fiord.
---