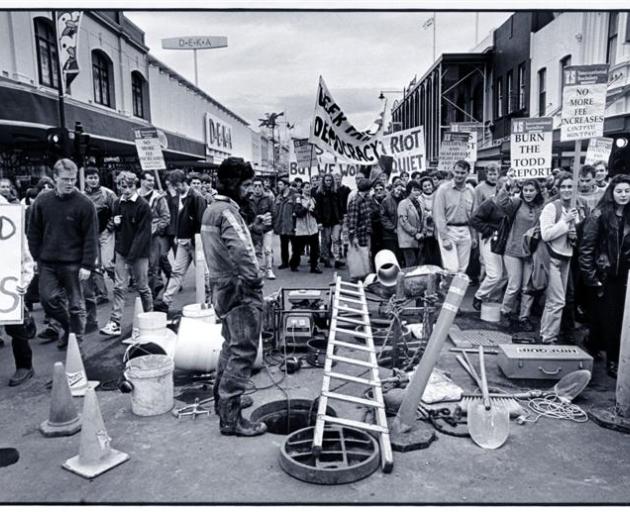 The University of Otago Students' Association has grown too cosy with the university, leaving students without a voice and ending the association's long history of radical political action, some critics say.
As OUSA heads into its election cycle, Carla Green reports.
Just before 1pm on March 19, 2015, a crowd was gathering at the steps of the university clocktower building. It was a mild early autumn day. The sun was peeking through the clouds.
The 50 odd people had come to protest changes to the make up of the university's council.
The demonstration was part of a national campaign led by the New Zealand Union of Students' Associations (NZUSA) and the Tertiary Education Union (TEU) to advocate student and staff representation on university councils around the country.
Otago University student president Paul Hunt was not there. He was too busy planning the Hyde St keg party, he told the Otago Daily Times.
''I think that one sentence sums up what's happening to student associations,'' former OUSA president Francisco Hernandez says.
''I think it's telling that the student association couldn't meet with the TEU and the national student body for a joint protest action ... because they were too busy planning a party.''
But NZUSA president Rory McCourt offers another reason OUSA was not present at the rally, one he says is more damning.
''The reason they didn't come was because they had to consult the university around what [their] position was,'' he says.
''They completely refused to take a position until after talking to the university. Paul [Hunt] said council would have a discussion about it, and only then could a position be advocated for.''
Mr Hunt was unable to comment for this article because of OUSA election bylaws - the association's election cycle began this week and he is running a re election campaign. OUSA vice president and now acting president Isaac Yu commented in his place.
''The OUSA stance on that protest was that it was an unwise publicity stunt orchestrated by NZUSA in a deliberate attempt to antagonise the university council,'' Mr Yu says.
''We made our stance on this clear to NZUSA and to the ODT reporter we spoke to at the time ... OUSA does not engage in actions which are detrimental to the students which it represents.''
However, notes from the ODT's interview with Mr Hunt that day show the OUSA president said he thought it was ''important'' to have student representatives on council, but that he was ''tied up with Hyde St'' and therefore could not attend the protest.
Mr Hernandez thinks OUSA's political engagement has varied from president to president, but overall, he says, ''there's been a general trend across the sector towards de politicisation''.
When student advocates talk about students' political engagement these days, they usually talk about three things: student apathy (or lack thereof), funding for students' associations (or lack thereof), and students having the time and money to engage in political issues (or, of course, lack thereof).
Apathy
''Everyone tries to blame apathy,'' long time student advocate Mark Baxter says.
''But that's a bit of a cop out in terms of analysis.''
Mr Baxter was active in OUSA throughout the 1990s, first as a member of the executive, and then as its campaign co ordinator. Since 2000, he has worked at the Otago Polytechnic Students' Association.
In the 1990s, Mr Baxter was one of dozens of student activists who occupied the university's clocktower building on several occasions in protest of university and government policy.
Back then, he and other students organised a flood of protest actions and political campaigns around student fees and other issues relevant to students.
That kind of thing, Mr Baxter says, does not seem to happen any more.
''Probably now, the majority of students think that some level of [tuition payment] in education is OK, because they haven't seen another model. Or they don't know that [free education] is actually a perfectly realistic thing to have.''
That generational shift could be part of why students seem more disengaged these days, he says.
But he believes it also probably has to do with a lack of leadership on the part of OUSA.
Former OUSA executive member and campaign co ordinator Kyle Matthews, who was involved in student politics about the same time as Mr Baxter, says OUSA was the reason he became politically involved.
''By organising events, you draw people in and politicise them ... ,'' he says.
''You build a wider movement. And that's what we tried to do in the '90s, was to build a movement.''
If the OUSA is no longer the driving force behind building that movement, Mr Matthews says, it is no wonder students seem apathetic.
And if OUSA is not driving the student movement, he goes on, it is probably because of a controversial piece of legislation passed in 2011: the voluntary student membership (VSM) bill.
Funding
''You'd be brave to occupy the vice chancellor's office these days,'' Mr Matthews says.
''It could cost you a couple million dollars next year.''
The appropriately named VSM Bill made student association membership voluntary. It restructured the funding of students' associations, so their cash flow came from the university administration, rather than directly from students.
And that, Mr McCourt says, has had a more chilling effect on student politics than anyone ever imagined.
''We were really concerned about what [VSM] would do to services in particular,'' he says.
''We didn't quite realise the impact it would have on the student voice and political advocacy.''
Labour finance spokesman Grant Robertson says the impact has been huge.
Mr Robertson was active in student politics at the same time Mr Baxter and Mr Matthews were. He served as OUSA president and then NZUSA president in the 1990s.
Having a politically aggressive students' association is impossible under VSM, he says.
''If students' associations are reliant upon their relationships with universities for their funding, inevitably, that's going to make it more difficult for them to criticise, protest, et cetera ... That's one of the very reasons why VSM was such a bad thing,'' he says.
''[Repealing the VSM bill] is an essential part of turning things around.''
Dunedin City Councillor Hilary Calvert is another former Otago student politician. She was on the OUSA student executive in the 1970s. When she spoke at OUSA's 125th anniversary celebration in May this year, she had a harsh message for the student association.
''The students need a voice,'' she says.
''[OUSA is] not providing one, at the moment, I don't think, as well as they used to ... Their major role, in the union movement, is to speak for the students. And if they're not going to do that, they might as well pack up their bags and go home, really.''
Cr Calvert says OUSA's reluctance to go against the university was evidenteven in the association's communications with the media.
''When we hear anything in the paper, [OUSA and Otago] talk in tandem, as a partnership,'' she says.
''When was the last time the students' association disagreed with [university vice chancellor Prof Harlene Hayne]?''That reluctance to speak out of turn is probably, in large part, a result of VSM, Cr Calvert says.
Time, money, and student debt
''Students have to work,'' Mr Hernandez says.
''Students are more distracted and busy, trying to put food on the table and trying to live, rather than getting involved in politics.''
Without much prompting, most student advocates can quickly lay down a list of political issues facing students today: debt, inadequate housing, rising tuition fees, stagnant student allowances.
But, Mr Robertson says, those same issues may be part of what is stopping students from getting politically engaged.
As student fees rise, the student population has self selected away from people who might be inclined towards political action, he says.
''The people who genuinely can't afford to be [at university] just aren't there,'' he says.
''When I first started at university, it was the first year that fees were changed. There were a lot of people who were struggling, but they were still there. Those sorts of people, perhaps, are not even contemplating tertiary education.''
Those disadvantaged students who do manage to make it to university are probably too busy trying to make ends meet, Mr Robertson says.
Those are the perfect conditions to create a disengaged student population, leaving almost exclusively privileged students with time to spare on political action.
Mr Baxter says that is all more reason why students' associations need to be engaging students and fighting on their behalf.
''They should be educating students as to why this bloody well matters, and why we need to get out there and be making a big deal about it.''
Mr Yu contests the notion that OUSA is not as politically engaged as it once was.
''OUSA serves as facilitator and 'megaphone' for the student body, and as such, reflects the attitudes and political ideas of current tertiary students,'' he says.
''Because students no longer exist in the same protest dominant counterculture ... OUSA has adjusted to reflect the change in generational attitudes.''
Students are more engaged than in the '''good old days'', he says.
''Students are politically conscious. However, they now engage in a digital medium.
''With protests no longer serving as the only medium of political engagement, OUSA is reflecting the changing attitudes of students.''
But Otago student and former OUSA education officer Laura Harris, who is running for OUSA presidency in this election cycle, says this year's OUSA executive has not been as politically engaged as it should be.
It has been ''complacent'', she says.
''When the design school was facing potential closure, there should've been rallies, there should've been protests.''
And yet, she says, OUSA did not organise any.
''Students' associations used to be more vocal about those issues.''
What's next?
''That's the million dollar question,'' Mr Baxter says, laughing. Mr Matthews says he thinks student engagement comes and goes in waves.
Right now, he says, it is in a decided downturn, but he predicts the downturn will not last forever.
''In the next 10-15 years ... I think there will be a backlash, and it will swing back.
''In the future, there will be a few motivated people that will build a movement again ... When you stand back and look at it, students are the only ones who pay to eat.''
Mr Hernandez takes a practical view. Mr Hunt is not an ''activist'' president, Mr Hernandez says - he never presented himself as one.
If students want an activist president, they should vote one in, he says.
''The student elections are happening next week.''