Maori Party co-leader Marama Fox says the most common issue voters raise with her now is not poverty or housing - but strategic voting.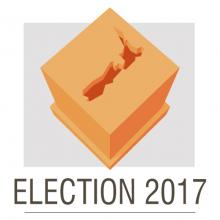 "Since the weekend it's almost like the bigger issues have started to take a side-step to the strategic voting as an issue. People are not talking to me about homelessness anymore. They are not talking to me about poverty.
"They are talking to me about who can form government and which is the best way to vote in order to make that happen.''
Ms Fox said in most Maori seats it was a competition between Labour's Maori MPs and those standing for the Maori Party.
"And unfortunately because of this upswing of mood for change, people think they have to vote Labour in order to get there. What we are saying is the strategic vote is to vote Maori Party, because the support parties are going to be what it comes down to - who can help make up government.''
People weren't confident about how to vote to achieve the outcome they wanted, Ms Fox said, and there was a large number of undecided voters.
"What I say is, give us both [electorate and party votes]. Then we have a greater bargaining power when we go into negotiations with either government.''
The Maori Party was steady at 1% in Wednesday night's One News Colmar Brunton poll. It will need more party votes to bring in a second MP, assuming it wins one electorate.
Co-leader Te Ururoa Flavell faces a challenge from Labour's Tamati Coffey in Waiariki, although the latest Maori Television Reid Research poll put him at 60.1% support, well above Coffey on 40%.
Former Kiwis rugby league star Howie Tamati is also a chance of winning Te Tai Hauauru, with a poll putting him ahead of the incumbent, Labour MP Adrian Rurawhe.
One of the paradoxes of Ms Fox's situation is the better her party does in the Maori seats, the less likely she is to get back into Parliament.
She is the party's first List MP and entered Parliament in 2014 because Mr Flavell held Waiariki.
Ms Fox has performed strongly in Parliament and built profile but faces an uphill task to beat Labour's Meka Whaitiri in Ikaroa-Rawhiti.
Ahead of this election Labour Party Maori MPs opted not to stand on the party list in a bid to discourage voters from splitting their party and electorate vote in the expectation the Labour candidate would get in on the list.
The "Jacinda effect" and the elevation of Kelvin Davis to deputy leader could boost Labour's vote among Maori. However, Ms Fox said she was confident her party could end up with as many as five MPs.
She said voters were starting to see the "holes'' in Labour, including not making te reo Maori compulsory or moving to entrench the Maori seats. Personally, she was quietly confident she would return to Parliament.
"I know everywhere I speak I turn the entire room. I know people are starting to question the ability of Labour's Maori MPs to affect any change inside their party.
"We recognise the mood for change ... there are Maori voters, a majority of when you are knocking on doors, who have said they want change, but they want us there.''
Another focus needed to be getting young people to vote, she said.
"I tell all our old people and parents - go and pick them up, tell them about the power in their hands to change this election if they all voted.''