Jacinda Ardern says she is about to "run the campaign of our lives" as the newly elected Labour Party leader looks to resurrect the party's flailing poll results.
Ardern was today elected unopposed as Labour's new leader after a caucus meeting following Andrew Little's decision to step down.
Kelvin Davis has been elected as deputy leader and is believed to be the first Maori to hold that post in the Labour Party.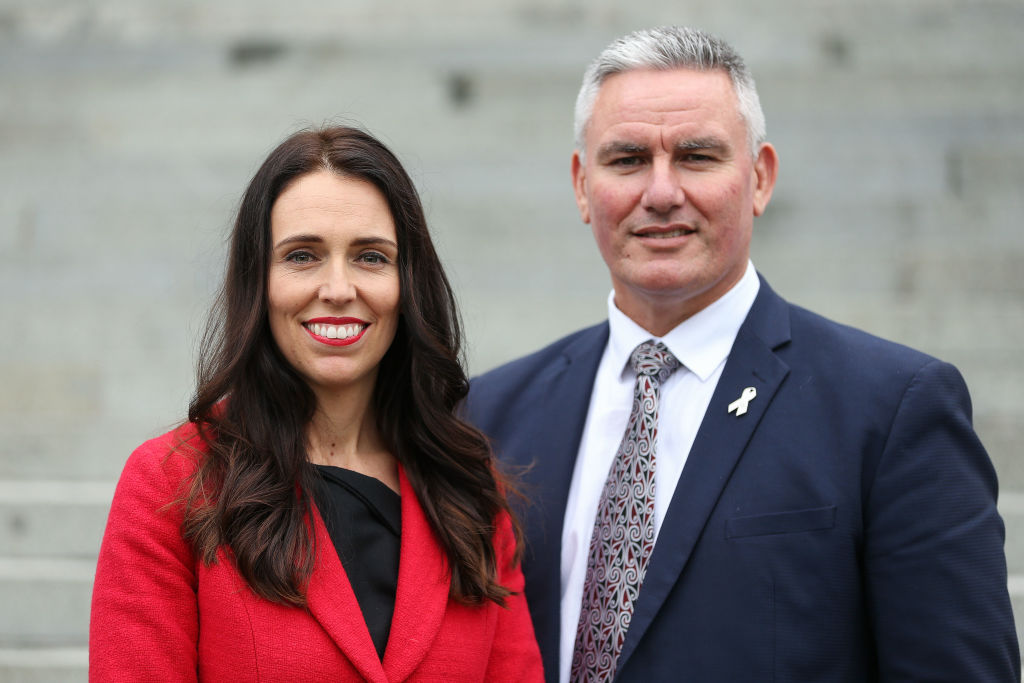 Ardern said that while the circumstances were not as the party hoped, she felt "incredibly lucky" to be the new leader.
"We are about to run the campaign of our lives."
Over the next few days, she and Davis and the party would be reviewing every aspect of the party's election campaign plans.
She did not expect there to be many changes to the Labour caucus line-up and she looked forward to Little being a Minister in a Labour-led Government after Spetember.
Ardern tweeted late this morning: "I feel privileged and honoured to have been elected leader of the Labour Party, and ready for the challenge! Bring on 23 September."
She also said: "I want to thank Andrew - for his huge work and his leadership, and giving me the chance to work alongside him."
Ardern's coronation follows a turbulent week for Labour in which three polls puts its support in the low 20s - and Little stepped down from the job, saying he had to take responsibility for the result.
Little put Ardern in as his deputy in a bid to help raise Labour's fortunes, saying she appealed to the younger generation and was a valuable asset in Auckland.
However, Ardern's polling as preferred Prime Minister swiftly overtook Little's own. In the latest Newshub Reid Research poll she was on 8.7 per cent to Little's 7.1 per cent.
She featured in most of Labour's campaign advertising.
On Sunday, Little had revealed he had raised the prospect of standing down with senior colleagues but they had urged him to stay.
The fallout from that admission effectively resulted in his decision to go.
Previously, Labour leader Andrew Little has quit as Labour leader and endorsed his deputy Jacinda Ardern to take over.
His announcement paves the way for Ardern to step up into the top job just seven weeks before the general election. She has scheduled a press conference for midday.
Little made his announcement after a brief meeting this morning, saying the party would be "better served" by a new leader.
"I have just confirmed to the Labour caucus that I will step aside as leader of the Labour Party," he told reporters at Parliament this morning.
"There is no question that the poll results that came out last week were disturbing and very, very disappointing.
"In the end, as leader, you have to take responsibility. And I have, and I do."
Little said he remained "utterly determined" to get Labour into power in the September election. He said he would stay on as an MP at least until then.
"But it became pretty clear that the story around those polls was building a narrative day after day that meant we have not been able to get our messages about the things that actually matter.
"I take responsibility for that and it is my judgment that the people and the party who we are campaigning for will be better served by a new leader who can bring a fresh face and a fresh voice to this vital campaign."
Who is Jacinda Ardern?
Jacinda Ardern has had a steady rise through the ranks of the Labour Party since entering Parliament in 2008.
Ardern was born in Hamilton in 1980, attending primary and secondary school in Morrinsville and also spending a few years living in Murupara, where her father was a policeman.
She joined Labour aged 17. She grew up in a Mormon household but left the faith in her 20s, mostly because of its anti-homosexual stance.
After completing a Bachelor of Communication Studies at Waikato University, Ardern worked for Phil Goff and Helen Clark.
She spent three years in London as a policy advisor in the UK Cabinet Office, and in 2007 was elected president of the International Union of Socialist Youth.
Ardern, who has cited Clark as a political hero, stood for Labour in Waikato in 2008 and entered Parliament as a list MP. She was narrowly defeated by now Education Minister Nikki Kaye in Auckland Central in 2011 and 2014.
After moving into Mt Albert with her partner, broadcaster Clarke Gayford, Ardern stood in and won the Mt Albert byelection in February, prompted by the resignation of David Shearer.
Her strong showing in that contest saw speculation she would be elevated to the deputy leader position. After Annette King stood down from the position Ardern was elected unopposed by Labour's caucus. At the time, Andrew Little said it was partly because of her ability to reach a group of people the party needed to connect with better - young and urban.
Ardern has never stood for the Labour leadership in the three contests since 2011 but she was on Grant Robertson's unsuccessful ticket as deputy following the 2014 general election.
She is spokeswoman for justice, children, arts culture and heritage, and small business, and associate spokeswoman for Auckland issues.
Ardern has steadily risen in preferred Prime Minister polls - out-performing Little - and is the highest-ranked Opposition MP by chief executives surveyed in the Herald's Mood of the Boardroom.