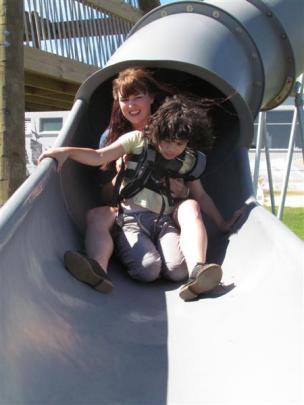 The popularity of the Friendly Bay children's playground at Oamaru Harbour is expected to soar this year, with the installation of more rides and attractions.
The steampunk-themed playground, which had been developed as part of the Waitaki District Council's harbour development strategy, was last year named in a residents survey as the district's most used facility, and council corporate services manager Carolyn Carter said although a host of swings, rides and climbing frames had already been installed, more was to come.
A basketball practice court, some steampunk-themed barbecues and a rocket ship, and a Victorian sloop were also due to be installed this year, she said.
''The harbour is being rejuvenated to be a people-friendly place, in accord with the harbour development strategy.
The farmers market, the vibrant Victorian precinct and renewed use in development in the harbour has been enhanced by the work done by council in the area, the activity with the regular train rides and penny-farthing rides and our wonderful restored rail bridge.
''Oamaru is now becoming a destination with more to offer the tourist and it is also more enjoyable for locals who are now coming down to a rejuvenated harbour and a playground that is a lot more fun than the plastic, primary colour, overly safe and routine playgrounds that have been a feature in the last few years.''
She said although a playground ''designed with a bunch of blokes and a steampunk artist'' was never going to be mundane, she had also been thrilled by the volunteers and local businesses who had been prepared ''to go the extra mile'' to ensure the playground became an attraction the whole town could be proud of.
''The result is a fantasy playground that demonstrates the talent of our local artists and manufacturers, as well as the quality of our community and their willingness to get involved.''
Between June 2011 and June 2012, the council spent $580,000 on the playground, but Mrs Carter said further work would be paid for using budget carried forward from last year.