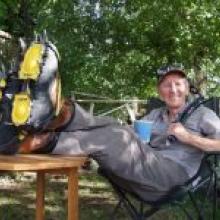 Doug Ball is one retiree who deserves to put his feet up, but not necessarily for the reasons you might expect.
The 79-year-old successfully climbed Mt Aspiring on Tuesday after a 12-hour slog along the northwest ridge from the Colin Todd hut. He is believed to be the oldest person to reach the summit of the 3033m peak.
Although no official records exist, 75-year-old Australian Jim Gardner reached the summit in 2003 and claimed what was thought to be the record.
However, at a time when most people Mr Ball's age are thinking about taking things easy, the sprightly New Plymouth man laughed aside any ''record holding'' notions, because ''there's always someone who's going to break it, sooner or later''.
''I once held the marathon record for over 65s after a Hastings race, but that only lasted for three days until someone else came along and took it off me,'' he said.
The experienced mountaineer has climbed New Zealand's highest peak, Aoraki Mt Cook, three times, taking a different route each time, and has made many successful climbs of his home peak and ''training ground'' Mt Taranaki.
He said he ''only'' made it up the 2518m volcano ''about three or four times'' a year now, preferring instead to spend four weeks a year climbing in the Swiss Alps and making annual South Island pilgrimages. He also races yachts, and has run 28 marathons since he retired 24 years ago.
He resumed ''proper'' mountain climbing after the death of his wife, Peggy, in 2004, he said.
He once spent 14 days trapped in a snow cave in the remote Olivine Range, in the Mt Aspiring National Park.
It has taken the former secondary school maths and physics teacher three attempts to stand on top of Aspiring, or Tititea, after aborting efforts in 2004 and 2006 because of bad weather.
Mr Ball - who turns 80 in August - flew into the Bevan Col by helicopter on Monday with Wanaka mountain guide and search and rescue expert Gary Dickson.
The pair had a three-hour trek to the Colin Todd hut and then climbed to the summit on Tuesday morning, before walking to Bevan Col and sharing a helicopter flight back to Wanaka yesterday.
Mr Dickson said Mr Ball was not ''your average 79-year-old''.
''He certainly holds his own on the mountain and has a wealth of experience. He knows how to pace himself steadily and sets out to out-do many younger clients I have guided.''
Climbing Aspiring ''this late in the season'' was a technical and demanding ascent, Mr Dickson said. Mr Ball said the main thing he felt and remembered standing on top of Mt Aspiring was the ''breathtakingly spectacular' views.
He phoned his 47-year-old partner Anita - who is tramping the Milford Track - to tell her the news.
''She started screaming and dancing down the sat[ellite] phone,'' he said. Calls were also made to his five children to let them know of his achievement.
Mr Ball and Mr Dickson were sitting down with friends to a celebratory dinner and a bottle of champagne yesterday evening.
However, the pair are not resting long - their next adventure is a trip to the 2400m high Centennial hut at the head of the Franz Josef Glacier next week, ahead of a flight to Switzerland for more climbing in Europe's mountains.