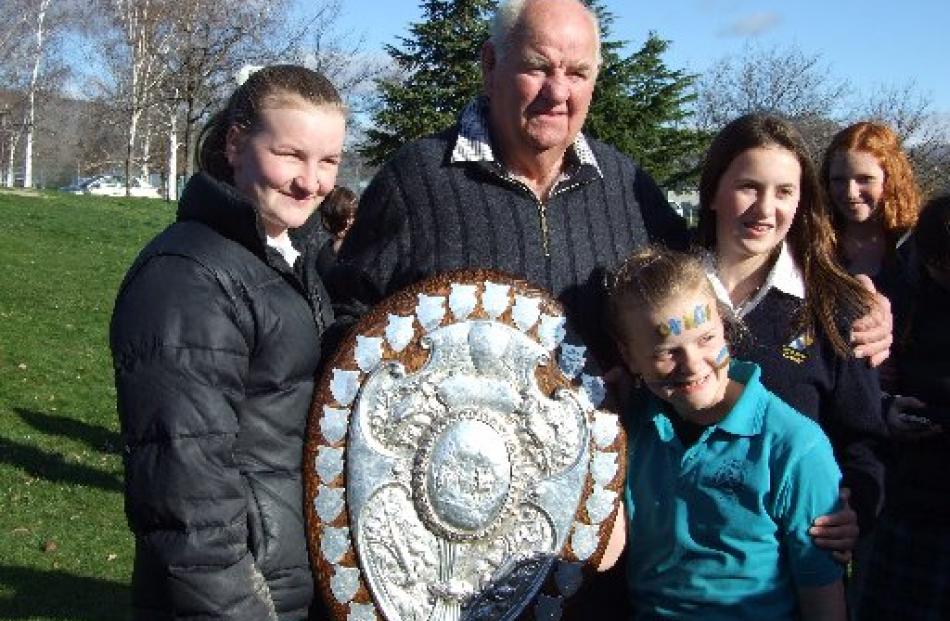 "Complete jubilation'' is how Mount Aspiring College pupil and Otago rugby fanatic Josh Roberts (16) summed up his emotions since the team's historic Ranfurly Shield win last week.
Josh, named by his parents after former Otago rugby great Josh Kronfeld, was among hundreds of Wanaka primary and secondary pupils who had the chance to hold the famed Log o' Wood yesterday during the first stop on the fourth day of its whirlwind tour through regional Otago.
Described by his First XV rugby coach Hamish Crosbie as a ''rugby nut whose whole life revolves around rugby'', it was no surprise Josh was one of the first in line for a photograph with the shield.
Otago's on-field efforts on Friday made for ''the greatest day of my life'', Josh said.
While in Wanaka, ORFU community rugby manager Richard Perkins and Otago players Marshall Suckling, Tony Ensor, Hugh Blake and Jackson Hemopo called in at the home of Shona Johnstone, widow of former All Black and Otago captain Peter Johnstone.
''We got there and Shona brought out all of the memorabilia and photos that she had when he was presented with the shield, taking it off [Southland] in 1947,'' Mr Perkins said.
At Arrowtown School, the group was treated to a heroes' welcome from the entire school, staff and some parents.
Despite being almost an hour behind schedule, players were in no rush, signing autographs and posing for photographs while every pupil at the school had their photo taken with the prized shield.
Among those at the next stop, the Speight's Ale House in Queenstown, was Lindsay Reid (77), who was called in to the Otago side for the 1957 game as an emergency reserve.
Of last Friday night's history-making game, Mr Reid said it was ''pretty exciting''.
After refuelling and yet more photographs, the players took another detour - this time with the Helicopter Line pilot Dave Matthews, flying to the top of the Remarkables for some fun in the snow, before being dropped off in Cromwell.
Former All Black Don Clark, of Bannockburn, played 90-odd games for Otago but never challenged for the shield and yesterday in Cromwell was the first time he had touched the Log o' Wood.
Mr Clark (73) was confident Otago would retain the shield after Sunday's challenge and said the side played brilliantly last Friday night.
''It's been a marvellous week for Otago and it's brilliant to see them touring the shield around all the little places. The difference with this Otago side is a lot of the boys are home-grown boys and they're playing for the jersey and not for the money.''
Rugby-playing Cromwell College pupils performed a haka to welcome the Otago players and shield, watched by several hundred people who gathered in Anderson Park.
The tour ended in Roxburgh last night and the team will be reunited with the shield in Dunedin today.