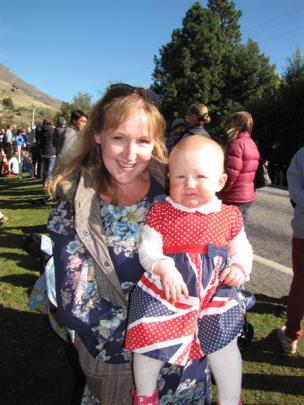 More than a thousand people lined the Lake Hayes-Arrow Junction Rd outside the Amisfield Winery and spilled along State Highway 6 by the Lake Hayes reserve to wait for the royal motorcade.
Linzi Thomas came with a group from Wanaka, including daughter, Meg, who had pointed out ''it's not every day a duchess comes to town''.
Her mother, originally from South Yorkshire, agreed, and said the visit was ''really good for the economy, for tourism and a sense of heritage''.
Denise Laurie drove her daughters Alex (12) and Jamie (10) from Invercargill, leaving at 8.30am to secure a good viewing spot.
''We just wanted to catch a glimpse ... my Dad thinks we're crazy.''
Scottish woman Helen Bauld, travelled from her home in Cromwell, because ''you can't pass up an opportunity like this''.
With her was daughter Charlotte Spence, resplendent in a tiny Union Jack dress - a hand-me-down from her cousin and bought especially to celebrate the Royal couple's 2011 wedding.
Not everyone was as enamoured by the occasion, though.
Five-year-old Ashley Shannon, of Lake Hayes Estate, could be heard asking his mother Helen, ''What are we actually doing here?''After some prompting, he was able to recall one of the names of the guests of honour - William.
His mother, originally from England, was more interested in the other half of the royal pair, though.
''I'm just here to see what Kate's wearing,'' she explained.