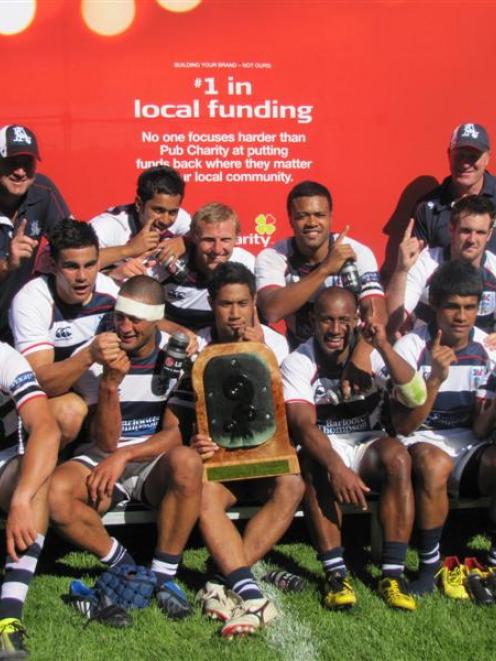 Auckland has been crowned champion of the national sevens tournament in Queenstown after defeating surprise package Taranaki 36-26 in the final yesterday afternoon.
A crowd of 5000-plus braved the heat and packed out the Wakatipu recreation ground to watch two scintillating days of sevens and they were not disappointed, as four exciting finals were played culminating in the grand finale.
Auckland led 19-12 at the break after first half tries to Bryce Heem and speedster Tom Iosefo who picked up two and finished with three for the match. Taranaki, led by up-and-coming 15s pivot Beauden Barrett, wowed the crowd all tournament with some excellent running rugby.
But the extended halves in the final proved to be too much for the underdog and it could not quite get over the line, even with Barrett's double.
Coach Wayne Pivac was extremely impressed with how his young side had come together and how they had trained leading up to the tournament.
"We bought a lot of tradition with us and a lot of hard work and thrash sessions to be honest, to get the fitness levels up to being able to play in weather like this," he said.
"There's no secret to the success, really. I guess the selection was the main part. We've got a lot of new guys, a couple of young fellows straight out of school, and it was really just blending the young talent with the likes of Ed Cocker and a couple of the older guys."
Play maker Malakai Fetitoa was named player of the tournament by New Zealand Sevens coach Gordon Tietjens and was in fine form all tournament.
Pivac also praised his side's top try-scorer Iosefo, who scored eight in the tournament but was quick to give his whole side its just reward. He expected that a couple of his players would be named in the New Zealand squad.
"I would love to see him [Fetitoa] in a black jersey in the future and young Tom [Iosefo] caught Tietj's eye, but he's played for Samoa.
Earlier in the day, Auckland managed to get by Counties Manukau in its Cup semifinal which played out more like a final, as both sides deserved to win. The other Cup semifinal pitted tournament favourite Bay of Plenty against Taranaki, a game which Taranaki won comfortably, 24-14.
The plate final saw last year's champion Waikato beat an impressive looking North Harbour by 47-15, thanks to a hat trick from Phil Tuigamala who was the tournament's leading try scorer with 13.
In the bowl final, Manawatu beat Horowhenua-Kapiti 12-7 and Canterbury accounted for its Super 15 franchise partner Tasman 36-7 to win the shield.
Otago fared better than many thought it would, winning two of three games on day one and performing admirably in its two games, against North Harbour and Auckland, on day two. Pivac praised Queenstown's organisation of the tournament and he hoped to see it back next year.