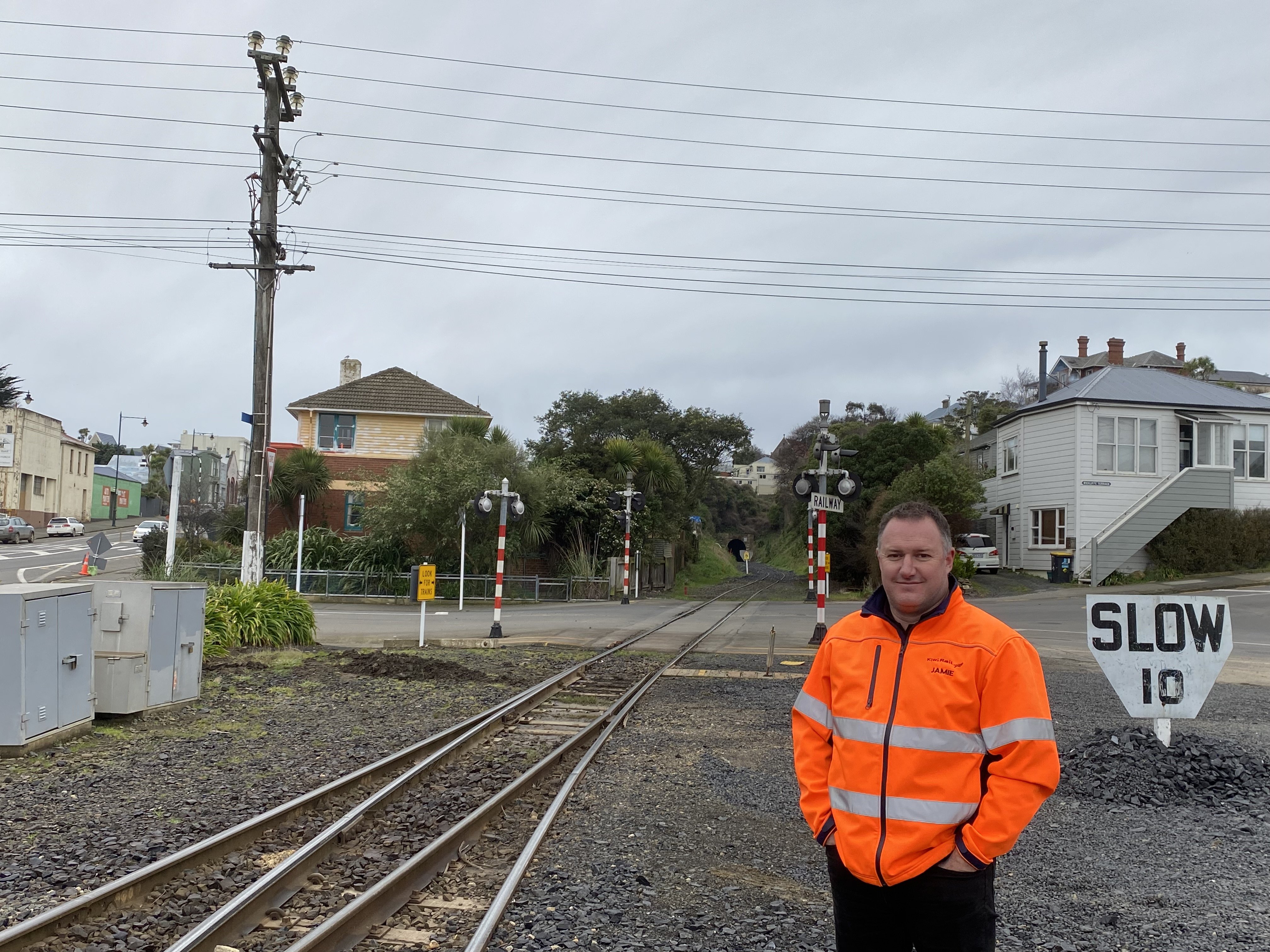 Motorists and pedestrians in Port Chalmers are being urged to take extra care at the risky Wickliffe Tce rail crossing, where there are frequent near misses.
KiwiRail Dunedin freight operations manager Jamie McFarland said the placement of the rail crossing - near a rail siding area servicing Port Otago via a 185m tunnel and within a residential area - made it difficult to manage.
''Because of the track location, especially on the tunnel side, visibility is extremely limited due to a narrow space, houses, and trees.
''So people should not assume that we can see them and, if something was to go wrong, our ability to stop suddenly is not as good as a car,'' he said.
Mr McFarland was invited to speak at the West Harbour Community Board meeting last week, during Rail Safety Week (August 9-15), in response to community concerns about close encounters with trains.
Board chairwoman Francisca Griffin said there had been discussion on social media, and people had reported being startled by finding themselves close to approaching trains at the crossing.
Mr McFarland told the board there were frequent near misses at the Wickliffe Tce rail crossing, and that KiwiRail was keen to change public perception of the site.
''We believe this rail crossing is unique in that trains transit to a major port through a 185m tunnel in a residential area,'' he said.
''It creates real difficulties for us, in terms of managing the crossing, which is why we need the public's support.''
It was also a very busy rail crossing, with three shifts a day working on shunting goods to Port Otago at peak season — moving up to 20 trains per shift.
Fortunately, the speed limit for trains at the crossing was limited to 10kmh, which had been a factor in avoiding collisions, he said.
Mr McFarland said motorists were more focused on the intersection at Wickliffe Tce, not the rail crossing, and public behaviour needed to change to make the crossing safer for everyone.
''We urge people to slow down and look both ways at the rail cross to ensure it is clear,'' Mr McFarland said.
''Pedestrians and cyclists at Wickliffe Tce and the Ravensbourne pedestrian rail crossing also should stop, look both ways, and listen.
''Trains come from either direction and can be very quiet, and at Ravensbourne can be going at some speed, so care is needed,'' he said.
''If you are wearing headphones or buds, take them out so you can hear the train.''
Another issue was children occasionally playing ''chicken'' with trains on level crossings, or reaching out to touch the side of locomotives and wagons.
''Please don't do this - you can be caught up in the wagon or locomotive and dragged,'' he said.
Mr McFarland told the West Harbour Community Board that KiwiRail was developing plans to upgrade the Wickliffe Tce rail crossing, once the major work on the SH88 cycleway-walkaway was complete.
Ms Griffiths was delighted to hear the site was to be upgraded, and was pleased at the responsiveness of KiwiRail to community concerns.
Mr McFarland said the Wickliffe Tce crossing was so unusual, its complexities were to be discussed as a case study at the National Level Crossing Hui, held in Dunedin this week, involving local government, NZ Transport Agency, police, and KiwiRail.
• In the 12 months to June, KiwiRail recorded 31 collisions with trains on the national network, 17 involving vehicles and 14 involving pedestrians. Of these, 12 occurred at level crossings on public roads, most of which had flashing lights, bells or barrier arms installed.