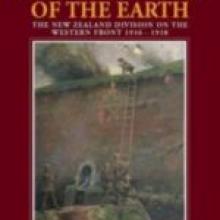 Oliver Riddell reviews
From the Uttermost Ends of the Earth.
FROM THE UTTERMOST ENDS OF THE EARTH
John H. Gray
Willsonscott, $80, hbk
What most New Zealanders know of their country's involvement in World War 1 is covered by the word "Gallipoli".
That is because of the historic emphasis on Anzac Day and the two-brigade-strong campaign on a single peninsula in the eastern Mediterranean during 1915.
Yet more than twice as many New Zealanders fought with their country's four-brigade division in Belgium and France during 1916-18, and the wounded/fatality statistics are much higher.
On Gallipoli, 7473 became casualties of whom 2721 died; in Belgium and France, 47,902 became casualties of whom 12,483 died.
These so-called final figures are, in fact, only best estimates and the true figures can never be known.
Ninety years later, steps are being taken to fix this strange aberration.
Young New Zealanders are still being encouraged to visit Gallipoli, but the facilities available in Belgium and France are becoming far better known than previously.
This book's title is taken from the inscriptions, derived from Isaiah 24:16, which feature on the four New Zealand main battlefield memorials at Longueval, Messines, Gravenstafel and Le Quesnoy.
They also appear in French.
This latest contribution is a visual delight.
It is printed on top-quality paper, with wonderful colour photographs and representations, such as "Capture of the Walls of Le Quesnoy" by the official war artist, G. E. Butler.
There are substantial quotations from New Zealanders who served there and wrote about it afterwards, but notably from Colonel Hugh Stewart's history The New Zealand Division: 1916-18, much the best of the semi-official postwar publications.
The maps are wonderful.
Sadly, the binding is not up to the overall standard.
Gray has meshed together the concepts for two separate books.
The first is a battlefield guide, with road maps and hotel advice for the interested tourist.
There is a lot of valuable and accessible comment included in this, about who did what and where, and putting it all in some kind of context.
The second is narrative about the campaigns over the three years.
The two books do not, in fact, sit well with each other.
To maintain geographic consistency for a traveller from west to east, the actual campaigns have to be dealt with out of sync., beginning with Ypres, Messines and Passchendaele in 1917; then the Somme in 1916; and then the so-called "Final Victories" in 1918.
This is the price Gray has had to pay to mesh the two concepts.
These are substantial shortcomings, but perhaps not so important in the overwhelming success of what Gray has achieved.
This book is a great introduction to the New Zealand Division's record in Belgium and France.
Even the devoted student of the three years' campaigns will find much that is new; as an introduction it is hard to imagine it will ever be bettered.
It must be the result of a decades-long devotion.
I especially enjoyed his linkage of the various significant battles of the last 100 days in 1918, and the way the maps dovetail with the narrative.
Gray does not hesitate to criticise the manner in which New Zealand soldiers were sent into battle by (mainly) British staff officers located miles behind the lines, when he thinks this is justified.
He is, in fact, generally restrained compared with what he might have said.
This is not the cultural cringe of which so many Australian histories were guilty, but a measured and mainly warranted criticism.
There were sometimes excuses, and the facts are allowed to speak for themselves.
What courage these men showed.
This is not the artificial language of war correspondents or war novelists.
This is trying to tell it the way it was, and mostly Gray is spot-on.
Oliver Riddell is a Wellington writer.