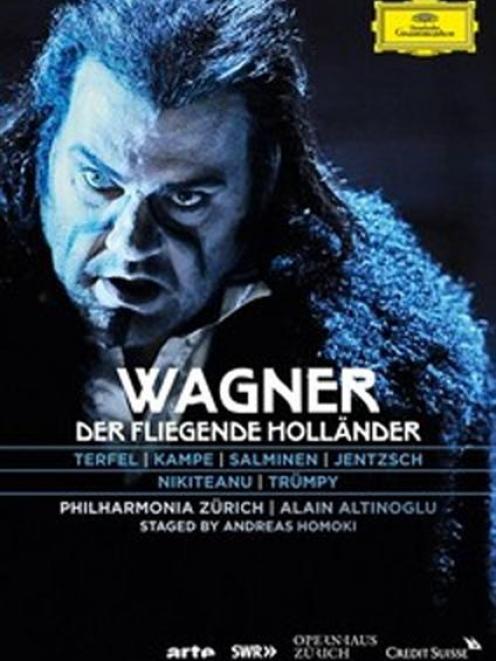 Wagner: Der Fliegende Hollander. Bryn Terfel (bass), etc; Philharmonia Zurich. Deutsche Grammophon DVD
''The Flying Dutchman'' of Wagner's dark opera is a sailor, apparently undead after being cursed by Satan to rove the oceans for eternity.
Every seven years, however, he is allowed to land ashore where he might be freed if he can meet a woman who is his true love, unconditionally true to him until death.
It is his only hope, and the role of the tormented figure is ideally suited to famous Welsh bass-baritone Bryn Terfel, regarded as one of the world's finest living operatic singers.
Although this is his most often recurring Wagner role, Terfel recorded it in 2013 for the first time in his 25 years on the opera stage.
He is surrounded by an excellent cast, which includes Matti Salminen (bass) as Daland, a Norwegian seafarer, and Anja Kampe as his daughter Senta.
Andreas Homoki, head of the Zurich Opera staged the production and French conductor Alain Altinoglu conducts the Philharmonia Zurich as musical leader.
Terfel repeated the Hollander role again last month (in his 50th birthday year) at the Royal Opera House, Covent Garden, London.
That opera performance was streamed live to cinemas across Wales.
This is an excellent and exciting performance of the sea-faring epic. Terfel has said he has now had his Mozart time.
''I'm in the middle of my Wagnerian time now and I still try to share time with concerts. One thing I must do one day is Schubert's Winterreise ... and who knows, maybe there will be some more Russian opera on the cards.''
Highlights: Terfel at his best; and the memorable Overture.